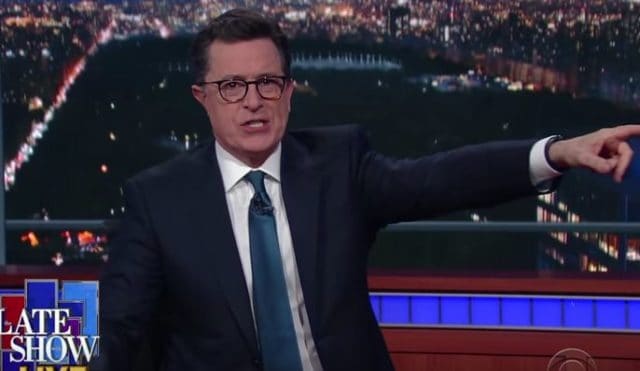 The overall consensus for Donald Trump's speech to Congress last night is that his tone was "better." He seemed a bit more unifying but the pervasive problems that have plagued Trump since the time he was campaigning for President are still there. "How are you going to do all of this?" His remarks regarding the anti-semitic threats across America were the strongest they've been since he's taken office. However, there was still a tone of "we're going to do this and not really show you how" that left the media baffled.
Of course Stephen Colbert was there to weigh in on it all. Instead of going right for Trump's throat as he always does, Colbert was there in a live broadcast to assess the Democratic party's response to Donald Trump. For their rebuttal, the Democrats chose former Kentucky Governor Steve Beshear, who delivered an inclusive message from one of the nation's creepiest 'everyday' diners.
Colbert was quick to point this out among other things. It leaves the question of, "what are we going to do about anything?" Seriously. I already mentioned that Jon Stewart should be out next President and I'm dead serious about it. A Stewart/Colbert ticket would be one of the best things in our nation's history.
Check out Colbert ranting below: