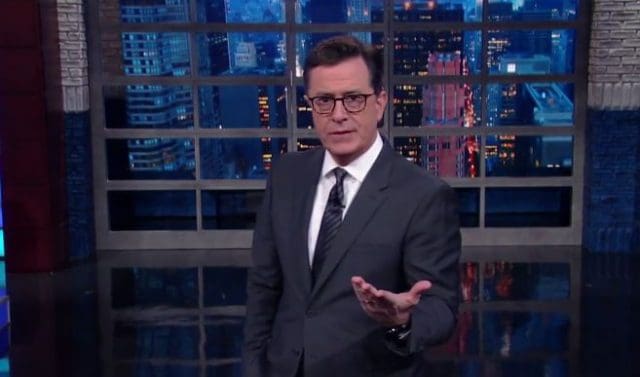 The Late Show With Stephen Colbert was live immediately following Monday night's presidential debate between Hillary Clinton and Donald Trump. However, just because Stephen Colbert spent much of that night's episode commenting and reflecting on the event didn't mean he was done with the subject. Last night on The Late Show, he not only took a deeper dive into what exactly was said by each candidate during Monday's debate but also how they reacted afterwards on Tuesday. Colbert especially focused on Donald Trump's reaction, which was filled with lies and excuses.
Following up the 34 lies or mis-statements he gave during the debate on Monday night (according to fortune, Hillary Clinton was tagged with four of them), Donald Trump tried to lie on Tuesday about how well he was doing in the polls. Not only did Trump dismiss a CNN poll that showed him falling behind Hillary Clinton, calling it "meaningless," but he said that he was winning in the CBS poll. Unfortunately for Trump, CBS never conducted a post-debate poll, a fact that came out after CBS reporter Major Garrett tweeted out the information.
But lying wasn't the only thing Trump had up his sleeve on Tuesday. He was also prepared with excuses, slamming moderator Lester Holt for asking him "unfair questions" and even blaming his own microphone. Trump claimed that his mic during the debate was "terrible" and that it didn't work, despite the fact that no one ever seemed to have trouble hearing him.
"Yes, there was clearly something terribly wrong with his microphone," Colbert said about Trump. "I mean, who left that thing on?"
Watch Stephen Colbert break down the rest of the debate and the candidates' responses to it in the video below:
And if you haven't had enough of Donald Trump yet, check out The Late Show's post-debate opening title sequence. Trust me, you won't be disappointed.
[Photo via YouTube]