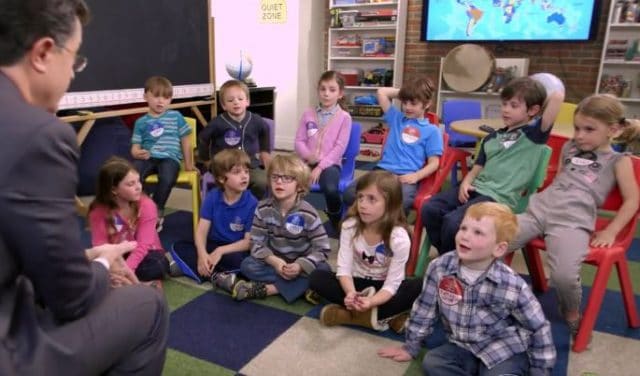 Stephen Colbert always takes some time during The Late Show to discuss the 2016 presidential election, whether that means poking fun at Donald Trump's policies (and his hair) or wondering how and why Bernie Sanders is still in the race when he has no chance of winning. However, last night on The Late Show, he did something a little bit different. Instead of cracking jokes about the candidates, Colbert actually went into a classroom of students that appeared to be no older than six or seven and asked them for their thoughts on the election, and their answers are pretty priceless.
Colbert held up pictures of each of the candidates and asked the kids how they feel about them. When it came to Bernie Sanders, a few of them said they felt happy, while at least one girl said she was confused when she looked at him. Meanwhile, the expressions on their faces for both Hillary Clinton and Donald Trump weren't too favorable, with one kid suggesting that Trump's hair is "a creepy creature that crawled on top of him" and another saying that it "kind of looks yellow."
And while all of those moments are great, no doubt the best part of the entire segment is when Colbert showed the kids a photo of Ted Cruz, who they mistook for being Colbert. When he asked them if he looked like Ted Cruz without his glasses on, they said yes.
"I forgive you," he told them. "I forgive you all."
Watch Stephen Colbert talk about the 2016 election with kids in the video below:
[Photo via YouTube]