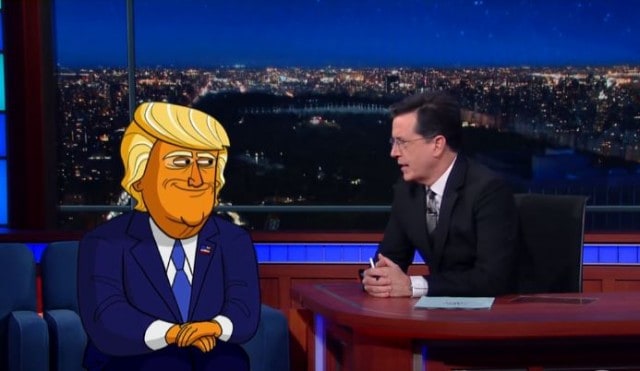 As Stephen Colbert pointed out last night on The Late Show, it's been a rough week for Donald Trump and his campaign. Not only is the Republican presidential candidate under fire for retweeting a sexist and insulting image of his wife, Melania, and Ted Cruz's wife, Heidi, but he also got into trouble after his campaign manager, Corey Lewandowski, was charged with simple battery. Even though Trump claimed that Lewandowski never touched the reporter in question, Michelle Fields, footage from the event clearly shows that Lewandowski did, showing yet another Donald Trump lie.
Everything happening with Trump right now makes him seem even more cartoonish than usual, which is why Stephen Colbert didn't have the real Donald Trump on The Late Show last night but instead interviewed Cartoon Donald Trump about the many problems he faced this week. The cartoon version of Trump was just as defensive as his real-life counterpart, thanking Colbert for having him on before immediately claiming "He started it."
"Who started what?" Colbert asked.
"Anybody, Stephen," Cartoon Trump said. "Whatever they started. You know, unless it makes America great again, in which case I started it. It's very exciting. The best!"
The whole "interview" is gold, with Colbert calling him "Mr. Cartoon Trump," as he attempts to explain away the plethora of issues his campaign is dealing with currently. However, the best part of the entire video comes near the end, when Trump explains how he will appeal to women voters by dancing to "I Like the Way You Move." It's something you have to see to believe, and oh man, is it it hilarious.
Watch Stephen Colbert interview Cartoon Donald Trump in the video below:
[Photo via YouTube]
Tell us what's wrong with this post? How could we improve it? :)
Let us improve this post!