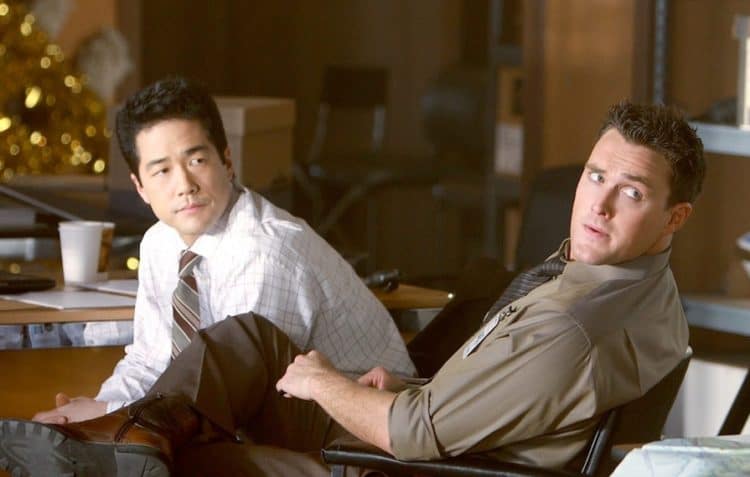 Tim Kang is an American actor. Primarily, he is known for his role as Kimball Cho on The Mentalist. However, that is far from being his sole role, as shown by the fact that he is continuing to appear in projects such as Madam Secretary, Cloak & Dagger, and Magnum P.I. in the present time. Here are 10 things that you may or may not have known about Tim Kang:
1. Born in San Francisco, CA
Kang was born in San Francisco, CA under the name Yila Timothy Kang. Said city is a place that should need no introduction, seeing as how it is one of the most prominent that can be found in the United States. However, it is interesting to note that it is a particularly popular place for immigrants to the United States in both the past and the present, not least because of its convenient location on the West Coast.
2. Studied Political Science
If people were asked about Kang's subject of study in school, chances are good that most people wouldn't be able to guess right. This is because he studied political science at the University of California, Berkeley, which isn't what most people think of when they think of someone who went into acting as a career choice. With that said, Kang does actually have a Master of Fine Arts as well from Harvard University's famous ART/MXAT Institute for Advanced Theatre Training.
3. Went Into Finance
Kang isn't one of the actors and actresses who became interested in acting at a very young age. Instead, once he had gotten his college education, he went into finance, with the result that he was working for a regional stock exchange in the state of California when he had a life-changing experience by pure coincidence.
4. Signed Up for Acting Classes on a Whim
In short, what happened was that Kang signed up for nighttime acting classes on what was pretty much a whim. Eventually, he became more and more interested in acting, so much so that he decided to quit his day job when he realized that he was no longer capable of concentrating on what he was doing at the regional stock exchange. As such, if it wasn't for that one moment of whimsy, there is a good chance that Kang wouldn't have gone into acting as a career choice.
5. Worst Career Moment Was Life-Changing
Speaking of which, Kang's realization of how much his priorities had changed came from what he has called his worst career moment. Essentially, he had lost so much focus because he was carrying out a mental rehearsal for his nighttime acting class that he sold shares when he was supposed to buy shares, which is unsurprisingly, a big no-no moment for someone working at a stock exchange because such incidents can cause huge losses. In that one moment, Kang realized that it was time to make a career change because his heart just wasn't in finance anymore.
6. Has a Black Belt in Taekwondo
It is interesting to note that Kang has a black belt in Taekwondo. For those who are unfamiliar, Taekwondo is a Korean martial art created in the 1940s and 1950s by a collection of South Korean martial artists from influences from Korean martial arts, Japanese martial arts, and Chinese martial arts. People who recognize Taekwondo might recognize it because of its fondness for kicks, with a spectacular example being its head-height kicks.
7. Something of a Thrill-Seeker
Speaking of which, it can be said that Kang is something of a thrill-seeker, seeing as how he loves fast and otherwise exciting pursuits such as sky diving, scuba diving, and racing high-performance motorcycles. As a result, it should come as no surprise to learn that Kang performed most of his own stunts, which is something that is presumably helped out by his martial arts background as well as the rest of his athleticism.
8. Not the Same Kind of Person As His Most Famous Role
It isn't uncommon for actors and actresses to get associated with their most famous roles so much that their personalities are assumed to be the same as those of their characters, which is perhaps unsurprising because that is how interested individuals see them the most. However, it would be a mistake to assume that Kang is the same person as the character that he played on The Mentalist. For example, Kang is a relatively easy-going person with a solid sense of humor as well as a readily-available smile, whereas the number of Kimball Cho's smiles in a single season could be counted on the fingers of one hand. For that matter, Kang's personality isn't what a lot of people would expect based on his thrill-seeking either, seeing as how he tends to be an upbeat individual with a fair amount of patient nonchalance.
9. Called Rambo 4 a Career Highlight
Unsurprisingly, The Mental Highlight was a career highlight for Kang. However, he has mentioned Rambo 4 in the same light, not least because of the presence of Sylvester Stallone. As Kang put it, Stallone's industriousness at his chosen craft was inspiring, particularly since Stallone was a huge star in his 60s at the time. Moreover, Stallone was pretty supportive, with the result that Kang said that he walked away from the experience with some pretty useful life lessons about his career.
10. Supporter of the National Center for Missing and Exploited Children
Like a lot of actors and actresses, Kang has certain causes that he cares about a great deal. In particular, he is a supporter as well as a spokesman for the National Center for Missing and Exploited Children, which exists for the purpose of child safety as well as child well-being. Besides being a spokesman, Kang has his own production company, which focused on the issue of child abductions for its very first film project.