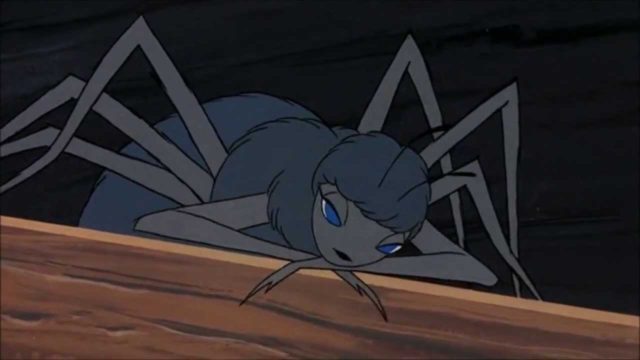 A lot of us grew up with Charlotte's Web and can remember it fondly and with a hint of sadness since we all know what happens to the titular character close to the end. I don't recall a single person crying a single tear for an actual spider, but when you make one into a cartoon and give her a voice that's as sweet as can be everyone's bound to get weepy. That little bit of cynical talk aside, Charlotte's Web was a pleasing film that was meant to pull the emotions out of people since it began with the very emotional outburst of the young girl that saved Wilbur from being chopped up since he wasn't getting the attention he needed from his mother. If you really think about it this movie has some seriously dark undertones that a lot of people didn't really consider when they deem it a classic.
It's still a touching tale though, and one that most of us can remember fondly.
10. Debbie Reynolds offered to forego her salary to play Charlotte.
Reynolds loved the book so much that she was willing to voice Charlotte's part just for the fun of it. That's true dedication to one's craft.
9. The original actor that was meant to play Templeton had to be replaced.
His voice was just a little too cultured when the director wanted someone with a more nasally pitch.
8. It was almost believed that the movie would get a PG rating.
As I said there were some very dark undertones in this movie that the film makers were worried could change the rating.
7. The author was hesitant at first to let this book become a movie.
He was worried that the director and the writers would change too much of his story to fit their needs and the time frame.
6. The release date was pushed forward.
If it hadn't have been then Charlotte's Web would have had to contend with Disney's Robin Hood.
5. The animators were given framed cells as a memento.
That would be a nice little thank you for a job well done and something to hang up with pride in an office space at home.
4. The author wasn't too fond of the movie.
Just as he feared the director and the animators changed too much about his book. He watched it once and then never again.
3. Once criticism was that the animation was too weak.
This seems like a very strange criticism coming from anyone in the 70's since the animation back then was all fairly scratchy and hardly ever smooth.
2. A lot of the animators also worked on Hanna-Barbera's TV shows.
This would definitely save on cost when it came to keeping the same people on for different jobs.
1. The live-action remake wasn't nearly as popular as the cartoon.
Released in 2006, the live-action/CGI version of Charlotte's Web wasn't as well-received as the cartoon had been and was met with a lot of mixed reviews and emotions. The cartoon just packed a heavier wallop to the old heartstrings.
Some older versions of films are simply bound to be better.