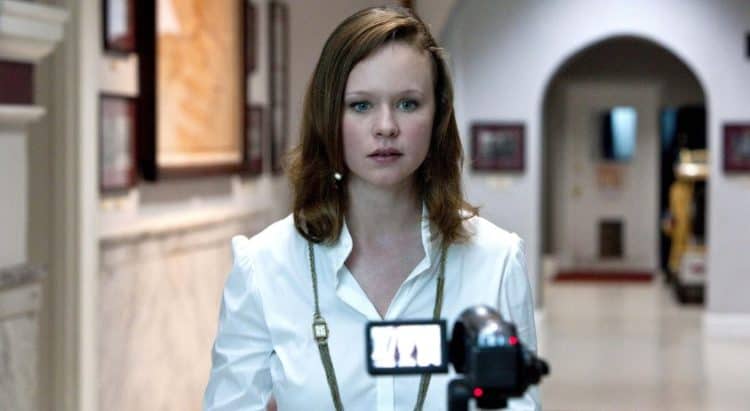 Thora Birch is an American actress who became well-known for her roles in kids' and family films. She started her career early,and was an instant hit with the public. She's appeared in films with Bette Midler, Sarah Jessia Parker and Kevin Spacey (to name a few). Thora has a huge fan base which has been accumulating since she was a pre-adolescent and there are fans who want to learn all that they can about her. To satisfy your cravings for the scoop on this popular young celebrity, here are ten things that you probably didn't know about Thora Birch, including what's happened in her life since she entertained us as children.
1. Thora is a natural when it comes to acting
Thora Birch is an actress who made a big impression as a child actor in her 1988 film, "Purple People Eater," which was also her debut appearance. He acting abilities even at a young age were recognized an acknowledged as she was awarded a Young Artist Award for her performance in the "Best Young Actress Under Nine Years of Age."
2. She played Harrison Ford's daughter in the Jack Ryan Films
Thora landed the role of Jack Ryan's daughter in both of the films in the series which starred Harrison Ford. These included "Patriot Games" in 1992, and "Clear and Present Danger" in 1994. Her performances in these serious drama films was stellar.
3. She was only four when she started her career
Do you remember the cute and catchy commercials for the California Raisins? These characters were a bit hit in the 1980s. Thora started her career in acting at the tender young age of just four in commercials for the California Raisins. From this experience, she would go on to secure her film role in "Purple People Eater" just two years later when she was only six.
4. Thora was fired from a film
We learned that Thora Birch was fired from the set of a theatrical production but it wasn't because of anything that she did wrong. The incident occurred in 2010 when she was scheduled to appear in the off-Broadway theatrical production of "Dracula." Her father was alleged to have threatened one of the actors, and this is the reason that was given for Thora's dismissal. The details of the incident were not fully disclosed.It is interesting to note that since she began her career in acting at a young age, her parents have served in the capacity of managers for her acting endeavors.
5. Thora played a role as Wilford Brimley's granddaughter
Thora starred in a Quaker Oats commercial with the late Wilford Brimley who was a popular and highly seasoned actor at the time. She played the part of his granddaughter. This was in important encounter for Birch because Brimley imparted some advice to her that she continued to follow throughout her career. He told her to "maintain eye contact and really listen."
6. She beat 4,000 contenders for her role in "Paradise"
Thora had a lot going for her as a young actress and she showed the world just how versatile her acting talents are. She auditioned for the juvenile part in the movie "Paradise" with Melanie Griffith, Don Johnson and Elijah Wood who are all superstars. There were four thousand young hopeful actors who were vying for the part and out of thousands, Thora was the sole actress who secured the position.This was a little different than some of the other roles that she had played because it was a film in the drama genre, which required a bit more versitility.Thora received yet another nomination for a Young Artist Award for her performance. Although she wasn't the winner, a nomination shows that she was recognized for her skills as an actor.
7. There haven't been many gaps in her appearances
Thora is still going strong at the age of 37 as an actress in the film industry. As we were looking through her career history, we noticed that there are very few gaps in the release years for films and television series that she's appeared in. We saw just three years since her 1988 where she wasn't in some type of film or television release, which is truly remarkable. Most recently, Thora has appeared in three 2018 films which include "The Competition, "The Etruscan Smile," "Affairs of State," and in 2019, "The Last Black Man In San Francisco.
8. She's a generous philanthropist
Thora Birch is a very generous person who does what she can to help other people, especially those who are in dire need of assistance. She is an active supporter of Best Buddies International, the Elizabeth Glaser Pediatric AIDS Foundation, and the Barbara Davis Center for Childhood Diabetes. She has a heart for those who struggle with medical problems and helps out in raising funds.Those who know Thora on a personal level know that she is a kind and thoughtful person who thinks of others and does what she can to help.
9. Thora and her brother have interesting names
Thora has one sibling, a brother. The two were given very interesting names by their parents. Thora's name is taken from the Norse God Thor. Her brother's name is also Norse in origin and it is Bolt. When you put the two together it sounds like they could be a formidable pair of superheroes.
10. She was in two films with Neil Patrick Harris
Thora appeared in two different genres with star Neil Patrick Harris. The two were both in the film "Purple People Eater" as children. Birch also appeared in Harris' popular "Dougie Howser MD." Both of the actors went on to become highly popular television and film stars with successful careers. They have done well as child actors, and unlike many former child stars, each continued forward into adulthood without missing a beat in their careers by maintaining a steady workload because they were able to grow into their craft and adapt to the opportunities which were made available throughout the aging process. To this day both Birch and Harris are actors who have all of the work that their hearts' desire.
Tell us what's wrong with this post? How could we improve it? :)
Let us improve this post!