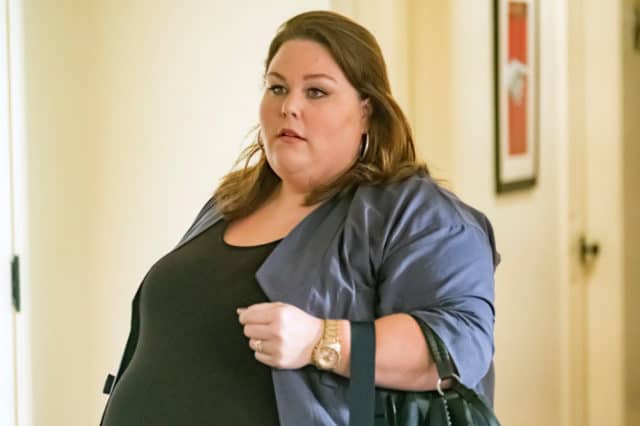 Powering through. That's a tough thing to do when you're holding onto the pain, holding it all inside. This Is Us isn't shying away from showcasing that this season. As everyone embarks on new journeys, they're held by past experiences. Relying on those experiences too heavily can be damaging, especially when life tells you it's time to move on. This week the Pearsons each hold onto remnants of their past in different ways. If there is one thing that is going to kick the Pearson kids into high gear, it's Kate's unbelievable surprise.
First things first. Raising the Pearson triplets took a special hand. Randall had a very different upbringing than his girls, mainly because he had to deal with racism in his own family. That's not a conversation Randall's daughters are old enough for yet. Rebecca's mother made it very clear to Randall at an early age that she thought less of his abilities because of his skin color. The woman never thought of herself as racist, but Rebecca had to draw the line when her mother's insensitive comments hurt her child. This was an awkward conversation that needed to happen, but don't expect a happy resolution.
Fast-forward to the present, and Randall has to shift his parenting goals a bit. Randall really wants to take the parenting lead, which makes sense. His dad was a big influence in his life, and now that he's a stay-at-home dad, he has the time to focus solely on the kids. He can do that with his kids, but there are so many things that he can't relate to with Deja. As a woman, Beth can relate to Deja in a different way. She knows how important a woman's hair is to her identity, and how Deja's alopecia affects her self-esteem. There's also an underlying understanding that a young girl in the foster care system is less trusting of male authority figures. While stress is something Randall can relate to, he has no idea how to handle a girl who doesn't trust him.
I really respect Toby for how supportive he is of the Pearsons. He already has his hands full worrying about how much Kate is working out. Once Kevin is forced into doing a surgery on his knee, he wants a speedy recovery. To be fair to Kevin, his fear of losing yet another dream after football is very real. If it were as simple as the physical pain, he wouldn't be such a mess. The pain in his knee brings back too many memories of Jack, and the emotional pain is more than he can bear. That's what the pain medication is really for-running away from the hurt. Kate sometimes wishes she could run away from the weight loss. One thing she can't walk away from is the shocking secret she is quite literally carrying around: a baby.
Congratulations Pearson family. Kate Pearson is going to be a mom!