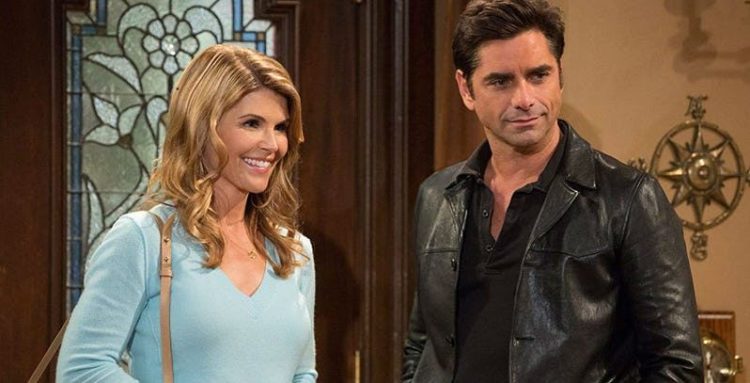 When a parent says they will do anything for their child, some of us take it figuratively, but we have watched it happen in real life. Felicity Huffman and Lori Loughlin have proven a mother's child goes beyond any limits. They two actresses wanted their daughters to have an advantage in the university admission process thanks to a scheme ran by Rick Singer. However, the long arm of the law caught up with them and brought them to justice. While Felicity pleaded guilty to the charges, Lori and her husband stood firm in their innocence plea. Unfortunately, the damage was already done, and Lori's career took a hit. Among those who did not want to be associated with Lori is "Fuller House," so they had to let her go. This is how "Fuller House" handled Lori Loughlin's exit.
Theories that had been floated on handling her exit
Since "Fuller House" was wrapping up with season 5 and Aunt Becky, played by Lori, had become a familiar face in the first four seasons, people were curious about how the actress would be removed from the series. By March 2019, six theories had been floated about how the exit would be handled. One of them was that she would be inducted in a bribery scheme after being discovered that she paid $500,000 to change the grade of her twin boys' taco truck from " D" to "A., Of course, that would be rubbing it in Lori's face so the other theory was that she would be poached by "The View." The rest included Aunt Becky visiting Michelle in New York for an extended stay, going to take care of her aunt Ida, going to live with Stavros in Greece, or ingesting a poisonous flower and dying.
How her exit was played out
By June 2019, Netflix was still not sure about how to write out the actress, and the cast was also not kept in the loop of any ideas the network had. Candace by then said she was in the dark about the network's plans, but she remained hopeful that the season would still be fun to watch. One thing that remained clear is that she was standing by Lori's side no matter what. She said that family sticks together, supporting each other in hard times, and praying for each other until the dark clouds pass.
In December 2019, we got the answer as to how the exit was handled. According to Distractify, Aunt Becky was not the main character, so writing her out would not be a problem. Therefore even mentioning her did not seem necessary; they preferred to have her disappear silently, and to ensure that it was not too noticeable, Joey's wife also did not appear. The silent disappearance also helped ensure that John Stamos stayed relevant in the show since the producers wanted fans to get more of Uncle Jesse. It is, therefore, no wonder that some had speculated that Aunt Beck and Uncle Jesse would divorce to keep him on the show even after her exit. Baldikoski had told fans what they were avoiding was to make Aunt Becky appear as a villain; hence a divorce was a far more preferable storyline. In the end, ignoring her absence seemed like the right to do.
What about Lori's other shows?
Lori is an accomplished actress, and she even had a role in "When Calls The Heart," but Hallmark could not have her anymore after the scandal. The network did not beat around the bush; they immediately released a statement saying they would no longer be working with Lori Loughlin and had stopped any developments that involved her. With that, Lori's casting in "Garage Sale Mysteries" and "When Calls The Heart" came to an end. Hallmark removed her from any scene she had filmed in season 6 and explained that Abigail had gone to take care of her ailing mother.
She is not the first to be fired after a scandal
The entertainment industry is so fragile that one wrong action or word will have your career off the tracks in no time. Michelle Rodriguez had to kiss her role in "Lost" goodbye after being arrested for driving under the influence. Networks and producers have an image to maintain, so convicts are not people they like to have on their payroll. Even Gary Dourdan knows this too well when his exit was through being shot dead on "CSI" after being arrested for drug possession and domestic violence. Others, like Kevin Spacey, had their careers come to a shocking standstill after sexual harassment allegations. Although the actor saw it as an opportunity to come out of the closet, he was no longer part of "House of Cards" and was edited out of "All The Money on the World."
Is there hope for Lori Loughlin's career?
They say hope is the last thing that dies in a person, so if you have any vestiges left, then your future is not as bleak as it may seem. Celebrities have made successful comebacks after scandals have brought them down, and one person who can relate to this is Kobe Bryant. In 2003, he was found guilty of having non-consensual relations with a hotel employee. After issuing a public apology, by 2015, he was back as one of the greatest basketball players of all time. Robert Downey Jr. also had his fair share of run-ins with the law after being arrested severally for drug possession. He had to be written out of "Ally McBeal." Luckily after going to rehab, the actor reclaimed his lost glory, and after getting an Oscar nomination, he has been playing "Iron Man" since 2008.
That said, Lori's career may have taken an unfortunate turn, but she still could get back to the top. Even if she is found guilty of all the charges, Lori will not be the first celebrity to spend years in prison. According to People, legal experts estimate her prison sentence to be two or three years if found guilty. If Lori gets her act together, she will reign in Hollywood once again.
Tell us what's wrong with this post? How could we improve it? :)
Let us improve this post!