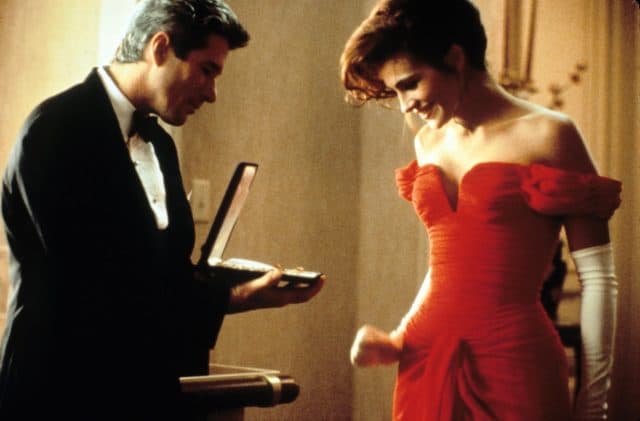 It seems to be the season for messing with classics. Pretty Woman is going to be featured on Broadway and already opinions about this are quite mixed. It's not so much that people feel that it will bomb out entirely, it's simply that messing around with films that were loved by so many tends to work against the grain in a manner that is not so much rebellious as it is nerve-rending. It could possibly be a great production if things are handled in a way that respects and even pays homage to the first film, but unless that happens it could be something that elicits polite smiles and an obligatory applause as people attempt to forget about it.
Pretty Woman was, for all intents, the modern day love story of a woman that envisioned her own prince charming coming to sweep her off of her feet. She wanted this so badly but was so hesitant to believe that she'd found it that she almost let it go entirely. Fantasies tend to dim just a little when one sees that they are so far out of reach for so long. Unfortunately those fantasies given even a smattering of hope and belief are often the hardest to lose since they are the hardest to hold onto.
There's a good chance that the play could be something special considering how much people are willing to forgive when it comes to different adaptations of their favorite stories. But with Pretty Woman the story would surely suffer if too much were changed. The director of this production would be wise to stick to the source material if only because fans of the film are likely to attend and quite possibly watch with a critical eye towards what they believe is necessary and what might be seen as extraneous.
The two lead actors are fairly well known on the circuit, and will be doing what they can to portray the roles of Edward and Vivian, but the prognosis thus far is anything but one hundred percent approval. Of course that means very little to those actually putting the production together since in the history of Broadway it has always been about the vision of the director and the input of the crowd and those around them seems not to matter at all.
This is how it should be however. The director of any production is the one upon whom the success or failure of a play or film tends to rest. It is their decision concerning any and all aspects of the film that is the most heavily scrutinized. On the other hand, it is because of this that the wisest directors tend to take advice from those around them when it is warranted and when it is necessary. Ego is one of a director's worst enemies at times and can make or break them in regards to their creations.
So to be honest the play could be something great, it could be wonderful. But if it strays too far from the source then there's a good chance that people will be saying "oh, that's nice", on their way out the door.
Save
Tell us what's wrong with this post? How could we improve it? :)
Let us improve this post!