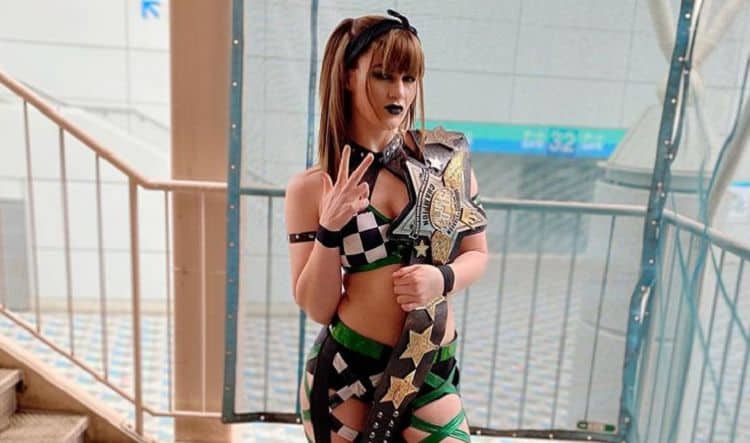 Professional wrestlers are huge in the sports industry. They bring in millions of dollars every year in profit for the companies that represent them, and they have a fan base like nothing else. For someone like Bea Priestly, this is the everyday life she's grown accustomed to living. She's working hard to maintain her strength, her big personality, and the intimidation factor alongside her lovely looks and her success. It's not easy to be a pro wrestler, but it's a dream so many people grow up with. She's managed to take her dream and make it her reality, and that's where we want to focus. She's someone who has so much going for her, and we want to know more about her as her fame continues to grow.
1. She's Got a Lovely Name
Her real name is not Bea Priestly. Well, that's not entirely true. She is Bea, but it's short for Beatrice. Her given name is Beatrice St. Clere Priestly, which is a name we find lovely. It's not so common in America, though it might be much more common where she is from. However, we find it a bit old-fashioned and lovely as a whole, and we wish more people would go that route when choosing names.
2. She's English
She's a woman who was born in North Yorkshire, England. She hasn't always lived there, though. Her pro career has taken her around the world more than once, and she's called home more places than many of us could imagine. She's oftentimes on the road so much that it's hard to feel that anywhere is home, we imagine.
3. She's Young
She's not so young that she's a baby in the world of wrestling, but she's pretty young. She's only in her 20s, and not even her late 20s. Her date of birth is March 22, 1996. That means she's just turned 20 in the last few days. That's young, but that doesn't mean too much to her. She's been working so hard most of her life that she probably forgets her age as she grew up faster than many people who don't begin working when they are so young.
4. She's Been Doing This A Long Time
As we said above, she's been doing this a long time. She was 14 when she began training professionally, and it means that she's been working hard for 6 years. She's been at the game a lot longer than this, but this is the age when she found her trainer, her pro desires, and she began working hard to make this happen for herself. She's someone who is driven and who is ambitious, and she's not about to let anyone get in her way when she does what she's trying to do.
5. She's International
She's been living her life in the pro wrestling world for some time, but she's also internationally known. She's not from Japan, but she did make the announcement back in 2019 that she'd be moving to Japan because so much of her work is based there. This officially makes her an international kind of gal, star, and success story. What a cool thing to get to do in your life.
6. She Lived Through A Major Health Battle
She's a woman who has been through a lot for someone who has lived a very long life, let alone someone who is only 20. When she was only 14, she was diagnosed with a brain tumor that left her wondering what her future would look like. Fortunately, the tumor was not so severe she could not live with it in her brain. We don't know any specifics or details, but we do know that she waited four years to have it removed. She was 18 when she underwent surgery to have it taken from her brain, so we have to assume it was not cancerous or as dangerous as many brain tumors that take lives and leave people without their full abilities.
7. She's Taken, Sorry Gentlemen
We know you know she's gorgeous, but she's also not a single lady. While she doesn't seem to have a ring on her finger in terms of being engaged, we know that she has a longtime partner. His name is Will Ospreay, and he's also a professional wrestler. He moved with her to Japan to work on their careers, and they both have a long history of being quite successful.
8. She Turned Down a Contract With WWE
That's a major deal in the wrestling industry. The WWE is a program that makes people famous, it changes their lives, and it does so much for them. We don't know why she chose to turn down the chance to sign with one of the biggest pro companies in the world, but she did. She didn't want to do it, and there is nothing that should bother anyone about that. She's not required to sign with anyone who does not make her feel as if she should sign.
9. She's Rocking Bangs
We have to point this out because that's not easy. It's really not. Bangs are not for everyone. Bangs are dangerous. There are truly only a few people in the world who can rock a bang and not look like they made poor life choices, and we are convinced that Bea Priestly is one of those very few lucky women who can do that. If we could all rock bangs like she does, none of us would have to pay for botox.
10. She's Not Done Yet
If there is one more thing that we think she's good at doing, it's accomplishing her goals. She seems to be the kind of woman who knows what she wants, she has a plan to get it, and she's nowhere near done with her journey to reach the top. We can't wait to see where she goes next — you know, when we can all actually go anywhere again, that is.