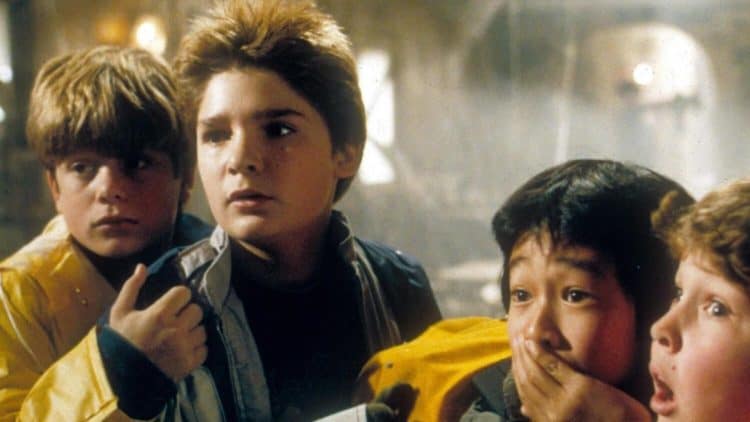 Just to be clear the script written by Ben Schwartz is being compared to The Goonies, but it's not direct sequel since it's about a group of treasure hunters that failed to find what they were after and as a result ended up becoming failures as adults. When the chance to find the treasure comes around again however it would sound as though the group pulls together again in order to find the treasure. In this manner it really sounds like a blend of The Goonies and Without a Paddle mashed into one movie, though with all respect to Ben The 79ers, which is apparently the name of the script, is being worked on and could be available for viewing at some point. But again, calling this an adult Goonies movie is done in more of a spiritual sense as Michael McCleod of Screenrant states, and it might be best that it's kept that way. There are a number of reasons why after all and it's easy to name at least a few. One of course is that if the Goonies are to ever come back then it really needs to see at least a few of the originals make their way back to the big screen, if they're willing.
Another is that the Goonies actually DID find the treasure they were after, and it's the only reason that they were able to keep their homes as Mikey and Brandon's father so joyfully tore up the forms that he was about to sign at the end of the movie. The Goonies was a classic and a mainstay in pop culture that many upon many people have thoroughly enjoyed over the years since it captured the essence of being young, full of wonder, and of course being mischievous enough to undertake a quest that would lead to certain danger and possible death. How many of us thought that the journey the Goonies went on was undeniably cool and would be a serious thrill ride even with the many pitfalls they had to endure? If your hand isn't up then you might not have watched the movie, are too young to remember it, or just didn't care for it in the first place. In that case there's nothing I can do for you, but for the rest of us that enjoyed the movie from front to back and have watched it numerous times throughout the years (just admit it) this is one of those movies that holds a special place in our hearts since it helped to make our childhood awesome in at least a small way.
There are plenty of inconsistencies that emerged during the movie however that many people would likely call out and, having been raised on the coast, I could even point out at this moment. The store that the boys ride by and in deleted scenes stop at was in operation for quite a while but is well outside town and, on another note, is the opposite direction from where they would have had to go if they were headed anywhere near Haystack Rock, which is one featured prominently in the movie and is actually where the Fratelli's enter the auto race. The biggest issue however is that Haystack Rock is in Cannon Beach, which is a distance of at least 25 miles, much too far for the boys to be riding on their bikes, even in fair weather. Then there's the matter of the entrance to the cave that somehow leads them all the way to a series of subterranean tunnels that exist beneath Astoria, meaning that not only did they somehow go under the Columbia River, but they traversed that same 25 miles, and possibly more given the depth they would have had to go to, in order to return to a location that was more or less beneath the city they called home. Then, somehow, they would have had to double back and make it ALL the way back to the cave that was set once again at Cannon Beach, meaning that they walked 50+ miles, in the dark, with only a single lantern for light, with a band of dangerous criminals on their heels the whole time. I know, that kind of ruins the fantasy but as an adult it's easy for our rational minds to sit back and laugh as we think that the fantasy we accepted as kids is far more entertaining. Erick Bengel of The Daily Astorian could give you more on this matter that would enlighten you even further.
Make no mistake, the script that Ben Schwartz wrote is definitely based around and inspired by The Goonies, but there's only one original when it comes to this classic and there will be no substitutes accepted. But all in all, it might be interesting to see what Ben cooked up since being inspired by this movie could help to produce another flick that might show some promise.