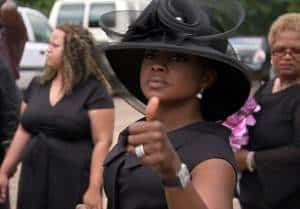 By now, it's been established that any of The Real Housewives of Atlanta can get messy when need be, as we've seen enough (attempted) wig snatches and busted up parties to know how Phaedra, Kim, Sheree, Cynthia, and, of course, Nene get down. That ability to mix things up has crossed over into several storylines in season four of the hugely popular reality hit, if the previews for "Jewels Be Dangled" are any indication.
Surprisingly, the most messy member of the cast this season has been (normally) good-natured Cynthia, whose relationship with husband Peter is facing some serious blowback from his unfiltered Uptown Magazine interview and continued tensions with Mel, Cynthia's sister. Peter confronts Mel tonight (check the video on page 3 if you want a taste), but knowing how bull-headed the two are, I wouldn't look for a Full House-esque moment of clarity and mutual respect to close out the episode. If anything, expect it to go very badly very quickly and this to turn into Peter's second dust-up in a week, following his man-fight with Apollo.
(As a bonus, get a look at some rather uncouth things Cynthia said about every cast member except, you guessed it, Nene.)
If you're not into family drama from The Real Housewives of Atlanta, you might be more into Kandi's birthday party, which features a stripper popping out of a giant gift box and sending conservative Mama Joyce heading for the exit. The gift giver? Phaedra, who you'll remember was the big proponent of strippers in an episode last season. You'd think that she'd realize that Kandi's mother bears more than a passing ideological resemblance to Pastor Regina and that bringing Ridickulous (I kid you not – the preview is on page 2) might not have been the best idea, but hey, it should be good for a laugh or two. Especially since Kandi's party looks to be full of tension or, as Phaedra puts it, "the Crips vs. the Bloods", leaving the birthday girl in the middle of things once again.
Do you think Kandi will eventually pull a Cynthia and just tell everybody off?
Sheree and Nene were responsible for the first big fight of this season of The Real Housewives of Atlanta, duking it out over money issues relating to a personal appearance and a man named Tyrone. In "Jewels Be Dangled", the two are heading in opposite directions, with the former dealing with delays in building a new house and the latter finally getting some booty. I still don't know how Sheree, who has been dealing with financial problems recently, can afford to build a brand new 8000 sq. ft. house, but it won't matter as Chateau Sheree isn't popping up anytime soon. (The delays could be financial, hence why she takes her ex-husband to court for child support later in the season? Just irresponsibly speculating.) I hope that new love (or new action, at least) can help bring Nene back down-to-earth a little bit because the last two seasons, she's been incredibly egotistical and nasty to pretty much everybody. But go 'head anyway, Miss Nene. No shade at moving on with your life after heartbreak.
I wonder if her "activity partner" is the guy she played frisbee with on the beach.
The one not in any mess tonight? Shockingly enough, Kim. She's out of commission on the reality fighting circuit until the baby comes, but when she gets back to her fighting weight, look out. (She and Kandi are supposed to get into it later this season, so she won't be wasting any time, it seems.)
The Real Housewives of Atlanta airs Sunday nights at 9:00 on Bravo.
Tell us what's wrong with this post? How could we improve it? :)
Let us improve this post!