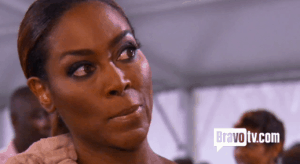 After last week's episode of The Real Housewives of Atlanta, I couldn't help but feel perplexed after hearing both Pheadra Parks and Kenya Moore's stance on their Donkey Booty DVD venture, because I didn't know, in a business sense, exactly who was in the wrong. But when it comes to both of the ladies' behavior, I would have to say they met each other at a draw in terms of who was more wrong in how they handled the situation. However in this week's episode, I can't help but dub Kenya as being completely in the wrong for blatantly stealing Phaedra's idea for a booty workout video.
The episode dealt mostly with the fallout of Kenya's announcement of said video and the other ladies picking sides or getting the hell out-of-the-way. Team Donkey Booty is led by Phaedra, with Kandi and new recruit Porsha serving as back up. Kenya is technically flying solo on Team Stallion Booty, but has NeNe Leakes's stamp of approval, because to her, who wants to associate themselves with a donkey? While I can see where NeNe is drawing her criticism, I think it would be best for her to take a page out of Cynthia Bailey's book and stay neutral in the is particular scenario.
As the word of Kenya's "Stallion Booty" trickled down the grapevine (courtesy of the Derek J and Kandi Burruss Courier Service), the former Miss USA continued to 1) deny that it was a copy/ripoff of Phaedra's idea and 2) claimed that with her offer with the production studio being still on the table, she had to act on it. See the latter issue had me going, "Hmm…" because I have no clue what the repercussions would be if Kenya didn't act on her deal with the production company. So, in that regard, Kenya possibly had to follow through with her deal with that particular company to avoid a penalty. However, she didn't explain it as such, making her endeavor seem like nothing but a huge dig at Phaedra and Apollo for snuffing the deal between them and looking hella messy in the process.
While Kenya was announcing her version of a butt workout video, Phaedra was busy trying to get Ayden to model for Cynthia's fashion show for kids. Unfortunately, the kid was not having it and Cynthia looked as if it took everything in her power to tell Phaedra to get the hell out of her practice session if she couldn't get Ayden to cooperate. Next, Porsha showed up to the session, which was odd since she didn't have any kids to take part in the event to begin with. Not saying that Porsha couldn't come and support a friend, but come on now. That was blatant manipulation on the producers' part to have Porsha in the scene to bond with Phaedra over their issues with Kenya.
Surprisingly, Porsha slick called out Phaedra for being Kenya's bestie in Anguilla (damn, are we still talking about that trip?!) and now has finally seen what everyone else has seen: Kenya is certifiable five times over. Phaedra tried to rationalize Kenya's 'behavior' by blaming it on alcohol at first, which Porsha and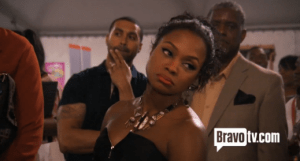 Cynthia disagreed with since Kenya was super sober during her clashes with them. Then Ms. Parks took it upon herself to diagnose Kenya of having a chemical imbalance, which Cynthia thought was way over the line, especially since Phaedra's sudden resentment for Kenya stemmed from a business deal gone wrong. While Phaedra is no psychiatrist, can you really blame her for hitting the problem right on the nail, or at least in the vicinity of the truth?
Other Moments of Note From the Night
– Kandi and Derek J are messy gossips, but hell we wouldn't have had a show without them tonight.
– Speaking of Kandi, I can't help but feel that her sudden "please" attitude towards Kenya had more to do with the "Gone With the Wind – Fabulous" singer coming for Todd during his birthday party in last week's episode than with protecting Phaedra's well-being. But did we seriously think Kenya wasn't going to work Kandi's nerves in some capacity by the end of the season?
– Seeing 'glam-mother" NeNe with her granddaughter Bri'Asia was simply a beautiful sight. More of that please?
– Phaedra and Apollo pitching their fitness video to the producers was pure torture for everyone involved. I don't think I have ever cringed that much during a TV show, nor a visit to the doctor's office for that matter. Work on your pitching skills, Phaedra and Apollo!
So the battle of the donkey booties continues in next week's episode of The Real Housewives of Atlanta, making me wonder if an entire 30 minutes of the 2-3 part reunion will be devoted to this latest feud to befall this batch of Georgia Peaches. Then again… does it matter?
Whose side are you on? Team Stallion Booty? Or Team Donkey Booty?
Photo Credit: Bravo, BravoTV.com