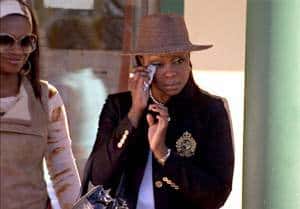 Alright, show of hands. How many people genuinely thought we'd make it through an entire episode of The Real Housewives of Atlanta without any drama?
Those of you with your hand up may not have been watching the same show as the rest of us all these seasons because you knew the kumbaya attitude the ladies got from being at the orphanage could only last so long. I have to give them credit, the slumber party and episode-opening dinner were refreshing in their lack of drama and it looked like these people may kinda sorta enjoy each other's company, but once the slick comment dam had sprung a leak, it was only a matter of time things got set all the way off.
They may not have been set off in the same way that, say, they were during the fight between Marlo and Sheree, but Sunday's episode of The Real Housewives of Atlanta showed that not even a dose of real reality can keep these women from sharpening their claws. I mean, you expect cast members like NeNe and Sheree to come with the snide remarks, but Kandi was putting in enough work for all six of 'em, making a distasteful comment about Kim, coming at Marlo multiple times, and getting into it with Sheree, putting a crack in the small alliance. I don't know the full context of the comment about Kim, but what Bravo showed had Kandi very much in the wrong; she may not have been as blunt (and ugly) with her words as two-faced Cynthia was, but she basically co-signed what she said and that's not okay. Also not okay is Sheree putting Kandi on the spot during the phone call with Kim, in that she didn't confront Kandi about her words privately not did she get what Kandi said verbatim. I know that shows like The Real Housewives of Atlanta thrive on people running around behind one another's backs to tell what one another had said, but this situation could have been solved very easily between the two without it coming to this. Now Kim's got her feathers ruffled and will be coming for Kandi, with the seemingly tight "smalls" dealing with their first setback.
Even though I didn't agree with the timing of her words on Marlo, I have to agree with the content. Kandi should have either A) held her tongue until they got back to the states, keeping their final night in Africa celebratory and reflective or B) gotten it all out at the slumber party so everybody can move on. She got buck during two of the only calm events of the episode and there was no need to ruin anybody else's time like that. At the end of the trip, everybody's tired, homesick, and not looking for trouble, so she went in without consulting anybody to make sure she had people to back her up. And she wants to talk about being real? Please.
I'm glad somebody finally stepped to obnoxious ol' stunt queen Marlo, though, because it needed to be done and then some. I can only imagine how dreadful her spoiled, insecure, high maintenance self made the trip to one of the most beautiful countries in the world, constantly bragging about her money and her Louboutins while complaining about, well, everything. For one, bragging about your material possessions is incredibly tacky, but if you have to brag about how much you've got (and bring 29 pairs of shoes to go to a struggling orphanage), there's a great chance that you don't have a damn thing, so she needs to get out of here with that. The point of the trip, to me, was that there's more to the world that department stores and petty arguments and Marlo, more than anyone, seems to have completely missed the point of the experience.
The trip to the sangoma, though, brought out the ugly American in pretty much everybody, as the group could barely contain their laughter and heckling while this poor man was trying to do his thing. You don't have to believe in what he says, but be quiet, listen to him, and thank him when he's done; it was incredibly disrespectful of Phaedra to nearly walk off and Marlo to bring up the Bible during their brief encounter with the Xhosa herbalist. If you want people to respect your beliefs and your culture, you do the same for them and I know Phaedra would not take kindly to laughing and carrying on during a Sunday sermon.
The Real Housewives of Atlanta completed their trip to Africa by reverting back to what they know. Not even a full episode passed before shade was thrown, names were called, and everything went all to hell. It may make for good TV to see the fighting, but you kind of have to be disappointed that, ultimately, nobody learned anything from their time in Africa. They may have been touched by the trip to the orphanage and wowed by the animals on safari, but the trip ended as it began: with stupid drama that has once again shaken each alliance.
Thoughts, Quotes, & Observations:
-"Smell your ancestors."
-"Squeeze your hello kitty."
-"I hope the witch doctor didn't poison you, girl."
-"That'd be too much like right, honey, with these wrong girls."
-Tell me why NeNe brought a gigantic pocketbook and even bigger heels on the safari. Ridiculous.
-I love Cynthia around the "smalls" (minus her abhorrent comment about Kim), but she's so terrified of defying NeNe that she'll go along with anything she says. Combine that with her putting up with Peter's crap and Ms. Leakes has the two ladies with the lowest self-esteem under her thumb.
-Next time on The Real Housewives of Atlanta: The ladies return from Africa to find Kim upset about Kandi's comment, Bryson in jail, and Peter planning an anniversary party.