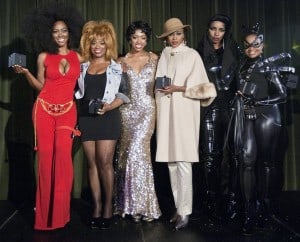 Bravo, I have a bone to pick with you concerning two WTF?! incidents from last night's finale of The Real Housewives of Atlanta, and surprisingly neither issue deals with the blatant machinations of Kenya "We're So Over You" Moore.
Before calling out Bravo (and whoever is over the epilogues at the end of each season of the Real Housewives franchise), the former Miss USA has to be dealt with first since she pretty much made this review an easy task by acting like a calculating lunatic throughout the entire hour. First up, a quick summary of events that actually mattered.
Kenya decided to have her very first huge party/event in Atlanta with the them being 'empowering black women in cinema.' She assigned her fellow cast mates with specific costumes to wear to the party and the go as follows: NeNe was assigned Strangé/Grace Jones from Boomergang, Cynthia got Diane Ross from Mahogany, Phaedra got Catwoman/Eartha Kitt, Kandi was given Tina Turner/Angela Bassett from What's Love Got to Do With It, and Porsha received Halle Berry… from B*A*P*S. Can you see the shade?
Well, Porsha did initially, but Kenya reassured her frenemy that there was no malice in her selection for Porsha. However, while Porsha conferred with her hairdressers/friends about the other ladies costumes, they realized that all the other women's costumes represented old Hollywood/glamorous and memorable roles. Plus, out of all of Halle Berry's past roles, why did the former USA give Porsha Berry's role from B*A*P*S and not Dorothy Dandridge or her role as a Bond girl in Die Another Day?
Rightfully not wanting to fall into a trap, Porsha came to the event as Halle Berry in Dorothy Dandridge and Kenya had a damn fit and had security escort Porsha and Kordell out the event. What. The. Hell. Granted, Kenya planned a program pertaining to each woman's assigned costume and Porsha's last minute decision probably put a wrench in that. With that said, I didn't see anything 'empowering' about Halle Berry's role in an obscure, yet relatively known movie that airs in syndication on a random Saturday. Sure, two other women played Celie and Sophia from The Color Purple, but those roles hold much more weight in the eyes of black women and moviegoers in general than Berry's role as Nisi. And, no, I'm not knocking B*A*P*S (although a lot of people hate it). I liked the movie for what it was, but I wouldn't put it in the same caliber as Boomerang, What's Love Got To Do With It, or Mahogany.
Seeing that Kenya has seriously crossed the line, Cynthia, Kandi, Peter, and Todd (who didn't have a costume on at all, mind you) all left the party in a boycott to Kenya's actions. This is where I have the first bone to pick with Bravo's editors, because they edited this scene in the teasers as if Peter and Kordell were having a disagreement. However, it was in fact Peter and Kordell teaming up against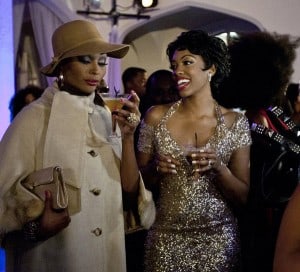 Kenya and her lackey Brandon for their B.S. reasoning for toss Porsha out the party. Great fake out, Bravo, because it surely had fans scratching their heads as to why Peter and Kordell would get in each other's faces in the first place.
But bottom line, Kenya was dead ass wrong for that stunt she pulled and was only mad because Porsha outsmarted her over dramatic ass. It was most definitely a treat seeing not only Miss Drama Queen USA have her plan blow up in her face, but to also see her get the comeuppance she right fully deserved. Karma is a pain, Kenya, but it takes one to know one right?
Other than the newbie Atlantian's failed dramatics, the episode also dealt with (if only for a sec) Porsha and Kordell going to see the counselor, which was a huge bust in my eyes. It looked in the previews as if Kordell wasn't feeling the meeting at all, but in the actual episode the former NFL star seemed like he was at least trying to make things work. Fast forward to how much of a fool he acted when Porsha was thrown out of Kenya's party and you wouldn't have thought for one second that he was planning on divorcing his bride of under two years, because he went in on Brandon and Kenya's phony asses. With that said, it's funny how things rapidly change in such a little amount of time, and it had to be painful for Porsha to watch that in hindsight of everything that's happened recently.
Now this brings me to that second bone I have to pick with Bravo, or whoever is responsible for the outros at the end of the season. Was it just me, or was Porsha's lazily simple, but embarrassingly blunt blurb of "Kordell filed for divorce" completely shady as hell? If I was Porsha I would have asked for a rewrite, an apology or an amalgamation of both, because that was just crazy and disrespectful in so many ways that I can't list them here at the moment. The other women got nice fluffed up outros, shade included, but Porsha's just screamed, "Irrelevant. Next!" when it came across my screen. I might be the sole person who felt it was wrong, but it is what it is. With that said, I would be lying if I didn't chuckle a little at the delivery, but come on now, that was just simply wrong on whoever's part.
Now about this upcoming reunion…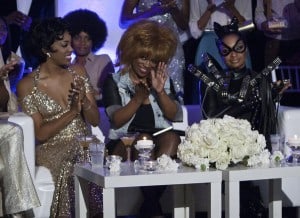 1. What's up with Kenya and this damn fan of shade?? Is she trying to become Queen of Memes and GIFs now? That's the only excuse that I could come up with when I first saw it. Otherwise, it's going to make her look even more deranged than we've already pegged her.
2. Who invited Kim? Her only plot from the first five episodes was about her being pregnant, moving, and being ousted from the show, all which can should be discussed in one segment before pushing her back into the obscurity known as Don't Be Tardy…
3. Apollo's texting Kenya? And she allegedly has proof? Uh oh…
4. Poor Porsha… I mean her singing, not her divorce.
What were your thoughts on last night's season finale of The Real Housewives of Atlanta? Are Kenya and Porsha keepers? Was Kenya right in showing Porsha the door? Did Kordell really defend his wife or his honor? What about Phaedra's stun gun venture? Sound off below!
Photo Credit: Bravo