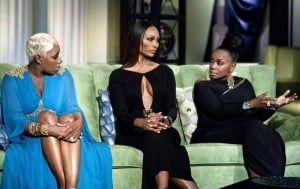 Ding! Ding! Tonight was the first hour of the epic three-part reunion for The Real Housewives of Atlanta and while Real Housewives Godfather Andy Cohen and the cast touched on many of the season's past antics, the real entertainment came when Miss USA Kenya Moore and Phaedra Parks went head up throughout the episode. Actually, the two women stayed throwing massive amounts of shade at each other whenever the chance presented itself, and Cohen's prodding wasn't helping matters either, but then again who wouldn't? Plus, Kenya's lovely, but deadly fan provided both (unintentional) comic relief and further evidence that the Gone with the Wind Fabulous
The topics Andy touched upon in the first hour were NeNe's Hollywood take off and how the women were declined entry into her house for being three hours late, Porsha and Kenya's drama throughout the season, Cynthia coming into her own (and being hella messy about it), and, of course, the Booty Workout Wars that dominated more than half the hour. Other smaller tidbits were brought up, namely Kandi and NeNe's on-again/off-again beef, but basically the entire episode was the calm before the true storm, which seems to be coming in the next episode or two. Until then, let's look at the main three confrontations of the night.
NeNe vs. Kandi
After Cohen brought up NeNe being late for other events, The New Normal star stayed firm her reasoning behind denying her cast mates access to her home after arriving three hours late, stating that at least she called people in advance to tell them she would be thirty minutes late, but never three hours. Kandi countered by declaring that not only did NeNe know about them being later, but that there were other people still in the house, so the party was still going on in some capacity, but NeNe reaffirmed that they were late, the people they saw were mostly staff cleaning up, and that she was not about to serve any of them after arriving three hours late, period. Well, okay then, Ms. Leakes…
The conversation then turned to fan questions that I'm sure everyone could get behind, which were what's up with the hot/cold relationship between NeNe and Kandi? The Bedroom Kandi creator admitted to throwing shade NeNe's way, but that the sparing was mutual at best. However, NeNe said she only gives her opinion of people and you can take it negatively or not. which led her to tell Kandi that if she can't take it then don't dish it. The conversation then moved to something NeNe said about Kandi that didn't revolve the show, which Kandi truly took offense to regarding A.J. during the show's second season.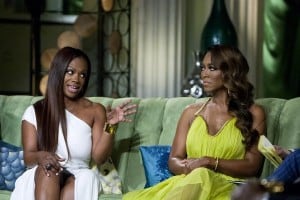 Whether NeNe's 'hurtful' comment was before or after A.J.'s death was never made clear, but she did admit to saying something when she and Kandi had their big blow up during that season. In other words, still expect these two to get along when the story requires for them to and vice versa.
Kenya vs. Porsha
As soon as Andy put the spotlight on the drama between the two newbies, Kenya had her weapon 'shadeblower' primed for attack whenever Porsha tried to speak. When Andy asked the former Miss USA why did she get hot under the collar about Porsha mistakenly mixing up her title with that of Miss America, the actress's response was that she wasn't as offended about being called Miss America as much as she was about Porsha being knowingly disrespecting about it. Um… How? Apparently, Kenya felt that Porsha rolled her eyes after correcting herself in front of the crowd of people, but Porsha said she was simply embarrassed about introducing Kenya by the wrong title. At least Porsha said she was in the wrong and embarrassed by that faux pas, right?
Then Porsha made the declaration that Kenya had been jealous of her every since they met, which is a strong claim to make, IMHO. In response, Kenya felt that Porsha was very "unrefined," "unsophisticated," and had a valley girl aspect about her that was a bit off-putting for the seasoned triple threat pro. Andy later asked Kenya about the Diva Party incident and if the security guards were necessary. In response, Kenya declared that Porsha not only came to start a fight with her, but that she felt being Nisi from B*A*P*S was an honor Porsha should have embraced. Now it's my turn to loudly flick my fan in Kenya's dumb ass face for that blatant ass lie. Then again, Porsha wasn't helping by coming for Kenya when it wasn't warranted. Just let Kenya dig her own grave, Porsha, which she did expertly well throughout the night.
Kenya vs. Phaedra
Now we're down to the main event which we had gotten snippets of throughout the night. Phaedra served the first helping of shade by referring to her nemesis as only a female and not a lady. Surprisingly, Kenya let that one slide. But when it came time to discuss the Booty Wars DVDs, both ladies put on their verbal boxing gloves and went in on each other. Phaedra immediately got the upper hand as she left the "cute, southern belle" routine at the door and went straight hood as she came for Kenya, slinging insults at the speed of a viper on acid. From claiming Kenya's DVD had fake reviews that Google eventually took down to pretty much stating that Kenya's distribution deal wasn't all that great since it landed her on Amazon (along with Phaedra's DVD), we saw a new side of Phaedra during this portion of the hour. Out of the last few reunions for The Real Housewives of Atlanta, the newly minted mortician was the more reserved and quiet one of the bunch, but tonight somebody lit a fire under that donkey butt of hers, because she was not backing down as Kenya came for her. Not. One. Bit.
Kenya tried to explain how Phaedra spreading rumors about her being crazy and drinking too much was not becoming of a "southern belle," but snapping a fan every five minutes while someone you don't like starts to speak was doing nothing but proving Phaedra's (and everyone else on that stage) claims of the former Miss USA being très crazy. Plus, NeNe said her self in a confessional that Kenya went completely "cuckoo," so why didn't she come for Ms. Leakes for that?
In the end, I dubbed Pheadra the winner of this battle, because while she kept the fight verbal, Kenya took it to a whole other level by threatening to knock Phaedra's teeth out "pregnant and all," which was not called for.
Other Notable Moments of the Night
– Porsha talking about her marriage to Kordell was just painful to watch, and next week's installment will be even more awkward and cringe-worthy since she tearfully went to bat hard for her man and her marriage. Despite what I said last week, I think Kordell was a true punk for not showing up to defend himself and be there for his wife. Hell, for all we know he was probably filing the papers for their divorce at that very moment…
– Cynthia got the spotlight put on her albeit very briefly. A fan asked why was she messy this season and despite me having the same thoughts, I felt the Bailey Model Agency owner gave the perfect response, "I'm damned if I do, damned if I don't" do anything on this show.
– Before delving into the reunion, Andy Cohen mentioned how Kandi had served Kim Zolciak the lawsuit papers the day of the reunion show, which was something I didn't know. Plus, it set the stage for an inevitable awkward session when Kim comes to the reunion to say her piece. Lord, I take back every bad thing I said about Kim coming to this reunion, because that is going to be awesome. Or at least it better be.
– I have to talk about this damn fan of Kenya's one last time, because while it was a hilarious prop and worthy of a new set of memes and GIFs, the gag became really old, very quick and made her look even more unbalanced than before. With that said? The girl provides the shot in the arm the show needs, so it would be a sad day for Bravo to send her packing at this point.
Well that's pretty much my thoughts on the first installment of The Real Housewives of Atlanta Three Part Reunion Special. What did you all think? Was there anything that I left out that you want to discuss? Let me know in the comments below!
Photo Credit: Bravo