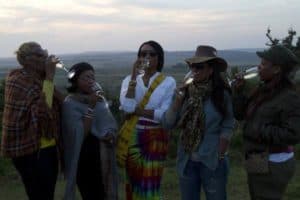 There are many ways to approach dissecting last night's episode of The Real Housewives of Atlanta, but I'm going to tackle it by using 'The Marlo Factor,' aka 'the Marlo Variable.' But first a very quick recap for those unfortunate ones who didn't see the episode.
The show started off with the women arriving in Cape Town, South Africa and being highly annoyed with Marlo not only being loud as hell, but also for giving them ettiquette lessons which is like Sheree giving someone financial advice. Anyway, the atmosphere went from cordial to 'man your positions' when Sheree announced that she was invited to a dinner party by a friend and was taking only Kandi and Phaedra with her. While NeNe and Cynthia sort of suspected this, Marlo is appalled that she has been left out the festivities, despite not even being invited to the trip in the first place. Later the women had a 'put your issues' on the table moment (also instigated by Marlo) where they all came to the agreement to be cordial to each other for the rest of the trip. However, later that night the fragile truce was annihilated once Sheree decided to invite Cynthia to her dinner party and not NeNe and Marlo. Cynthia relayed the message to Marlo and NeNe, but didn't expect for Marlo to go H.A.M. on Sheree immediately afterwards. So for the last fifteen minutes of the episode, Marlo and Sheree went at each other with one-liners involving 80-year old men and repo'd Aston Martins. But in the midst of the "gibberish," which was what Phaedra correctly termed it as, Marlo let the 'F-word' that rhymes with 'maggot' fly out of her mouth. So despite holding her own with Sheree, Marlo lost a lot of cool points with people for that comeback line.
So with that (hopefully) brief recap, let's discuss the variable that threaded all of the drama together: the 'Marlo Factor.' First and foremost, Marlo was simply just too much during the entire episode. You would have thought Andy Cohen had signed her up for a full contract plus bonus for acting boughetto and getting on the women's nerves. But could we have witnessed the same level of craziness had Marlo not have been there? Not at all.
This is where the 'Marlo Factor' as a variable comes into play. Without Marlo, the episode would have been a dull display of a rehashed African American version of The Real Housewives of New York City's trip to Morocco last year. There probably would have been a few verbal jabs thrown, but nothing too watercooler worthy. Marlo brought the drama, but she brought in an overwhelming abundance that left me with indigestion throughout the episode. And this was only the beginning!
Another example of the 'Marlo Factor' doing damage could be seen in Sheree's choice to invite Cynthia to her soiree, but making it clear that NeNe and Marlo were not come at all. It seemed as if Sheree had a mission to tear Cynthia away from NeNe to join ranks with "The Smalls," which was probably more out of spite instead of being genuine. Sheree was the only person the entire trip (and most of this season and last) who kept jabbing at Cynthia about being attached to NeNe, which makes me think that Sheree's plan was to invite NeNe only to leave her sitting in a room by herself on the first night there. That doesn't make any sense to me whatsoever. Enter Marlo.
If Sheree was planning on being shady from gate (which I don't think she was really), then Marlo coming on the trip really spoiled that plot to high hell. On the other hand, Marlo's presence gave Sheree the chance to put Cynthia on the spot to see if the former model could really stand on her own without consulting with NeNe. It's still a childish move on Sheree's part (and in general), but I could see her angle for why she pulled that card, given how chummy NeNe and Marlo had become without Cynthia in the last few episodes.
Finally, let's get to the fight, which we could just feel happen once the Africa trip was announced. Was Sheree in the wrong? Oh you bet your ass she was. Was Marlo in the wrong? Yes… and no. Yes, Marlo was foul for the "F" word she dropped, and yes a yellow flag was thrown at my TV screen when she uttered it. However, she did drop some good blows on Sheree that I couldn't ignore and at least she wasn't scared of ole Sheree. But she didn't have to either, because as NeNe said, the entire exchange no matter how funny was ridiculous, stupid, and waste of hot air. In short, both ladies were in the wrong, but they sure as hell gave us one quotable and funny scene from the entire season to look back on.
While the ladies were in South Africa acting up, Kim was back in Atlanta lamenting Kroy's departure, grilling Arianna on whether or not Kroy mentioned putting a ring on her finger, and calling Sweetie a child (which pissed me off to high end). In short, a boring segment that further set up her spinoff limited series.
So basically, Marlo (or the 'Marlo Factor') helped save this episode from being a snoozfest like the Real Housewives of New York City's trip to Morocco was on their first night there. Let's just pray that the next two episodes are just as interesting and don't fall into oblivion.
What did you guys think about last night's episode of the Real Housewives of Atlanta? Did the 'Marlo Factor' work for you in terms of drama for this episode? I'm interested to hear your thoughts.