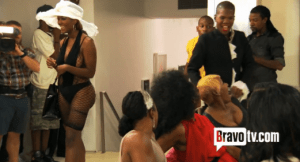 New Atlantean bad girl Kenya Moore took crazy to a whole new level in this week's episode of The Real Housewives of Atlanta. In trying to mock cast member Phaedra Parks for spreading 'vicious rumors' about her across town, the former Miss USA didn't realize that the joke she concocted to display Phaedra's signature quirks from this season fell flat, but not before doing a somersault and smacking her clear in her own face.
The episode started out with Kenya working out and telling all her current issues with Phaedra to her personal fitness trainer, who sopped up all of his screen time for publicity. Meanwhile, Ms. Parks and hubby Apollo were having their photo shoot for their own 'booty fitness' video. The trainer and Kenya were mocking Phaedra for not having the body to do a fitness video, but while Kenya was yakking and looking cute through sweat, Phaedra was taking the first step in making her business venture a reality.
Later, for some idiotic odd reason on both of their parts, Kenya surprisingly invited her 'nemesis' Porsha to dinner, and the newbie foolishly attended the luncheon, which quickly went south before the waiter could return with their drinks. Kenya basically told Porsha that she only invited the socialite to lunch so she could warn Porsha on how Phaedra was only using the young Housewife as a pawn against the 'Gone With the Wind Fabulous' singer. Porsha (who shouldn't have come in the first place, but needed a storyline and went with it) stated that Phaedra's relationship shouldn't be any concern of Kenya's at all, which is truth threefold. As stated above, the conversation went into catty mode quickly, forcing the women to cut their lunch short and exchanging insulting jabs at each other in an oddly pleasant way.
After that debacle, Kenya met up with Cynthia on a golf course, where the former model spilled just about everything Phaedra said about Cynthia's former nemesis/newest bestie, including the chemical imbalance and alcoholism comments. The general consensus of fans feels that Cynthia was still not cool with Phaedra's butt dialing incident, inciting her to side with Kenya in this current battle. However, if that's the case, then I feel as if the Bailey Agency creator hasn't gotten over the shade Phaedra and Kenya threw at her and probably likes to see them battle it out for her own entertainment. Either way, Cynthia ignited a damn missile by informing Kenya of Phaedra's comments and the explosion was nothing less than messy.
Kenya went to resident groupie Miss Lawrence, who hyped his new bestie (since Sheree Whitfield is now 'Sheree, who?') to face Pheadra. He also announced how he heard Ms. Parks lament about gay men, especially those who wear women heels. So in other words, Kenya allowed herself to be a pawn in Lawrence's revenge plot against Phaedra. Maybe Porsha could have showed up out the blue to warn Kenya about such a duplicitous move.
At NeNe's event for Shoe Dazzle, where she was revealing her new shoe for the company,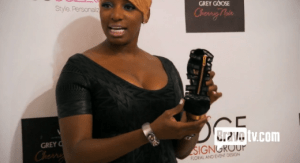 Kenya made her dramatic appearance in the same see through swimsuit Phaedra wore in Anguilla, with butt implants on her ashy ass butt cheeks, and a big ass hat to showcase Phaedra's affinity of the large headdresses. Kenya made the phrase 'a hot ass mess' seem irrelevant, and I'm still trying to come up with a practical way to accurately describe what the hell came across my TV screen last night. Despite looking all shades of wrong, you couldn't tell that to Kenya, who felt that NeNe's laughs and 'encouragement' was a sign of approval. Unfortunately, Kenya was the victim of that age-old adage of 'when keeping it real, goes wrong.' NeNe and crew were not really laughing with her, they were laughing smack dead in her face.
Phaedra, of course, wasn't too fazed, if not more concerned for her safety. Kenya let her feelings be known about how Phaedra was wrong to use her family history of mental health issues as a jab behind her back, while Phaedra actually owned up to saying Kenya was cuckoo for Cocoa Puffs served with a bottle of vodka. In the end, Kenya's plan backfired, point-blank. Yet, I'm sure she will give some excuse for how her plan to bring down Phaedra was successful in her Bravo blog, which will be followed by a million comments insisting for her to check in to some facility to be evaluated throughly.
While Kenya was busy making an ass out herself for the umpteenth time, Cynthia was testing the waters of the world of pageantry. While talking to an expert on the subject, Ms. Bailey was thrilled to hear just how much money could be made in the pageant business. But after hearing all the fees being dropped that one must pay to even get a decent chance of winning, my nieces will only fight for one crown and one crown only: homecoming/prom queen.
Cynthia later enlisted Porsha's help in helping out with the event, and the newbie Housewife even offered to sing at the event. But according to promos for next week, we might have another newbie vs. veteran battle over a business venture on The Real Housewives of Atlanta. Sweet Lord, when will these women learn?
Also, NeNe spoke with an acting coach about her role of Rocky on The New Normal, which the coach told her to basically bridge her personality with that of the character and voilà ! I can practically hear the guffaws of actresses, wannabe actresses everywhere after NeNe received that advice, but hell, if the woman worked with Jennifer Anniston and others, then maybe it's not really all that far-fetched. I mean, Jen Anniston was in Leprechaun, you know…
What was your take on tonight's episode of The Real Housewives of Atlanta? Was Kenya beyond wrong, or did Phaedra deserve the jab at her personality?
Photo Credit: Bravo TV
Tell us what's wrong with this post? How could we improve it? :)
Let us improve this post!