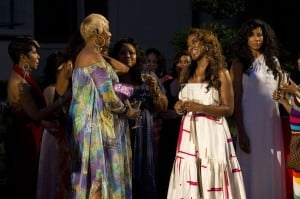 If last night's episode of The Real Housewives of Atlanta taught me anything, it was that second (third, fourth, and maybe fifth) chances can be highly overrated depending on the circumstances at hand. With NeNe Leakes and Kim Zolciak, as well as Kenya Moore, extending the olive branch was as played out as a has been Atlanta rapper on a second-rate reality show.
NeNe was on top of the world and she has every right to fill as such. Seeing that NeNe was truly blowing up, Cynthia decided to host an event in NeNe's honor, but the shooting star decided against making the event about her and instead celebrate all the affluent women of Atlanta's elite. Phaedra wondered would that mean Kim could be invited to which NeNe and Cynthia responded, 'sure, why not?' Say what?!
Granted the promos made it seem as if NeNe balked at the idea, but actually NeNe was for the gesture, because she's too busy to worry about longstanding grudges and drama at this point in time. Now, the only thing left to see was whether Kim would accept a truce of sorts between her and her longtime nemesis NeNe. I think it's safe to say that the more things change, the more they stay the same.
Kim actually attended NeNe's event with Sweetie in tow, but once she stepped out of the car, she was already looking for an exit. Kandi clocked Kim's anxiety to leave and probably made a mental bet with herself on how long would it take before Kim either left or was bored enough to make up an excuse to leave the event. The sad thing? Kandi would have won that mental bet either way. Sadness, indeed.
As everyone waited for NeNe to show up, Kim and Sweetie used NeNe's tardiness as an apt excuse for them to leave to get ready for some event Kroy had with the Atlanta Falcons. On their way out, NeNe spotted them leaving and awkwardness made itself nice and comfortable between the three women. NeNe asked them to stay five more minutes, but Kim kept declaring that she couldn't and was late to met Kroy. After some light banter from NeNe, Kim agreed to come back to the party right after she used the bathroom. However, once NeNe turned her back to enter the soirèe, Kim and Sweetie hightailed it to their car. The shade of it all!
NeNe wasn't deterred, however, and made it clear to the women at the party, most notably the other cast members in attendance, that she did try to make nice with Kim, who felt that didn't really have anything else to say to NeNe. Both are in the right, but if that's the case, I can't help but think that Kim shouldn't have even came to the party in the first place. But I digress…
On to Kenya Moore, who damn near dominated the episode last night with her personal issues, which seemed like they were trying to make her, I don't know, 'likeable,' I guess? Two words if that was the case: Failed. Miserably.
Kenya might would have gotten away with gaining some sort of compassion from viewers with the scene with her aunt. But her stock plummeted as soon as she had her dinner with her boyfriend Walter, who suffered a mini-wrath attack from Kenya once he revealed that he asked Kandi out awhile back.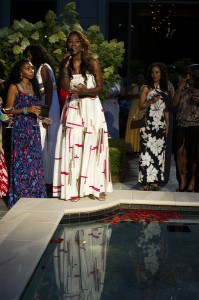 Why was Kenya mad you ask? Well… Kenya was upset that Kandi could now use that particular piece of information against her in the future. I'm not making this up.
Then later at the social gathering, Kenya made it her point to make Cynthia look like a fool in front of everyone… and, again, bombed in that blatant display of disrespect, which might have rubbed Kandi and Phaedra (who she had lunch with earlier in the episode) the wrong way. But the real gag about that was Kenya being completely oblivious as hell to the fact and doesn't get that no one is giggling with her, but against her instead. Instead of having several seats, I request that Kenya have several pews instead.
Other Moments of the Night
– Phaedra declaring Kenya having personal security as the "funniest thing she had heard all day" made my day.
– Can't hate on NeNe's tear up during the pride parade, because to have that many people give you so much love can most definitley bring on the waterworks. But I just have to ask… where was Bryce?
– When Kandi questioned Phaedra hanging out with NeNe, I couldn't help but feel that she needed to let go of past drama. Especially if she doesn't remind herself whenever Kim does her dirty in some capacity. Just saying.
So what did you think about last night's episode of The Real Housewives of Atlanta? Was Kim wrong to leave NeNe's event? Are you excited for Porsha Stewart's entrance next week?
Photo Credit: Bravo/John Amis