The Walking Dead saw many tragic deaths occur as the apocalypse brought about the end of life as we all know it. But, none were more tragic than the death of Glenn Rhee (Steven Yeun), a character we had been on this journey with since the first episode. Glenn always represented the good still left in the world and his death was the catalyst for a season-long war that saw the group of survivors become more violent and ruthless than they ever have been.
As The Walking Dead went on it always felt like a mistake to kill Glenn off. Many of the following storylines would have benefited from the inclusion of Glenn and the show never felt the same once he was gone. In fact, it was Glenn's death that signaled the beginning of the end for many fans as they tuned out of The Walking Dead for good.
Glenn Had Been A Fan Favorite For A Long Time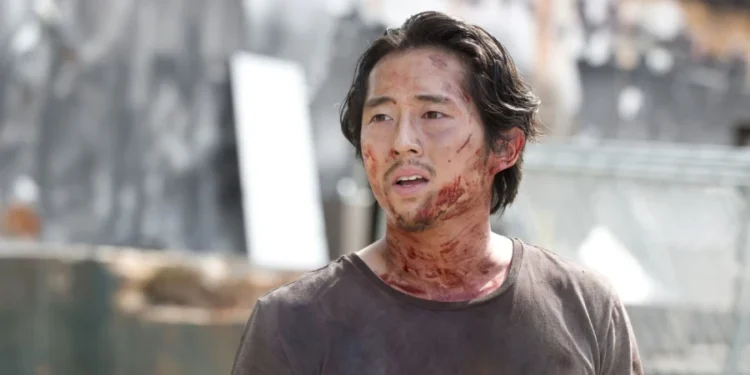 In a world full of violence, death, and impending doom, Glenn was a beacon of light which led to him quickly becoming a fan favorite on the show. Glenn was first seen in season 1 episode 1 when he helped Rick Grimes (Andrew Lincoln) escape a horde of Walkers before leading him to a group of survivors which happened to include his wife and son. Throughout his time on the show, Glenn represented the good that was still in the world and could always be depended on to do the right thing.
During the six seasons that Glenn was in The Walking Dead, we saw him grow a lot. In season 2 he began a relationship with Maggie (Lauren Cohan) which lasted throughout the rest of his time on the show. This showed viewers that even during the apocalypse when all hope seems to be lost love can still blossom and good things can still happen. This love for Maggie made his death even more heartbreaking as they were expecting a child and it was a pregnancy issue which led to the group being ambushed by Negan (Jeffrey Dean Morgan) and the Saviors.
Glenn's Death Was Worse Because of The Earlier Fakeout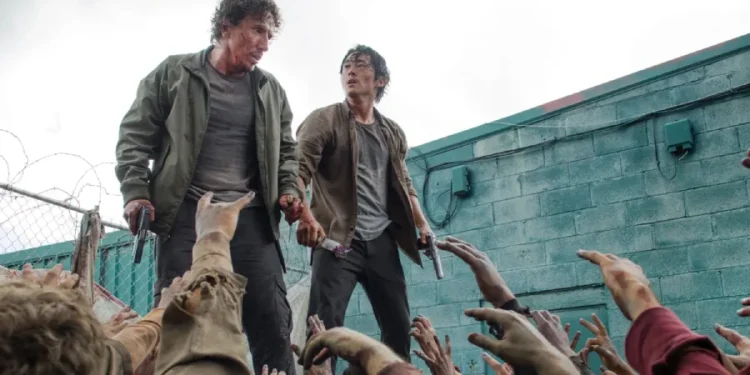 When Glenn died at the beginning of season 7 it was a tragic moment for viewers, although fans of the comics would have expected that it could be a possibility. In the comics, the scene plays out almost identically to the TV show, with Glenn being killed by Negan. But, fans likely hoped he would be spared due to him being a fan favorite and because Abraham (Michael Cudlitz) was instead killed by Negan. This proved to be a swerve as Glenn was then shockingly killed too. But, this isn't the first time there was a fakeout and swerve when it comes to Glenn's death.
Earlier in season 6 during episode 17 'Thank You,' the cinematic and carefully placed camera shots made it appear that Glenn had been killed by being devoured by Walkers. After being trapped on top of a dumpster surrounded by Walkers, Nicholas (Michael Traynor) decides to shoot himself to spare himself from being eaten alive. However, this also causes Glenn to fall off the dumpster too and gave the impression that Glenn had been killed too. Thankfully, that wasn't the case as it was Nicholas that the Walkers were eating which gave Glenn a window of opportunity to escape. The fact Glenn survived made fans overjoyed as viewers didn't want to see him killed off, this made his eventual death a few episodes later all the more painful.
Glenn's Death Signaled An Interest In Trauma Over Story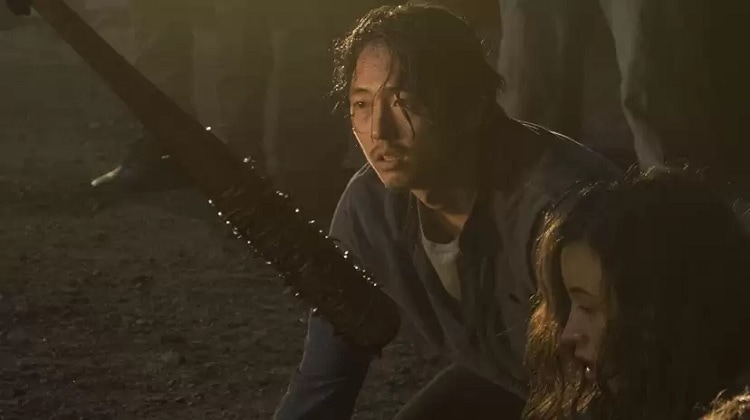 Glenn wasn't the first character to die in The Walking Dead, far from it. However, when he died it seemed to open the floodgates of never-ending trauma that lasted until the show's end. In the following seasons, it always seemed as though the show was building up a character to become as beloved as possible by the audience and then they would be unexpectedly killed off and no one was immune from the chopping block, except Daryl Dixon (Norman Reedus).
Although the never-ending threat of death kept both the audience and characters on edge, there was a notable shift in direction following Glenn's death in The Walking Dead. This led to tragic deaths including Sasha (Sonequa Martin-Green), Carl (Chandler Riggs), Tara (Alanna Masterson), Jesus (Tom Payne), Henry (Macsen Lintz/Matt Lintz), and Rosita (Christian Serratos) all being killed off over the next season as the show headed towards its conclusion. Even though the main show has ended, many of us still miss Glenn and would love to see Yeun reprise his role in a spin-off prequel in the future.tuned out of The Walking Dead for good
Tell us what's wrong with this post? How could we improve it? :)
Let us improve this post!