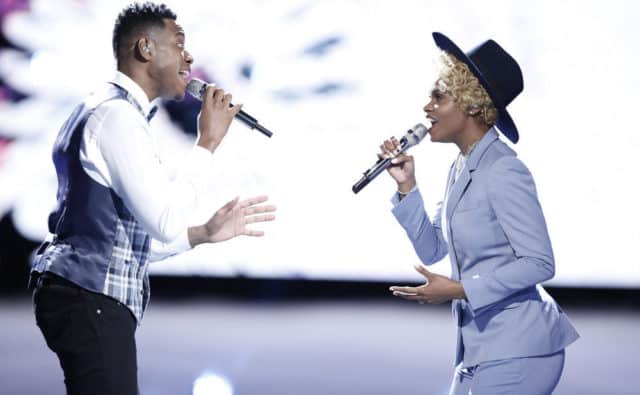 Given the way the previous Instant Save votes have gone The Voice Season 12 Top Ten Eliminations could have ended with disappointment. Instead, coach Alicia Keys took a real gamble (actually she took two) and won! What she did during The Voice Top Ten could be a real game-changer. Judging by what's happened with The Voice Season 12 Top Eight performances, she's playing hardball!
The first surprising thing Keys did happened Monday. Both of her artists, Vanessa Ferguson and Chris Blue had rapping in their performances. Chris did the more current and pop-leaning "24K Magic" by Bruno Mars. For Vanessa, Keys picked "Doo Wop (That Thing)" by Lauryn Hill. When Vanessa ended up as one of the bottom three Keys got deliciously audacious. She said not voting for Vanessa was like not voting for her!
This was a move worthy of rival coach Blake Shelton, who tends to use his standing as a high profile country star to label certain artists as "important to country music." Key's choices were a call out to the lovers of r&b, soul, and hip-hop in a way that we have never seen before on the show. It was a kind of referendum on The Voice and its audience. However, to understand why this is you have to look at the history of the show.
A Brief History of The Voice: Why The Voice Went Country
Initially The Voice was a show designed to find great voices and launch them into the music business. The second part of that agenda has been an issue with the franchise in general. In the American version the producers way of dealing with is has been to let The Voice slide into being a showcase for country music.
This isn't just my personal view. The trend has been noticed by people the country music industry – and credited to the work of Shelton. (Wait, What? Blake Shelton's "Mission" Is To Expose More Traditional Country to America?) Why has NBC been is perfectly fine with this direction? They believed it would be the way to find those big – and profitable – music stars.
Shelton's success with country music on "The Voice" is a no-brainer for anyone who watches television and follows the genre, said Paul Telegdy, president, alternative and reality group for NBC Entertainment. He explained the formula was clear in the early days of "American Idol" – America's heartland watches television and loves country music. Add in Shelton's likability and sex appeal and he said the winning recipe was "hiding in plain sight." (http://www.tennessean.com)
What could Telegdy mean by, "hiding in plain sight?" Well, the first and second winners of the show were were big commercial failures. First there was r&b singer Javier Colon. He was signed to Universal Republic Records but his album peaked at 134 on the Billboard charts. To be fair, Colon noted that the album wasn't well promoted. That could have been because the label itself was in the midst of changes.
However, the second season's winner was another male r&b singer, Jermaine Paul. It was reported that the producers weren't thrilled about this. The reasons stated were that (at the time) Dia Frampton, season one's runner-up, was doing much better than Javier Colon. The season two runner-up to Paul, Juliet Simms seemed far more likely to be more marketable. For one, like Frampton, Simms had done far better in iTunes sales during the competition. They were concerned that the same thing that happened with Colon would happen with Paul.
The Voice Discovers Country
The producers weren't wrong about Paul in that he didn't do any better that Colon. No one would deny that both men were talented. However, under Republic Records the kind of producing and marketing needed further launch an r&b singer – for whatever reason – didn't happen.
In the fall of 2015 Coach Adam Levine would slam UMG's continued mismanagement of the show's winners (Washington Post). The Voice seems to have all of its records contracts set up with labels under Universal Music Group (UMG) – which hasn't been a part of NBCUniversal since 2004. As such, I'm not sure what the incentive is for the arrangement. In the fall of 2012 though the label side of things wasn't being looked at as strongly. A Hollywood Reporter interview with Levine suggests that the idea of creating a "breakout star" was however an issue on the minds of those running the show.
In order to facilitate this The Voice decided they needed to do something about the rules and format of the show. For season three they added "the steal" and the Knockout Rounds. As season three progressed it became apparent that the mold of "breakout star" The Voice was looking for was a female artist in a more mainstream vein of music – like a pop/rock singer. That was the season that Cassadee Pope won.
Pope came onto the show having been the lead singer from the moderately successful pop-rock band Hey Monday. The producers may have been looking for a pop star, but she was on team Blake. Pope won The Voice by country music in latter part of the competition. She was signed to UMG's country label BMLG Records (Then called Republic Nashville). In comparison to the show's first two winners Pope was quite successful.
In January 2013, Pope signed with country music label Republic Nashville; the lead single of her solo album, "Wasting All These Tears", was released on May 31, 2013. It debuted at number 37 on the Billboard Hot 100 and number 7 on the Billboard Hot Country Songs chart. It sold 125,000 copies in first week of release. (www.wikipedia.org)
The Secret of Country's Success on The Voice is Blake Shelton
Had Pope's success been a one-off the producers it might have been easy to dismiss – but it wasn't. Shelton had already been shepherding his team's country artists to success.
Gwen Sebastian and Raylynne are two country music artists that Shelton actually eliminated during season two, but turned around and took on tours with him that same year (2012). The country music world embraced them both, and during season three Raylynne came back to The Voice to perform her first single, "Boyfriend." That song sold 27,000 copies in it's first week, and hit 32 on Billboard's country chart.
These things are likely what Telegdy meant. The non-winning country music singers were doing better than the first two winners! Meanwhile the season three winner, who had started as a pop/rock singer, won by switching to the genre of country. Tilting The Voice towards country music was the success key, "hiding in plain sight."
The Pros and Cons of Going Country
By the time The Voice season four started, Sheldon could make a real argument for pushing country music – and that's exactly what happened. There's a great article in Time magazine about that season and how – for better or worse – Sheldon had managed to turn the fourth seasons into a version of "Nashville Star." It's based in part on the observations of an insightful blogger named named Kyle Trembley
As the articles state, there's nothing wrong with cultivating a certain audience for a show and championing a genre. During season four Blake was straight-forward about making his team a pure country one. Both articles point out that doing so shifted the audience. It's Trembley that noticed the problem the shift was creating in terms of the audience demo. The Time article predicted why this could turn into a long-term problem.
If the audience gets too tilted toward any niche, it could get smaller and, depending on the singers who are favored, it could start becoming an older audience that generated less advertising money.
Unfortunately, this is exactly what's happened. There was a clear drive to cater to the country music viewers and various rule changes helped do. In particular, the "instant save" favors country music artists. It does this by cutting out parts of the country where other genres are more prevalent. The result has been lower audience numbers. Although the show continues to be number one its time slot season 4 began a ratings decline. It is seen in both the viewer numbers and the 18-49 demo (which advertisers still cling to as important.)
Why What Alicia Keys Did Could be a Game Changer
All of this brings us back to Alicia Keys. Part of the reason NBC has been fine with Shelton's country music crusade is that it's profitable. Thus far the biggest successes from The Voice have been country artists, and its Shelton's personal capital in the country music scene that has driven this The country music industry is a big-time industry with a small town sensibility that is centered in Nashville. Aside from taking artists on tour with him, he's been able to personally introduce country artists from The Voice to Nashville movers and shakers – and it has paid off. Generally speaking you need talent, a level of attractiveness and a good work ethic to make it in show business. On top of all of that though you need contacts. Being walked into Nashville by Blake Shelton gives you that in spades.
At the same NBC has been watching the ratings continue to decline – especial in the demo. It was last season – which featured Keys and coach Miley Cyrus – that showed a slight uptick in the demo from the previous season. One thing that stood out about The Voice season 11 is had a notable influx of r&b/soul/gospel female singers as well as indie/rock singers. The results made the show musically more diverse than it had been in a while. However, it all fell apart in the season 11 semi-finals when Ali Caldwell lost to Josh Gallagher via the Instant Save. The country audience, which has an advantage in that game – saved the country artist on team Adam.
What Keys did in the quarterfinals was a broadcast to her fans – and fans of her brand of music. Yes, she's a also a crossover artist, but her roots are in things like r&b, jazz, soul, and blues. Her presence on The Voice, her music choices, as well as putting herself on the line for that instant save, may have brought in more consumers of her genres of music to The Voice audience.
The Wrap Up: A Showdown on The Voice Season 12 Top Eight
For The Voice Season 12 Top Eight performances Keys had the only team where the team's artists got paired for the duet. The song by Chris and Vanessa was unabashedly aimed at the same viewers that saved Vanessa last week. Their individual songs were as well. Meanwhile, Sheldon paired his country artist Lauren Duski with Team Gwen's country artist Brennley Brown. Brown also did a pure old-fashioned (non-country music fans might call it hokey) country song for her individual song.
These performances set up a bit of a showdown between country and the r&b/hip-hop viewers. There are two results that will will suggest that Keys has brought some balance back to the viewing audience. The first is if she gets her artists in the finale. The second is if both country artists are not in the finale. Either result would show some audience diversification has taken place, which could lead to better ratings. If so, that's good news for The Voice!
Save
Save