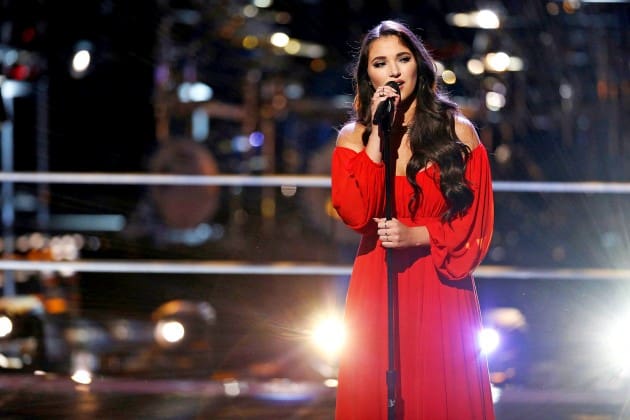 Last night brought with it the second night of the knockout round on The Voice, as contestants continued to prove why they deserved to make it to the live performances. With two of the coaches out of steals, leaving only Blake and Christina each with one left, it became even more important for contestants to set themselves apart from their opponents. In some ways, it seems unfair to those performing towards the end of the knockouts, since they have no chance of being stolen no matter how spectacular they are. But that's the nature of the competition, and it will be interesting going into the last night of knockouts to see what Christina does with the last steal.
The first of three knockouts last night featured Team Blake's Corey Kent White and Cody Wickline. While both are country artists, Cody is more pure country while Corey has the ability to cross genres a little easier. Looking towards the future, this combined with his good looks and emotional vulnerability could take Corey far in the competition and make him very marketable if he went on to make an album. Cody might have the better vocals, but Corey has what it takes to be successful. Surely Blake recognized this as he made the decision to keep Corey on his team.
Next up was Blaze Johnson and Deanna Johnson from Team Adam, neither of whom gave a standout performance. Blaze struggled with his upper register, and not even his booming voice could save the performance. For Deanna, it was nerves that set her back once again, something that she has struggled with every time she's gotten on stage. She's got an incredibly unique voice that draws you in, but her dynamic on stage could use a lot of work. Despite this, she still deserved to win the battle, and Adam agreed, moving her forward in the competition.
The final knockout of the night pitted Caitlin Corporale against Hannah Kirby, both powerhouse singers. Objectively, Caitlin is the far superior choice with an amazing range and great stage presence. She could easily win this competition with her vocals alone. Hannah, who had been stolen by Pharrell in the battles, wasn't going to go down without a fight, though, and she used her unique style and dance moves to show what she could do. Her singing is kind of shouty, and personally, I find it hard to listen to but no one can say she doesn't have personality. Pharrell made the smart decision picking Caitlin and Blake used the opportunity to steal Hannah back to his team, where she had originally started. He had success doing this exact same thing last year, but I highly doubt Hannah will make it much farther in the competition.
Once live performances start, the competition on The Voice will truly begin, as contestants are tested and their limits are pushed. Some will rise up and others will fall under the pressure. For now, there's still a few open slots among the teams, and next week will see the conclusion of the knockouts. At that point, the competition will really start heating up.
[Photo via NBC]