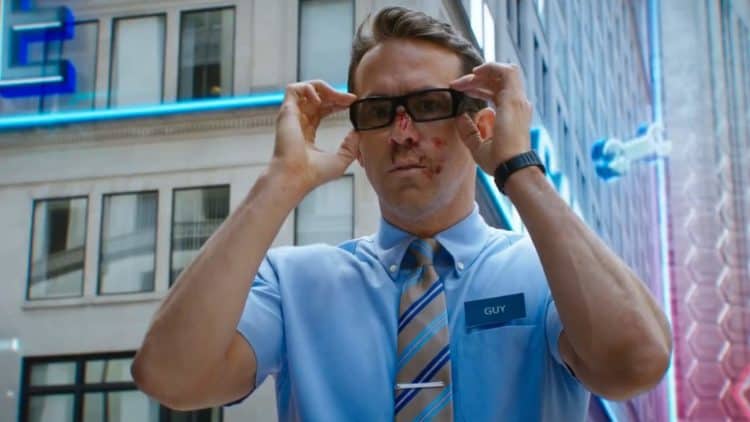 Most creative people would probably agree that inspiration is the cornerstone of everybody's creative process. Being able to see and experience other people's work plays a big role in how new projects are created. The new movie Free Guy starring Ryan Reynolds is proof. Although the plot of the movie is fresh and exciting, it wouldn't exist without the help of the video games that played a huge role in inspiring director Shawn Levy. When Shawn was doing his research for the movie, it led him right to some very popular video games. Continue reading to learn more about the video games that inspired the movie Free Guy and the role they play in the movie.
What Is Free Guy About?
Before we talk about the video games that inspired the project, it's probably a good idea to talk about the movie itself. In addition to starring Ryan Reynolds. Free Guy also boasts several other very talented cast members including Lil Rel Howery, Jodie Comer, and Taika Waititi. In the movie, Ryan Reynolds plays a bank teller who finds out that he is a background character in a video game. He ultimately decides to take matters into his own hands and create his own story within the game. He decides that he wants to be the hero of the game and he is committing to doing everything he can. Since no movie would be complete without some kind of love story, Reynolds' character also tries to build a connection with the woman who coded the game. The character eventually becomes popular in the movie's 'real world' for the way he plays the game. However, people don't realize that he isn't being controlled by a computer or a person.
Which Video Games Inspired The Movie?
Writing or directing a movie is a very big undertaking, and it's impossible to do without looking to other sources for inspiration. Since understanding video games is at the core of the movie, it was very important for Shawn Levy to be well-versed in the world of gaming. Whoever said research is boring has clearly never had to do research for a movie like Free Guy. During an interview with Collider, Shawn shared that Free Guy was heavily inspired by Fortnite, Uncharted, and Grand Theft Auto V. he said, " I definitely played more GTA than I had before Free Guy, because the screenplay was so clearly inspired by key elements of that, played a lot of Fortnite. I had already, as you probably can imagine, played a lot of Uncharted as part of developing that movie, so I would say those are the big three." If you're a fan of any of these video games, you may be able to spot points in the movie where their inspiration can be seen.
What Critics Are Saying About The Movie
Free Guy was released on August 13, 2021. However, since movie theaters have been getting less business since the beginning of the COVID-19 pandemic, there are lots of new movies that come out without people realizing it. For the most part, Free Guy has received positive reviews. It currently has an 81% rating on Rotten Tomatoes with an audience score of 95%.
The Good
Mark Feeney of The Boston Globe, who gave the movie a favorable review, said, " Reynolds is his usual two steps away from absolute insincerity. Where in other movies that can be maddening, here it lends a nice lift to his line readings. In some ways, "Free Guy" is more about Millie (Jodie Comer, "Killing Eve") and Keys (Joe Keery, "Stranger Things") than it is about Guy. In the sort of movie where you'd think genuine sweetness and charm would be an afterthought, Comer and Keery provide both."
The Bad
Other critics, however, weren't very impressed. Bennett Campbell Ferguson of the Willamette Week wrote, "The movie is bursting with good vibes, but they get crushed by the climax: a bland brawl that bluntly reminds viewers they're watching a Disney product. It's sad to see storytelling shoved aside in favor of obnoxious cross-promotional gimmicks like Reynolds wielding a lightsaber and carrying Captain America's shield. It's even sadder that next to abysmal recent Disney films like Black Widow and Jungle Cruise, Free Guy looks like art."
The Truth
If video games aren't really your thing, Free Guy might not be for you. As with any other movie, though, you'll have to watch for yourself to determine how good or bad Free Guy actually is. One thing is for sure, though, Ryan Reynolds puts on a performance that you probably won't forget about any time soon.
Tell us what's wrong with this post? How could we improve it? :)
Let us improve this post!