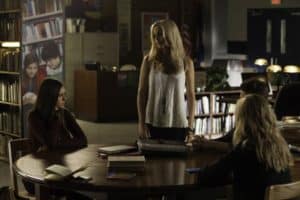 Another day, another memorial service in Mystic Falls and as the paper lantern sequence showed earlier this season, a lot of people have been lost on The Vampire Diaries. It's the first episode back after the mini winter break and this episode serves as a catch-up with all the cure related shenanigans and the story is propelled forward with the return of not one, but two Originals.
Rebekah (Claire Holt) is back and more annoyed than ever; thanks to yet another daggering (this is time number three, right?). Rebekah has quite a novel way of getting caught up on everything that she has missed and thanks to compulsion and her new sidekick April (Grace Phipps) she forces Elena (Nina Dobrev), Stefan (Paul Wesley) and Caroline (Candice Accola) to reveal all. Rebekah gets more information than she was expecting in her game of Truth or Dare (or just Truth or Truth really) as all the details of Elena's new relationship with Damon (Ian Somerhalder) come to light. It's an uncomfortable scene as Elena says that Damon makes her feel free and Stefan makes her feel like a broken toy.
As Rebekah is the girl who has been heartbroken and alone for most of her life, this pleases her immensely. Rebekah's feelings for Stefan are complicated as he played a part in her latest prolonged slumber and she is still hurt from how Klaus (Joseph Morgan) compelled Stefan to make him forget Rebekah back in the 1920s. This is why Rebekah won't compel Stefan to forget Elena, she's not going to make it easy on him and wants him to suffer as she does. Stefan obviously has a thing for teaming up with the Originals and I'm all for the pairing of Stefan and Rebekah in the hunt for the cure mission; his sales pitch of 'we both have nothing' was somewhat lacking and could probably do with some more oomph.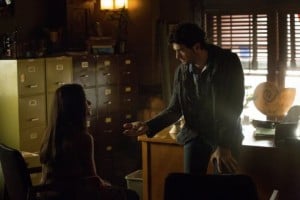 The cure is the thing that everyone is after for one reason or another and it looks like this is what will be the driving force for the rest of the season. There are so many different agendas at play here; Rebekah wants to make Klaus human just to screw with him, Shane (David Alpay) wants Silas and his power, Klaus wants more hybrids, Stefan wants to make Elena human again, as does Damon it would seem. When this many people (who possess a range of power) want the same thing it's going to get messy and there are going to be casualties. Casualties like April, who was saved and ones like the pizza delivery girl, who was not.
This episode was all about the information dump, but parts of the sire bond and what it means are still unclear. So Elena says she loves Damon and that is why she slept with him, but when Damon tells Elena to get in her car and drive up to the lake house is she doing so out of her choice or because he told her to? It's this murkiness that makes some of the character choices questionable, particularly when it comes to the love triangle. One of Elena's strengths was her insistence with making decisions, but with this bond her free will remains tainted. Frankly I'm still confused as to how being freed from the sire bond works, so if someone has the rule book on that one then please explain away. It feels similar to how they glossed over why Caroline dislikes Damon and it's these inconsistencies that add fuel to shipper wars.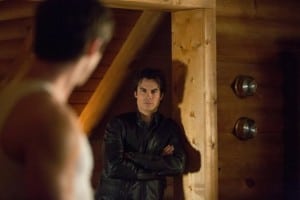 Up at the lake house Damon is trying the slowly, slowly approach with Jeremy (Steven R. McQueen) and has got Matt (Zach Roerig) to help with the training. Klaus changes this approach and speeds the process up by creating new vampires for Jeremy to kill and complete his mark. Jeremy is a key part to the puzzle, but will he resist the direction that he is being pushed in?
Bonnie (Kat Graham) is getting more powerful thanks to the 'Expression' magic that Shane has taught her, before she felt pain and bled but now that nature isn't a factor this is no more. Shane is only telling Bonnie about the benefits and with this kind of magic there has to be consequences; how far will Shane push her?
Other thoughts
-There is already an Originals spin-off in the works, but I would love to see Rebekah open up her very own Eternal Sunshine of the Spotless Mind type clinic. Stefan is not allowed.
-12 is the magic number; 12 council members, 12 hybrids, 12 vampires.
-Kol (Nathaniel Buzolic) is back! Showing once again that he is the most impulsive of the Original siblings, a hard title to hold considering the actions of Rebekah and Klaus. Where is Elijah (Daniel Gillies)? A rational head is probably needed.
-How long before Bonnie's dad is added to the dead parent list?
-Tyler (Michael Trevino) doesn't go after Klaus in this episode, though his revenge will come by the end of these season I am sure.
-I'm still very impressed with how they work around the budget restrictions of a werewolf transition and use minimal CGI. Focusing on the broken bones, change in teeth and eyes is much more effective and scary.
-April is like Tom Cruise; she wants the truth.
-Stefan obviously has a thing for blonde sidekicks; Lexi, Caroline and now Rebekah.
Now that everyone is after the cure for one reason or another, it looks like season 4 has stepped up a gear. There was a lot of information dished out tonight, but aspects such as the sire bond still need clarification; how do you feel about what we learnt tonight?
Watch a promo for the January 24 episode "Catch Me If You Can" here.
Tell us what's wrong with this post? How could we improve it? :)
Let us improve this post!