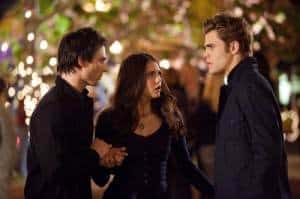 OH. MY. FREAKING. GOD!!!!!!!!!!!!!! If September was tomorrow, oh, life would be so freaking grand!!!!!!!
The Vampire Diaries KILLED IT tonight and to do it straight justice, I will not do a full recap, because A) I would be writing all night and B) NO RECAP will do the episode ANY justice. It is a must see with your own eyes!!!! Let's begin!!!!
"Mini"-Recap
It's Founder's Day and everyone is getting ready for the festivities, but problems and drama still blanket the happy, cheery mood of Mystic Falls. Damon and Stefan still snarl and push each other over Elena's affections, making Stefan confess to Elena about John Gilbert being her father; Caroline still has to witness the Matt and Tyler drama; Bonnie's still annoying (but I still love you, girl!); and Anna finds out that Jeremy has had a change of heart on being a vampire, but she still leaves a vial of her blood with him in case his mind flops again. While the denizens of Mystic Falls deal with their problems, Johnathan Gilbert and Mayor Lockwood are planning to multiply those problems by using the town as bait to suss out the vampires with that magical device that Bonnie "forgot" to unarm. Sheriff Forbes is not for this plan and as Sheriff, declares it a no go. That is until John knocks her out and handcuffs her to a pole.
The plan is as follows: John will activate the device, which acts like a dog whistle by sending out a pulse that only vampires can hear in a five mile radius. When the vamps attack during the fireworks display (which John found out from a vampire source, possibly the one Damon and Alaric killed), the pulse will go out, rendering the vamps helpless and exposed. The cops will then inject the vamps with vervain before taking them to Dr. Grayson Gilbert's old medical building where John will "finish them off". Crazy plan, right?
Anna informs Damon of the Tomb Vamps plan before getting Jeremy and trying to leave the premises. The mayor has Tyler go home and to take Matt and Caroline with him. He and Mrs. Lockwood have to announce the fireworks show and then they will be off. Damon finds John in the abandoned doctor's building, which is when John sends the pulse out. All the vamps go down, including Damon, Stefan, and Anna. So, why the hell does Tyler AND Mayor Lockwood go down as well?!?!???!?!? Seems like that device shows no prejudice to wolves as well! But unfortunately when Tyler hears the pulse, he is driving, which leads him to have a car accident with Matt and Caroline in the car with him. While medics check up on Tyler (and get a scare when the kid's eyes turn 'wolfy'), Caroline collapses and has to be taken to the hospital!
Meanwhile, John and the cops get all the vamps into the basement of the old clinic, including Anna (who was pulled out of the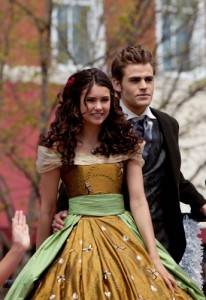 arms of Jeremy), Damon and Mayor Lockwood. Damon witnesses as John Gilbert takes it upon himself to STAKE ANNA before setting the basement on fire!! While the fire blazes, Mayor Lockwood wakes up and is shocked when he sees Damon. After Damon reveals that he's a vampire (and promptly asking the Mayor what the hell is HIS excuse for being down there), Mayor Lockwood backs into the waiting arms of the leader tomb vamp who snaps his neck!
Outside, Alaric saves Stefan from being toast and informs them that Damon is nowhere to be found. Stefan superhears the commotion in the basement, leading him and Elena to the doctor's office that is guarded by John and cops. When Stefan runs to save his brother, John grabs Elena and tells her if she steps one foot towards the building that he will include her in the fire. Elena balks, asking if he would do that to his own daughter!!!! The comment is a smack to John's face, which confirms for Elena that what Stefan has told her is truth.
Bonnie just so happens to be at the other entrance into the building and tries to stop Stefan from going in, but he ignores her. Elena tries to go in, too, but Bonnie stops her and begins reciting an incantation, which helps Stefan get in, get Damon out, and leave without being hurt. Wow… Bonnie came through yall!!!
The cast and crew weren't lying when they said the show had multiple cliffhangers and I'd be damned if they didn't deliver. We had a total of four to five, depending on how you want to define or count them, and all had heavy relevance that will make this summer an excruciating hell. How will we cope (besides the new season of True Blood)? Article on that coming soon…
Now let's wrap this up quickly:
– Matt and Tyler make up in the hospital, but Sheriff Forbes drops two bombshells: 1) Caroline was suffering from internal bleeding and has to undergo immediate surgery 2) Tyler needs to call home, because of his dad…
– Jeremy gets a visit from Damon, who confirms Jeremy's fears of Anna's death. Damon offers to take the pain away, but Jeremy says it wouldn't help. Damon apologizes to Jeremy for everything and the two discuss how vamps can turn off their feelings, something that Anna told Jeremy earlier that day. Damon says that it does work and that's easy when you are a vampire, but that life still sucks either way. After Damon leaves, Jeremy takes the vial of Anna's blood, drinks it and downs some pills and waits for the inevitable to happen!
– Bonnie tells Stefan that even though she saved his and Damon's life, she did it for Elena and Elena alone. She also says that Damon has to change his ways or she will take both him and Stefan down at the drop of a hat. And she meant business, yall.
– Damon leaves the Gilbert house and bumps into Elena and he spills all his feelings out to her, including that he has had a change of heart since he has returned to Mystic Falls and now wants to protect the town, instead of destroying it. Plus, he is thankful that Elena would consider saving his life, which means to him that Elena feels that he is worth something. Elena is eerily quiet throughout this confession. The two enter a longing stare before they KISS!!!!!! PASSIONATELY, MIND YOU!!! But didn't Elena just tell Stefan that she loves him and wants only him?!!? Jenna opens the door and is shocked at what she sees, telling Elena to come in. Damon stands on the porch with a "Wait a minute…" look on his face. NOOOOOOOOOOOO!!!!!!!!
– Elena makes her way to the kitchen where John is and he immediately goes into apologetic, explanation mode. Elena still remains silent. When he is through talking, John asks if Elena needs help putting up the knives. She says yes, then picks one up and CHOPS OFF JOHN'S RING FINGER!!!!!! Before John can even ask, "Elena" reveals herself to actually be KATHERINE!!!!!! Then she stabs John with glee!!!
– The Real Elena comes home and walks into the eerily quiet house. She calls for everyone and heads into the kitchen, which is when The Vampire Diaries logo slaps the crap out of me!!!!!
NOOOOOOOOOOOOO!!!!!!!!!!!!! But it feels so damn good!!!!!
Oh and about that no recap thing… it seems that I lied and I apologize, but still… This recap doesn't do the episode justice. WATCH IT!!!!!
From The Journals of the Council
So now we have to wait until September to find out what the hell happened!!!! But let's sum up what we now know upfront:
– Katherine is FINALLY in Mystic Falls!!!! Imagine the hell to come!!!! And she better not be there for only 1/4 of the second season either!
– Tyler is close to wolfing out!!!! I did NOT expect to see Tyler OR Mayor Lockwood go down during the Pulse!!!! And when Tyler's eyes got all "wolfy"?!?!? I literally jumped! CAN. NOT. WAIT to see how this plays out!!!!!
– John Gilbert is dead!!!!! (Finally!) The Queen has returned and she doesn't need that sap in the way. Is it wrong that I was jumping on my couch like a teenybopper at a Zac Efron signing as John was getting his just desserts? If I was, then I don't give a damn…
– Jeremy could be UNdead!!!! (Sadly) His treatment of Elena was soooo unwarranted and I hope that he wakes up the next morning with a bad stomach ache and nothing else.
– Damon is changing for the better! From apologizing to Bonnie all the way to feeling some remorse for the death of Anna, I think our resident bad boy has discovered that it's not always good to be bad. Does it have anything to do with his feelings for Elena or has the black and white nature that he has always followed finally got it's first drop of gray? Will he lose it now that Katherine is back in town?
Guys, we have to wait three and half months for new TVD!!!!! THREE AND A HALF MONTHS!!!!! Will you handle it???! Did you scream and jump out your living room windows like I did?!?! Let me know your pain!!!!!
It's been a great year and I hope to see you guys again this fall!!!!