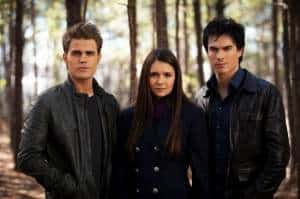 Plans never quite go the way they want them to on The Vampire Diaries and "The Murder of One" was no exception. The plan to kill the Originals might not have been perfect, but this was a terrific outing after last week's unsatisfactory affair. The season 3 endgame might not be as clear as the two previous seasons, but it definitely feels like the pieces are coming together beyond 'let's kill the Originals,' especially after the new revelations from this episode.
"Oh, Elena Gilbert, savior of the cursed and the damned."
Caroline (Candice Accola) sums up Elena (Nina Dobrev) rather well with the statement above, after Elena tries to reason that Alaric (Matt Davis) is not at fault for the murders he has committed, murders that unfortunately include Caroline's father. This attitude of never giving up on people is a consistent part of who Elena is and while this is often a positive thing, it is also an issue in terms of her romantic entanglements. One person that Elena has refused to give up on this season is Stefan (Paul Wesley) and while he isn't quite back to being well adjusted Stefan, he is nearing that point and this could be a perfect time for the two to reconcile. Of course it isn't that simple and nor should it be after everything that has happened, but that still doesn't stop a declaration of love from both Stefan and Elena. This declaration unfortunately also comes with a Damon (Ian Somerhalder) shaped white elephant in the room and Elena can't deny that she has feelings for both Salvatore brothers now.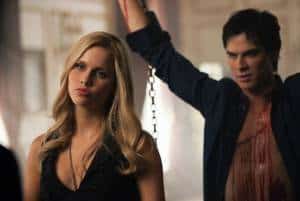 Damon has his own Elena moment and this comes in the form of a rescue attempt while he is being strung up by Rebekah (Claire Holt). This moment isn't real and is part of Rebekah's revenge after Damon messed with her head. It is hard to see exactly where the love triangle element of the show is going as Elena and Damon really haven't been explored as a couple, but now that Stefan is slowly returning to who he was is this opportunity now over? Or are things about to get even more complicated?
Loyalty is definitely something that Klaus (Joseph Morgan) has problems with, but is this a problem of his own making? Rebekah remarks that even though Stefan and Damon fight like dogs, they will still always be there for each other; whereas Klaus claims that he wants his family back together but he doesn't really know what family means. Rebekah comes to this conclusion after Klaus' nonplussed reaction to Finn's (Casper Zafer) death and this has her questioning what exactly she means to her brother.
Klaus' issues with loyalty is evident beyond what he does to his family with how he has been with Stefan; Klaus clearly wanted to have a wingman of sorts but because he had to buy Stefan's 'friendship' through blackmail this was never going to be an equal and happy relationship. Klaus claims that he has given Stefan's life purpose by giving someone for Stefan to hate, but that is only after Klaus took away the person who gave Stefan happiness in the first place. Klaus maybe ridiculously old but he really does have some twisted logic that makes him less than wise. The only way Klaus can guarantee the kind of loyalty that he really wants is thorough his hybrids that have no free will to decide otherwise. In this respect Klaus is a tragically pathetic figure beyond his villain status. It also took this outburst from Klaus for Stefan to realize that he was wasting his energy on this battle; he still doesn't have Elena so where will he channel his brooding now?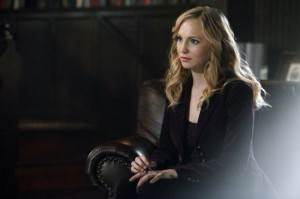 The 'killing all the Originals' plan has hit another road block beyond the binding spell being broken and this twist is pure brilliance; if you kill an Original you also kill all the vampires that have been turned by that bloodline. In the case of Finn this meant Sage (Cassidy Freeman) and all the many vampires she has created. This adds a whole new level of tension as now they have to try and figure out who turned Rose (Lauren Cohan) as this is where their bloodline came from. Rose also happens to be dead. While they are hoping that it wasn't Klaus that did the deed, Caroline realizes if they kill Klaus then Tyler (Michael Trevino) will die too, this is going to become a struggle. Who are you hoping was the one to turn Rose?
Bonnie (Kat Graham) was once again used to break an important spell and as The Vampire Diaries resident witch this isn't a surprise, but is her character being reduced to a plot device whenever they need magic to help move the story along? Unlike all of the other characters that aren't Elena, Bonnie doesn't have unnecessary blood on her hands and a 'monster within' and so doesn't need to be saved in this manner; will there be dark magic in Bonnie's future?. Bonnie does have a breakdown after she has done Klaus' bidding and after everything with her mother it is hard to see what direction Bonnie will go in next, hopefully it will be one that requires her to be more than just a convenient spell machine.
Despite the herbs that Bonnie discovered last week to help Alaric with his psycho killer problem his alter ego has come out to play and has hidden the last white oak stake. This would be fine if Klaus hadn't promised to wage a war against everyone that Stefan and Damon loves (so Elena) if he didn't get the remaining weapons. A game of hunt the stake is on the cards then.
Other Observations
-Thanks to Finn we get an Esther (Alice Evans) update and she is still out there trying to figure out how to kill her children. Maybe Esther and Abby (Persia White) can duke it out to see who is mother of the year?
-Glad to see Alaric challenges Damon with his stake hiding place after the moonstone/soap bowl incident last year.
-After seeing how Klaus replies to a text message do you think he is a big fan of Draw Something?
-Caroline gets called Barbie again and Rebekah gets an upgrade to Buffy the Vampire. Hee to both.
-Rebekah line of the week "Thank you Bonnie, see you in Physics class."
-Kol (Nathaniel Buzolic) is in Denver keeping a close watch on Jeremy and while this might not be good for Jeremy, it could mean that we will be getting to see more of the youngest Gilbert soon.
-Getting the vervain out of a vampire is a rather messy and arduous process and shows that you really should never hurt Rebekah's feelings, as her punishment will be on the sadistic side.
-It was fun seeing the killing Originals training scenarios and the killing of Finn was well executed, sadly they were unaware of Bonnie's spell being performed at the same time. Also Matt (Zach Roerig) got to be a vital part of the plan and played his role rather well.
There is a new purpose in finding out which Original is from the same bloodline as Damon, Stefan and Caroline and to also keep Klaus at bay as they search for the missing stake. The love triangle element of the show has also stepped up a notch and I'm sure this will continue until the end of the season. The overall endgame of the year seems a little hazy still, but this episode definitely helped set a focus with the bloodline reveal.
The next new episode isn't until Thursday, April 19 when some familiar faces will return and to see the promo for "Heart of Darkness" head here. Don't forget to check out our new showpage for The Vampire Diaries. It's your one-stop-shop for all of our coverage of the show, including reviews, previews, photos and spoilers.