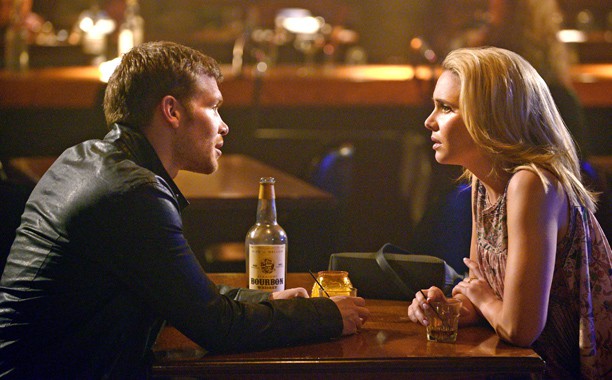 Vampires versus werewolves. Sounds like every episode ever of The Originals, right? While I admit the constant state of unrest between the supernatural factions of New Orleans is getting old, having almost the whole Mikaelson clan back together is saving this season. That said, Rebekah is greatly missed!
Esther and her lapdog of a son, Finn, made their mission clear last week. All she wants is to atone for her greatest mistake in making all her children vampires by giving them new bodies free of the curse. Klaus and Elijah turned down her proposition but she's not taking no for an answer. With Finn out instigating a rise of new werewolves during the blood moon, that leaves Kol (as Kaleb) to retrieve the deadly white oak stake from Davina. Looks like Esther wasn't actually giving her sons a choice in the matter if she's planning on killing them if they don't go her way.
Of course as viewers we know that Mikael is Davina's more dangerous hidden weapon. She's keeping a tight leash on the true Original vampire with the help of a magically bound bracelet. It was pretty cool to see Mikael start to train Davina physically because as he says, "magic can only fight half your battle." She's not exactly Buffy strong just yet but maybe it's a start.
After all, Davina doesn't have to worry about Mikael now that Kol freed him from her control. She'll be too busy unlinking the connection between Marcel and Josh from Klaus in the event that Mikael fulfills his destiny of killing Klaus. He's one step closer now that he ended up exactly where he needs to be: in Klaus' possession.
That was a pretty awesome father-son fight. Klaus really should've learned a lesson from scary movies everywhere. You may knock the bad guy down, but he's never actually dead the first time. He's going to regret not using the white oak stake on him once Mikael stops pretending to play dead and probably turns Papa Tunde's torture blade on him.
Before all that, Klaus and Cami shared some insightful scenes together. It says a lot about Cami as a person that she never gives up on Klaus. She reads through his actions and offers him the "one thing [he] never had: someone to hear [his] side." He gives in slightly but still ends up leaving her stranded in a roadside bar miles from Davina's family's cabin. By the way, it was a crazy miracle that Cami was able to find the cabin after hitching a ride then hiking through some woods in the middle of the night.
Elijah's busy most of this episode either mentoring Gia or fighting a whole pack of wolves. Basically, it's nothing Elijah (and a little of Oliver's help) can't handle. Then he wakes up chained in Esther's lair, and he's powerless. I have to wonder how long it'll take Hayley or Klaus to realize Elijah is even missing.
Last but not least, Josh has a love interest. Things got super awkward when he met the guy he'd been messaging and both of their supernatural identities were outed: Aiden is a werewolf and Josh is a vampire. (Reverse those two names, add a ghost named Sally into the mix, and it's kinda like Being Human!) This new relationship will be interesting to watch. Interspecies relationships in such a hostile city as New Orleans don't have a history of working out (Elijah/Celeste, Katy/Thierry) but for these kids I hope they have better luck!
Next week is Nina Dobrev's guest starring appearance on The Originals as the first doppelganger, Tatia. She's only ever been mentioned by name on The Vampire Diaries so it's exciting we'll finally get to see her in flashbacks!
Photo via Guy D'Alema/The CW
Tell us what's wrong with this post? How could we improve it? :)
Let us improve this post!