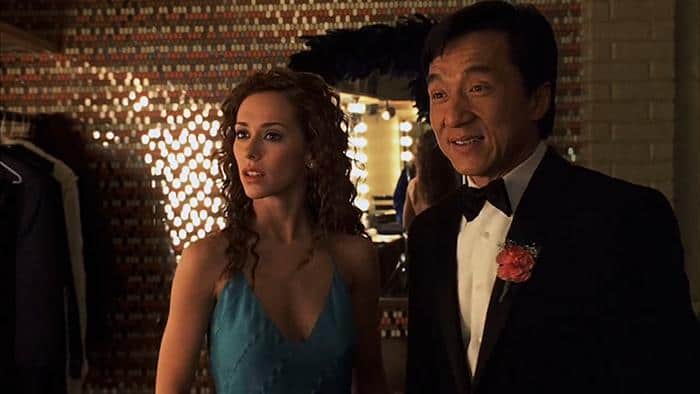 2022 will mark the 20th anniversary of The Tuxedo, and we think it's about time that this underrated gem is rewatched. Starring Jackie Chan and Jennifer Love Hewitt, The Tuxedo is a hilarious action-comedy about a regular guy who gets mixed up with a secret agent. If you need a refresher of what the movie is about, here's a description of the plot, from Rotten Tomatoes: "Cabbie-turned-chauffeur Jimmy Tong (Jackie Chan) learns there is really only one rule when you work for playboy millionaire Clark Devlin (Jason Isaacs) : Never touch Devlin's prized tuxedo.
But when Devlin is temporarily put out of commission in an explosive accident, Jimmy puts on the tux and soon discovers that this extraordinary suit may be more black belt than black tie. Paired with a partner (Jennifer Love Hewitt) as inexperienced as he is, Jimmy becomes an unwitting secret agent." Despite its compelling plot and star-studded cast, it was widely panned and largely ignored during its premiere. A harsh critique from Village Voice wrote about the movie: "The only possible surprise in The Tuxedo would be an extended demonstration of what was once Chan's trademark, the daffily choreographed kineticism forbidden of late by either his own age or the scruples of story editors."
One rare good review came from IGN wrote: "The Tuxedo is sort of like a film that might have been made from a song by Burt Bacharach; its central conceit is odd, implausible, even a bit silly, but one can hardly begrudge it those elements when the thing plays so beautifully." Regardless, it has since gained a cult following and continues to permeate popular culture. If you're looking for a movie to watch that's sure to make you laugh, look no further than The Tuxedo. Here are a few reasons why you should watch the movie on its 20th anniversary in 2022:
The Tuxedo highlights Jackie Chan's physical comedy genius
If you're a fan of Chan's work, then you'll definitely want to check out The Tuxedo. Throughout the film, Chan performs some of the most impressive physical comedy sequences that will have you in stitches. We all know Jackie Chan as this brilliant stuntman and physical comedy genius, his talent having been highlighted in Rush Hour as well as Police Story. However, in The Tuxedo, Chan's physical comedy is taken to a whole new level as he dons a tuxedo that gives him special abilities. This might just be Chan's funniest performance, and it's definitely worth watching on its 20th anniversary. In an interview with Tribute, Chan admitted to having encountered challenges while doing his stunts for the movie, which was shot in cold Toronto. He nevertheless persevered and gave us some of his best physical work in decades: "It's just not good really, but I have to keep going. I remember when I broke my ankle in Vancouver, doing Rumble in The Bronx. Same thing, it was January to mid-February. You just want to warm up. You have to set up the camera. So you just sit there and shiver and then it's like, let's do it. Boom! So to keep warm I just keep bouncing around on the set and to try and keep myself ready."
The Tuxedo features an impressive cast
Aside from Jackie Chan and Jennifer Love Hewitt, The Tuxedo boasts an impressive cast that includes Jason Isaacs, Debi Mazar, Ritchie Coster, and Peter Stormare. With a cast like this, you know you're in for a good time. Not to mention, the chemistry between Chan and Hewitt is undeniable, making for some truly hilarious moments. What makes this a perfectly assembled cast is that they all play off of each other so well, resulting in a comedic masterpiece.
Jennifer Love Hewitt shines in this movie
Hewitt is no stranger to the action-comedy genre, having starred in movies like I Know What You Did Last Summer and Garbage Truck. However, in The Tuxedo, she really shines as she holds her own against Chan. Together, they make for a hilarious on-screen duo that will have you laughing from beginning to end. In an interview with IGN, Hewitt shared some of her memories of making the movie, especially about the time she realized she will be co-starring with Jackie Chan, a big feat for someone who was pretty much just starting out in the business: "I think I was probably not their first choice for this part, because it's so different from anything else I've ever done before. It's a slightly older part, more sophisticated and mature." "When I found out Jackie Chan was in the movie, I nearly had a heart attack!" she says with a laugh. "The first time I ever had to do a stunt scene in front of him, I was absolutely terrified. I was so nervous that Jackie Chan was going to think I wasn't any good at stunts!"
The Tuxedo is a hilarious action-comedy
If you're a fan of either genre, then you'll definitely enjoy The Tuxedo. The movie perfectly combines elements of both genres to create a truly unique and enjoyable experience. From the non-stop action sequences to the hilarious dialogue, there's something for everyone in this movie. And if you're a fan of both genres, then you're in for a real treat.
It has a great soundtrack
The Tuxedo features a great soundtrack that perfectly complements the movie. From the opening credits to the action sequences, the music perfectly sets the tone and adds another layer of enjoyment to the film.
The screenplay is written by Michael J. Wilson and Michael J. Leeson
The Tuxedo was written by Michael J. Wilson, who also wrote the screenplays for the Ice Age franchise. Wilson is a master of both comedy and action, and it shows in The Tuxedo. Co-writing the movie with another brilliant writer, the late Michael J. Leeson, who worked on The Cosby Show, Wilson creates a truly hilarious and entertaining movie.
The Tuxedo is an underrated gem
As mentioned before, The Tuxedo was largely panned and ignored during its premiere. However, it has since gained a cult following among Jackie Chan fans and movie buffs alike. What's made this movie gain a second shot at attention is its clever humor and impressive action sequences. If you're looking for a hidden gem that's sure to entertain, The Tuxedo is the perfect film for you.