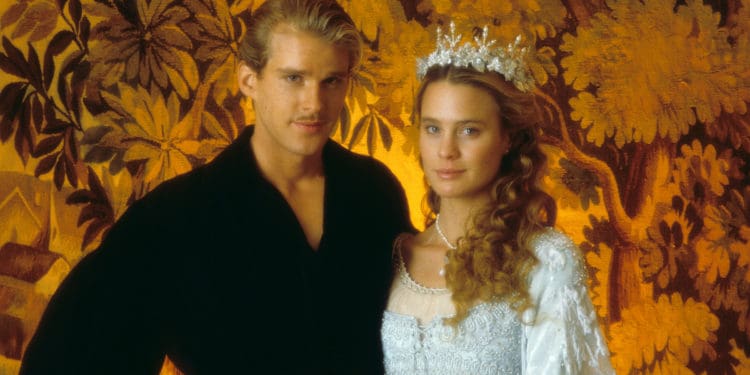 People did not have a lot of expectations for A Castle For Christmas, but the movie got, quite surprisingly, mostly positive reviews. The movie stars Brooke Shields as a highly successful romance writer seeking peace and quiet in Scotland and Cary Elwes as a duke who hesitantly opens his castle to Shields' character. "Famed author, Sophie Brown (Brooke Shields), travels to Scotland hoping to buy a small castle of her own, but the prickly owner, Duke Myles (Cary Elwes), is reluctant to sell to a foreigner," the official synopsis goes. "Working to find a compromise, the pair constantly butt heads, but they just may find something more than they were expecting." Daniel M. Kimmel, of North Shore Movies, explained perfectly the appeal of the movie: "You may not remember the details of "A Castle for Christmas" a month from now, but if you're looking for something to watch while eating leftovers, it should do the trick."
Cary Elwes had a lot of fun while shooting the movie, telling Screen Rant that he was thrilled when he discovered that Brooke Shields will be co-starring alongside him. "Well, my favorite thing was getting to work with Brooke because obviously, I've been a big fan for a long time, like many people. And when I heard she was doing this movie, and I read the script, I thought how perfectly she was cast in the role of Sophie Brown. And it was an opportunity to really show her comic chops. And the character that I play is this guy who's really kind of a hermit, a little bit of kind of like Scrooge. And he's very rigid and closed off to the world. And along comes this breath of fresh air in Brooke's character Sophie, who is open and filled with the spirit of life and love and Christmas and all of it and he's just not ready for any of it. So I was just excited when I read it. I thought, "We're really going to have a good time", and we did we made sure to have a good time."
What fans noticed about the movie was the incredibly natural chemistry between Cary Elwes and Brooke Shields. Both the actors have the "bubble" to thank for their bond; Covid-19 forced the cast to remain in one place for a long period of time to prevent infection. In explaining how Shields and Elwes got along so well, Cary pointed out that their producer masterminded the entire thing, according to an interview he did with ComingSoon.net. "It's great. Yeah, no, it is true. We had dinner pretty much every night. We have a wonderful producer, Brad Krevoy, who believes in all of us having dinner together and keeping the cast together. So yeah, I bonded right away with Brooke. I'd met her briefly many, many years ago, even though she didn't remember, but I shook her hand once at Studio 54 back in the early eighties. I knew all about her and followed her career. So when they told me she was gonna be playing Sophie, I was like, "Oh, well, where do I sign on this? Perfect." And we hit it off right away. I just found the whole experience so joyful." Cary Elwes has had an illustrious career, both on-screen and off. Before taking on the lead in A Castle For Christmas, what has Cary Elwes been up to in recent years?
Cary Elwes' personal life
Cary Elwes has been with Lisa Marie Kurbikoff, a photographer, since 1991. They married each other in 2000 and have one daughter. Earlier this year, Elwes' younger sister, Milica, sadly died of Stage 4 cancer. The actor announced her passing on Instagram. In 2014, Elwes wrote a memoir documenting his time as the main star of Princess Bride. Titled As You Wish: Inconceivable Tales from the Making of The Princess Bride, the book includes never-before-heard stories about the making of the iconic movie. Elwes has also dabbled in screenplay writing, most notably co-writing Elvis & Nixon, which eventually became a movie co-starring Michael Shannon and Kevin Spacey.
Elwes organized a Princess Bride reunion last year to support Democrat candidates in Wisconsin. This earned the ire of Princess Bride superfan and Republican Ted Cruz, who ranted on Twitter that he wished that Hollywood movies would stay out of politics. Elwes, as well as the rest of the Princess Bride cast, slammed Cruz back, according to CNN, with Mandy Patinkin, who played Inigo Montoya, saying: "I just wanted to ask, since he quotes all the lines from 'The Princess Bride', why he doesn't quote my favorite line?" Patinkin asked. "And those words were — and are forever — 'I have been in the revenge business so long, now that it's over, I do not know what to do with the rest of my life.'"
Cary Elwes' projects
We all know Cary as the charming Dread Pirate Roberts in The Princess Bride, and for younger audiences, as Dr. Lawrence Gordon in the Saw franchise. He has not been in a Saw movie since 2010, however, and in recent years he's successfully appeared in movies that detached his image from the horror series. Just this year he appeared in four movies, Best Sellers, starring Aubrey Plaza (Parks and Recreation); The Unholy, starring Jeffrey Dean Morgan (The Walking Dead); of course, A Castle For Christmas; and another upcoming Christmas movie, titled Last Train to Christmas, starring Michael Sheen (The Queen). Elwes has also been active on TV, playing recurring roles for various popular programs. He appeared in 20 episodes of The Art of More and had a fan-favorite role in Psych as Pierre Despereaux. "In every episode as Despereaux, I got to do fun things, like scale a skyscraper, drive a high-powered speedboat, fly a plane, etcetera. Loads of fun things to do. We just laughed everyday," he said when remembering his time on the set of Psych, according to The Things. He also portrayed Mayor Larry Kline on Stranger Things and as Gavin Hawke in The Marvelous Mrs. Maisel.
Tell us what's wrong with this post? How could we improve it? :)
Let us improve this post!