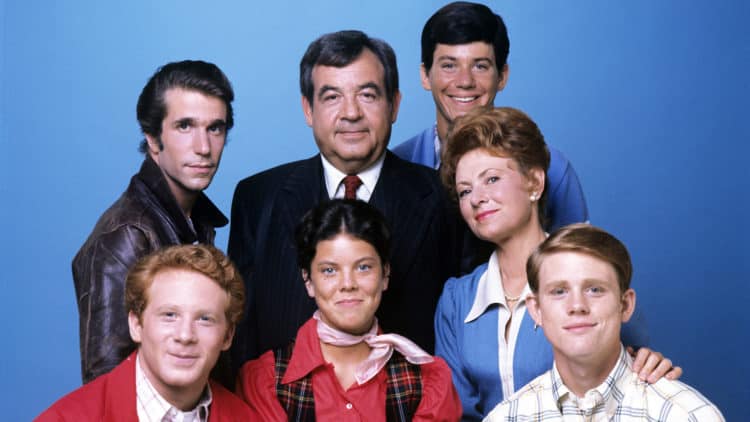 Happy Days was easily one of the most popular TV shows of the 1970s and 80s. The show centered around the Cunningham family and their life in Wisconsin. The series spanned the course of 10 years and became an important part of pop culture along the way. While lots of people have fond memories of the show, what they may not remember is the fact that Happy Days spawned several spin-offs. While some of these shows faded into obscurity rather quickly, others became classics in their own right. Although none of these shows are still on the air, there are quite a few that you have probably heard of. Let's talk about the surprising number of Happy Days spin-offs.
Laverne and Shirley
Laverne and Shirley is undoubtedly one of the most famous Happy Days spin-offs. The show, which ran from 1976 to 1983, centered around two women in their 20s who were trying to navigate life. The characters, Laverne (Penny Marshall) and Shirley (Cindy Williams) were originally introduced in an episode of Happy Days. The series was a huge hit ratings-wise and many applauded it for its portrayal of female characters.
Laverne & Shirley with The Fonz (Animated)
This animated series was technically a spin-off of Laverne and Shirley, but that means it's still part of the Happy Days family. Since the show was short-lived, there isn't much information online about it. From what we can tell, however, the show only aired in 1982 and was done in a comedy-hour format.
Mork & Mindy
Like Lavern and Shirley, Mork & Mindy is another Happy Days spin-off that had a life of its own. Starring Robin Williams and Pam Dawber in the title roles Mork & Mindy brought together the best of science fiction and comedy. In the series, Robin Williams played an alien named Mork from a fictional planet called Ork who came to earth to study human behavior. While there, he meets a young woman named Mindy and the two become fast friends and roommates. Mork does his best to adapt to life on earth, but he has lots of snafus along the way. The series ran from 1978 to 1982 and was instrumental in helping launch Robin Williams' career.
Blansky's Beauties
Blanksy's Beauties starred Nancy Walker as a character named Nancy Blanksy. Nancy was initially introduced during an episode of Happy Days as Howard Cunningham's cousin who lived in Nevada. Nancy was a former showgirl in Las Vegas who had become a den mother to a younger group of performers. Unlike Happy Days, which was set in the 1950s and 60s, Blanksy's Beauties was set in 1977 which is when the show aired. Unfortunately, however, the series did so poorly that it was canceled after just 13 episodes.
Joanie Loves Chachi
When Joanie Loves Chachi debuted in 1982, lots of people felt that the show had the potential to be a huge success. Sadly, though, the series was canceled after 17 episodes due to poor ratings. Joanie Loves Chachi starred Erin Moran as Joanie and Scott Baio as Chachi. Both of whom were already well known due to their roles on Happy Days. In the spin-off, the characters had moved from Wisconsin to Chicago in hopes of making it in the music business. Despite the show's short run, it is still fondly remembered by quite a few fans.
Out of the Blue
Unlike the other shows on our list which were clearly spin-offs of Happy Days, there's some debate over whether Out of the Blue is actually a spin-off. This argument stems from the fact that Out of the Blue's starring character, Randon (Jimmy Brogan), appeared in an episode of Happy Days about a week before Out of the Blue premiered. As a result, many believe that while that could be considered a crossover episode, Out of the Blue isn't really a spin-off. Either way, though, the series are often grouped together. Out of the Blue was canceled during its first season after just eight episodes. Although four more episodes had been filmed for the series, they never aired.
The Fonz and the Happy Days Gang (Animated)
The decision to make animated spin-offs of Happy Days was an interesting one because it targeted an audience that was separate from the show. That is probably why both of the animated spin-offs didn't last very long. The Fonz and the Happy Days Gang aired on Saturday mornings from 1980 to 1981. The series centered around Fonzie and his friends as they traveled back in time and worked o figure out how to get back home.
Tell us what's wrong with this post? How could we improve it? :)
Let us improve this post!