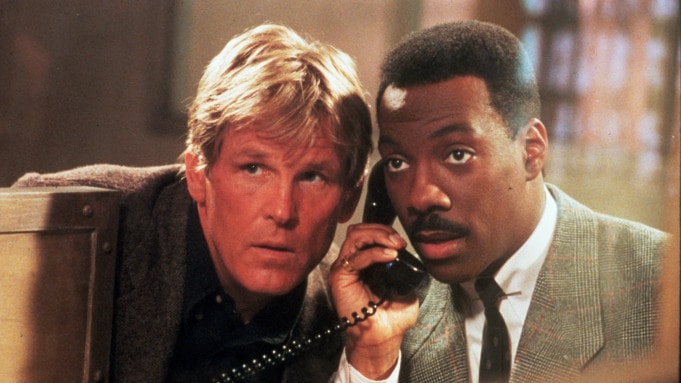 It's kind of obvious and has been for a while that remakes and reboots are the order of the day, but the hope that some people were holding onto would be that stepping into the 20s we might actually see some original stories, a few original thoughts maybe. If they're born from the ideas that have already come and had their day that's not the worst thing that could happen, but remaking a movie just because you can is a rather poor excuse to do and has been proven true more than once in the recent past. In fact Josh Safdie, one of the writers and supposed directors of the reboot, had this to per Ryan Scott of MovieWeb:
"We wrote a few drafts with the studio and it became very clear that we don't know how to do a remake. We only know how to do our own ideas. The general structure kind of was there from the original, but the stuff that was taken from the original was my least favorite stuff. It's funny. I met [48 Hours director] Walter Hill recently. He came to see a screening of Uncut Gems, and I know he had seen Good Time. I said to him, "Just to get this off the table, I know you know we were hired to do this remake of your film." And he's like, "Yeah. I was so confused because I've seen your movies now and these guys are definitely not short of any original ideas. Why do they need to remake something?"
It's entirely possible that the movie might be made with someone else at the controls but it could still be a mistake since taking on a reboot or remake just because you can is one of the worst reasons to make a movie. Some might want to argue that it won't affect anyone or ruin anyone's idea of what the original was meant to be, and in some cases this is true, but unfortunately the mere attempt is enough to anger some people since it's the idea that someone can tell the story better than the original, which rarely happens. When it does it comes as a surprise, often a nice one, since people tend to wait with baited anticipation to see what will come from a new version of something, and are ready to judge the moment it makes its appearance. If a remake of this movie ever does come out the only reason it's going to be likely make dollar one is because people these days are willing to spend money on just about anything so long as it looks flashy and updated in one way or another. The problem with giving some movies this treatment however is that it takes a lot away from the main point of the movie and as a result it creates an entirely new movie that's attempting to sit in for the old one. Need I remind anyone of Ghostbusters in 2016? Sam Adams of IndieWire had something interesting to say about this.
On top of this the buddy-cop routine that 48 Hours helped to usher in has been done again and again so often throughout the years that people will probably spend their money for a ticket largely because it's comfortable, it's known, and it's something within their wheelhouse. We could argue all day about originality and what it takes to really keep up with a fan base that continually changes their mind about what they want, but the truth is that once Hollywood finds a trend that people will pay for nearly every person that wants to make money will jump on it and ride the idea until it's no longer viable. At this point the reboot express is still a money-making machine no matter how badly any one person wants to deny it, and likely as not this movie could find another writer/director that will want to push it forward. Some folks might see this as a loss to creativity and originality in Hollywood and they wouldn't be wrong but what it comes down to is 'will this movie make money', plain and simple. Dina Zipin of Investopedia offers up a few tips that might help to make sense of this idea. The content doesn't matter so much as if the studio in charge of the movie thinks it will make money, as it's been seen more than once in the past decade or two with some of the truly awful movies that have come out.
So as of right now it doesn't sound as though 48 Hours will be getting the reboot that people might have been expecting, and while some folks might look at this as a loss others might see it as a win since it means the original still stands as the one and only, apart from the ill-fated sequel that is. Whenever the day does come that it gets remade one can only hope that those in charge will pay close attention to the original and learn from it.