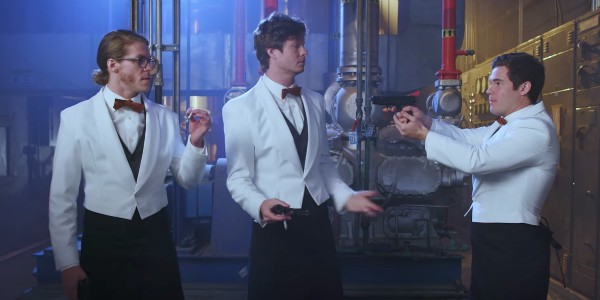 The guys from Workaholics have upped their game to feature films. This time they're taking the Die Hard template to task. There's no question that the formula for Die Hard has been used in other movies and there's also no doubt that even Die Hard has taken from other films. Rambo? You know, a movie where one guy takes on everyone? And with regards to Die Hard, how about the movie Under Siege? So what if you take that entire formula and turn it into a spoof movie with three stoners? Well then I think you have something there but you really need the right actors.
Is this trio the right crew to make it work? That is obviously the question. Game Over, Man! is a Netflix comedy that just dropped its first bit of footage and while it's light on detail it could very well be funny. Here's the synopsis:
Characters played by Adam Devine, Anders Holm and Blake Anderson are low-level maids at a downtown L.A. hotel who have created their own video game on the side, and are about to get it fully financed. Unfortunately, trouble sparks when the man who's bankrolling their endeavor gets kidnapped by terrorists during a hostile takeover. Now it's up to these buffoons to stop the terrorists and rescue the hard-partying billionaire so he can continue to fund their dream of creating an original video game. High stakes!
Check out the trailer below: