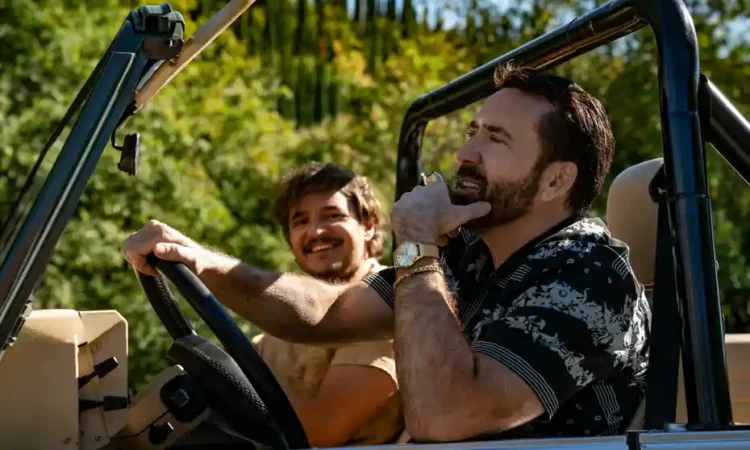 The Unbearable Weight of Massive Talent is being deemed as Nicholas Cage's ultimate comeback, but is the latest action-comedy feature truly a memorable Cage film that's bound to be in the memories of viewers for years to come? The film stars Nicholas Cage as…well Nick Cage! The veteran is down on his luck, stuck in a financial crisis, and is striking out when it comes to his daughter and ex-wife. However, once a movie deal falls through, Cage must accept a $1 million offer to attend the birthday of a superfan. Unbeknownst to Mr. Cage, Javi Gutierrez is currently under the surveillance of the CIA and the actor is forced to go undercover once he's told a dangerous secret about Mr. Gutierrez. Mr. Cage must live up to his own legend in order to save himself and his family.
Since The Unbearable Weight of Massive Talent premiered at South by Southwest, many critics have lauded this as a huge return for the actor, but in truth, was Nicholas Cage ever really gone? I understand what critics are saying about this being a huge comeback for the veteran as Nicholas Cage has been mainly doing independent films for over a decade. At first, the reasoning wasn't exactly clear why Cage was doing crappy direct-to-video films, but it later became clear that the actor was in a financial bind that necessitated him doing any movie that came his way. However, when it comes to The Unbearable Weight of Massive Talent, this isn't Nicholas Cage's Citizen Kane. In truth, it's a good film, but if any movie was a true comeback for Cage then it would be Pig. That underrated gem reminded audiences why the actor has an Oscar win under his belt. Pig felt intimate and it truly showcased the subtlety and expertise of Cage's acting ability. The Unbearable Weight of Massive Talent oddly feels more like a mainstream film than the personal project that it's portrayed to be. Pig is about coming to terms with a loss and in some ways, The Unbearable Weight of Massive Talent is in the same measure.
Nicholas Cage's career is in a rut. The acting roles are drying up for the veteran and he's forced to take a gig against his liking. However, the film goes against what it started out to be and turns into an action-comedy. To be clear, The Unbearable Weight of Massive Talent is not a bad film. The script is sharp, the acting is on point, especially Pedro Pascal as Javi Gutierrez; The pairing of Cage and Pascal is the heart of the film and it's simply a joy to watch these two pros balance the comedy and drama effortlessly. The development of their friendship feels organic and authentic, and their wild adventure is a fun thrill ride from beginning to end. However, that's what The Unbearable Weight of Massive Talent is, a fun thrill ride, nothing less, nothing more. It doesn't really get into the issues of Nicholas Cage. There's clearly a big strain on him with his family, especially his daughter. The feature never forgets the plotline as there's a conclusion to their arc, but it doesn't go beyond the barebones of Nicholas Cage's struggles as an actor during his most difficult time. There's a scene in the film where Nicholas Cage actually says he's quitting acting. Again, the story isn't dropped but it's just the bare bones of what it could've been.
Perhaps I'm overblowing what the story should've been because The Unbearable Weight of Massive Talent isn't misleading from the trailers that came before it. It's just not as great as critics are claiming it to be. Is it worth shelling out money to see the latest Nicholas Cage offering? Definitely! I had a great time watching this film. Sure, it wasn't the emotional feature that it could've been, but it was a breezy and fun feature from beginning to end. It's genuinely great to see Nicholas Cage back doing mainstream stuff, and it was cool that the actor is able to balance a story that sort of/kind of resembles his life in Hollywood. Judging on the scale as an action-comedy, it's one of the best buddy/action films to come out in some time, though it gets a bit predictable towards the end. Either way, it's still a great time at the theaters and one that should be watched with a big crowd. As I previously stated, it's not the memorable comeback that its been lauded as, but you'll surely leave the theaters with a smile on your face once it's all said and done.PigPig
Tell us what's wrong with this post? How could we improve it? :)
Let us improve this post!