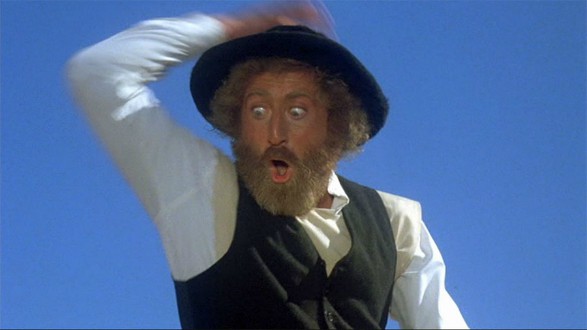 Any person of faith is going to be tested in life, a LOT. This world doesn't always treat those with such strong convictions with kid gloves, and there are times when those individuals have to stand up and be as aggressive as the rest of us in order to simply exist. The upside however is that when their convictions are finally recognized they often prove to be the strongest among us, and the most admirable. This list doesn't deal with only the serious rabbis, but it does have some of the most memorable.
Even a man of God can only be pushed so far before he has to push back.
5. Gene Wilder in Frisco Kid
Gene Wilder was simply awesome on film and as a rabbi in The Frisco Kid he was definitely not the most violent person in the world. But he knew how to get his point across when he needed to, and thankfully Harrison Ford was there to back him up when he was really needed. There's absolutely nothing wrong with wanting to be a non-violent person, it's admirable in fact, but there are still those times when you need to stand up, and Wilder makes that point very clear.
4. Mel Brooks in Robin Hood: Men in Tights
It's a parody of course and one that's in poor taste according to some but absolutely hilarious according to others. Give it this much at least, it's not a man of a different ethnicity trying to pull off the look, the accent, and the role. Mel Brooks has been a master of comedy for so long that people can forgive him just about anything considering that for all the bad taste his comedy can leave he still manages to redeem himself and his works. Rabbi Tuckman is definitely a stereotypical character, but he plays it off in such a light-hearted way that one can't help but laugh.
3. Benicio del Toro in Snatch
This entry is largely because finding decent rabbi characters on film is quite a search. So no, del Toro is not a rabbi per se, but he does manage to rock the look and the accent for as long as he needs to. Keep in mind that this is not appropriation so much as it is a clever disguise used by a bank robber in a fictional film. It might offend some people, but it would be immeasurably worse if he were to play the role throughout the film in as serious a manner as possible. So now that that's out in the open, maybe people can admit that it was in fact one very clever disguise.
2. Ben Kingsley in Lucky Number Slevin
Upon meeting the Rabbi one gets the feeling that his title is more honorary than anything, but he does in fact read scriptures and he is heavily into his religion. The fact that he totes around a sawed-off double-barreled shotgun should seem irrelevant I guess. Plus, he doesn't mind violence so long as his cronies are doing it, and he's definitely not above threatening others to get his way. Some might call him a modern-day rabbi, but it might be easier to think of him as a thug with an appropriated title.
1. Judd Hirsch in Independence Day
Now get this, I did some checking and Judd Hirsch's character in this film actually was a rabbi until he lost his faith after the passing of his wife. How many of you knew that? I'm willing to guess that there aren't a lot of you. It brings a new level to the character that you might not have seen past the wisecracks and constant defense of his son David.
It is actually kind of difficult to find a clip depicting a serious rabbi scene in film on the internet. Those that I did manage to find are among the best and in all honesty were still difficult to locate.
Save