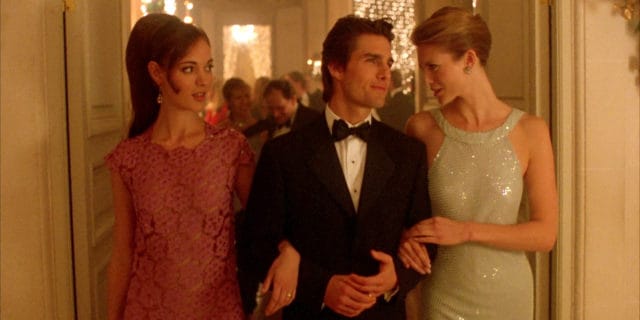 'Eyes Wide Shut' is an erotic drama film that was co-written, directed and produced by Stanley Kubrick. This 1999 film is based on the 1926 novella 'Traumnovelle', which translates as 'Dream Story', by Arthur Schnitzel. It is about Dr. Bill Harford discovering his wife had thought about having an affair and how he then embarks on a night of sexual adventures. The film had a star-studded cast, so what are the cast of 'Eyes Wide Shut' up to now?
1. Tom Cruise
Tom Cruise played the lead role of Dr. Bill Harford in 'Eyes Wide Shut' and starred his real-life wife at that time, Nicole Kidman. Since that film was released in 1999, Cruise has continued to have a hugely successful career in the film industry. In fact, he has starred in 30 films since that time. These have included the 'Mission Impossible' sequels, 'Vanilla Sky', 'Minority Report', 'Knight and Day', 'Rock of Ages', 'Jack Reacher', and 'Edge of Tomorrow'. Most recently, he was in the 2017 films 'The Mummy' and 'American Made'. In 2018, he has filmed 'Mission: Impossible- Fallout'. In his personal life, he married his third wife Katie Holmes in 2006 and they has their daughter, Suri, in the same year. The couple divorced in 2012.
2. Nicole Kidman
Nicole Kidman played the role of Dr. Harford's wife, Alice, in 'Eyes Wide Shut'. Since that film was released, Kidman has worked on more than 40 short and feature films, predominantly starring in these films but also working as a producer. Some of these films include 'The Others', Moulin Rouge!', 'Bewitched', 'The Stepford Wives', 'Australia', 'Stoker', 'Lion', 'Grace of Monaco', 'Queen of the Desert', and 'Genius'. She also has four projects underway for 2018, including 'Boy Erased', 'Aquaman', 'Destroyer', and 'The Goldfinch'.
3. Sydney Pollock
Sydney Pollock played the role of Victor Ziegler in this film. He continued to enjoy success as an actor, a producer, and a director. He worked on a further 11 films after 'Eyes Wide Shut' in the capacity of either a director or producer. The last of these was 'Margaret', which was released posthumously in 2011. As an actor, he appeared in several television series or documentaries and seven films. These included 'The Interpreter', 'Michael Clayton', and 'Made of HOnr'. Pollock died in 2008 from cancer.
4. Marie Richardson
Swedish actress Marie Richardson also continued to enjoy a successful acting career. IN 'Eyes Wide Shut', she played the role of Marion Nathanson. She has since appeared in eleven films, including 'Faithless' and 'Shed No Tears'. The latter of which she starred in 2013 and this is her last listed film. However, she remains active as an actress. She married Jakob Eklund in 2008 and has two children.
5. Todd Field
In 'Eyes Wide Shut', Todd Field played Nick Nightingale. Since this film, he directed the 2001 film 'In the Bedroom' and the 2006 film 'Little Children'. He also directed or produced several short films. As an actor, he appeared in the television series 'Once Again and 'Aqua Teen Hunger Force'. In the same year as 'Eyes Wide Shut', he appeared in the films 'Broken Vessels' and 'The Haunting'. He is married to Serena Rathbun and has four children.
Tell us what's wrong with this post? How could we improve it? :)
Let us improve this post!