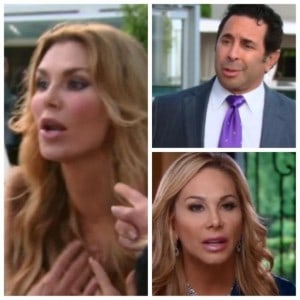 So much for a truce between the women of The Real Housewives of Beverly Hills…
Last night's episode demolished the last shred of unity within the cast as betrayal became the latest coveted accessory to own among the women. Plus, we got a glimpse at what type of drama to expect from Vanderpump Rules, which I'm seriously dying to glue my eyes to come next year.
If you thought wild child Brandi Glanville's "Shut the f*ck up!" retort to Adrienne Maloof rocked the house last week, then you were obviously not ready for whatever grenade Brandi launched tonight. In fact, no one really knew what to expect, because we still have no clue what hell Brandi unleashed that possessed Adrienne and her husband Paul Nassif to go full throttle on Glanville's ass during Mauricio's party. In true Real Housewives of Beverly Hills fashion, the women have remained mum on the subject and that's how it will remain. For now.
The secret was dropped during a menu testing at SUR that Lisa Vanderpump hosted and Adrienne was conveniently not in attendance for. Lisa, Kyle Richards, Kim Richards, and Taylor Armstrong were all visibly uneasy while Brandi dished on the reasons for her current dislike of Ms. Maloof, which involved Twitter, an allegedly, planned retaliation against Lisa, and phone calls where Paul and Adrienne allegedly asked the newbie Housewife to corroborate said retaliation. Feeling that none of the women would 'runteldat' to her nemesis, I'm sure Brandi was surprised that Kim found it imperative for Adrienne to know how Brandi trashed the Maloof-Nassifs from the appetizers all the way to the main course. So much for that truce between those two…
As if the sparks weren't already flying like a July 4th weekend, Kim decided to make this information known at Mauricio Umansky's business party where most of his clients were in attendance. So not only has Kim ignited World War XII between the Maloof-Nassifs and Brandi, she probably ruined the little chance of reconciling with Kyle this year. Kim, Kim, Kim… Not even being sober could steer you away from being messy.
The Road to Vanderpump Rules
While the women were fighting throughout the night, Lisa Vanderpump had to deal with two important loves of her life. The first being her husband Ken, who had to have hip replacement surgery this week, which he made it through without a hitch. The second thing close to Lisa's heart tonight was SUR, whose staff is just as drama prone as Lisa's besties of the 90210 zip code and will be the basis for the RHOBH spinoff, Vanderpump Rules. We got a chance to meet Stassi and Jax, two cast members from the upcoming series, and by the looks of things, Ms. Vanderpump runs a tight ship at SUR, which was apparent when Lisa reprimanded Stassi for drinking on the job the night before. Stassi's scolding left me begging even more for January 7th to get here like yesterday.
Other Moments From The Night
– Where the hell was Yolanda? Or better yet, was she even missed?
– I wish like hell Camille could have stayed on as a full-time cast member, because I haven't gotten used to the small glimpses into her life, which is one of happiness at the moment.
– The apartment (if we want to call it that) Mauricio showed off to Camille at his party was to die for, but Yolanda's house still trumps anything I've seen on The Real Housewives of Beverly Hills to date.
– Speaking of Mauricio, this man has brought two brand new cars in the last five episodes. If only I could ball like that…
Next week seems to be just as wild as last night's episode. Hopefully, we will learn exactly what the hell Brandi has on Adrienne and Paul, as well as why RHOBH's production company, Evolution Media, decided to bleep it out. But I'm not holding my breath on finding out that information any time soon…
What was your take on last night's episode of The Real Housewives of Beverly Hills?
Photo Credit: Bravo/RHOBH Facebook Page