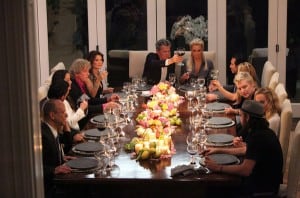 Martha Stewart can rest easy after last night's episode of The Real Housewives of Beverly Hills, because Yolanda Foster clearly displayed that she's the true domesticated diva with an extreme case of OCD when comes to planning dinner parties and designing houses. Then again, Martha Stewart might be at home damning the new housewife of Beverly Hills to high hell for stealing her crown and putting her coffee table bookish crafts to shame on a Bravo reality show. But I digress.
All joking aside,Yolanda's house is sick and makes every other home in Bravo's Real Housewives canon look like many tacky versions of Barbie's dream house. The mansion is worthy of repeated House Beautiful covers and probably gave Jackie Collins an idea for a setting in her latest bonkbuster novel after tonight's episode. The one item that had me at awe was the refrigerator that looked like a nicely organized curio cabinet, which I thought it was until Yolanda said otherwise to an equally stunned Kyle Richards. I could go on and on about Yolanda's dream crib and still not do it any justice, so let's talk about what actually went down tonight shall we?
Yolanda's Picture Perfect Dinner Party From Heaven (Sort of.)
In an attempt to get all the women together in one setting, Yolanda decided to throw a dinner party and invited all the ladies and their husbands, as well as other industry friends to the intimate gathering. The only person who didn't show up was Brandi Glanville, but that turned out to be a good thing, because Yolanda and the other women already had a slightly tipsy Taylor Armstrong and the still feuding Lisa VanderPump and Adrienne Maloof to deal with. Surprisingly, both disaster-prone distractions didn't take away much from Yolanda and David Foster's gathering, but Taylor did rub Yolanda the wrong way as David entertained the guests with his money-making piano, which was decked with all the Grammys he's ever won on grand display.
According to David and Yolanda, when they have a nice sized group over, the guests and hosts would meet around the piano and sing songs like families would do during a Christmas party. Well this particular dinner party wasn't any different, and David had all the guests sing-along or listen to him as he made sweet love to the keys on his piano. Everyone except Taylor, who complained about first about singing along and later when David started to play "Danny Boy," which sent the Oklahoma native into a somber mood. To be honest, the alcohol intake was the true culprit for Taylor's trip through the blues, but who am I to judge? One thing is for sure, Yolanda deemed Taylor's slightly drunken behavior as being "ugly," especially when Taylor made it her duty to sling mud at Brandi's name even though the bad girl Housewife wasn't there to defend herself. See, this was another reason Brandi not showing up was a good thing, because we most definitely would have had another Dinner Party From Hell incident on our hands. Also, I doubt this will be the last time Yolanda might have some issues with Taylor, so buckle up, folks, for this new rocky friendship!
Will Lisa and Adrienne Ever Be Friends Again?
While Yolanda had to shoot her signature steely eye gaze at Taylor most of the night, she didn't seem to notice the tension between Lisa & Ken VanderPump and Adrienne and Paul Nassif, which was as thick as Taylor's lips on a good day. Lisa maintained her ground about not apologizing to Adrienne or
even continuing their friendship until the Sacramento Kings owner officially said "I'm sorry." Adrienne, on the other hand, just wanted to put the mess behind her, but to do that, she might will have to swallow her pride and apologize to Lisa for accusing her of selling stories to tabloids. Meanwhile, both Paul and Ken were/are just as hot about the situation as Lisa and Adrienne are, which goes to show that no matter if Lisa and Adrienne kiss and make up soon, the animosity between the men will still be there.
Luckily after the dinner party, Lisa saw that the rift between herself and Adrienne wasn't helping matters, especially when Adrienne had reached out several of times to reconcile and Lisa rebuffed the attempts. So knowing that it would look bad on her part if she didn't waver her own white flag (and the fact that fans could eat her alive during the inevitable reunion show), Lisa decided to meet with Adrienne to smooth things out between them. Ken, who disapproved of the meetin, now considered Paul and Adrienne "scum" and didn't care if he saw them ever again. Wow, so Ken has pretty much put the Maloof-Nassifs in the same group as former houseguest turned nemesis Cedric? That's pretty harsh…
So Lisa made her way to the rendezvous point where Adrienne sat waiting and just as soon as Lisa sat down, we got the "Next time on The Real Housewives of Beverly Hills" montage. What. The. F*ck, Bravo?
Other Highlights of the Night
– Kim and Kyle both participated in their daughters' respective rights of passages in the episode. Alexia (Kyle's daughter), was studying to get her license to get her first car and Kimberly (Kim's daughter) was on her way to her prom, which Kim went overboard making lunch for. I hope Kim saved that chicken salad for dinner or something, because that was a terrible waste of food for a pre-prom get together. Meanwhile, it must be nice to pass your driver's license exam and get a new car out of the deal. Ah, the lives of Beverly Hills kids…
– The butler who catered Yolanda's party also was the man who catered the "dinner party from hell" from season one. So if Brandi had of showed up, or Taylor had of knocked back a few more drinks, the stage would have most definitely been set for the official sequel to one of, if not the, best moments of The Real Housewives of Beverly Hills ever.
So what did you think about Yolanda's house? Should Lisa and Adrienne bury the hatchet for one and not repeatedly in each other's back?
Photo Credit: Bravo/Evans Vestal Ward
Tell us what's wrong with this post? How could we improve it? :)
Let us improve this post!