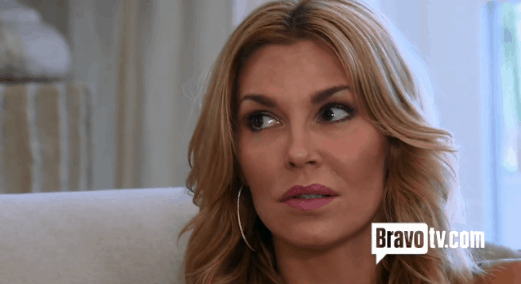 Now that was a damn good episode of The Real Housewives of Beverly Hills and it pains me that we will have to wait till next month/year to see what happens now that the battle lines have been drawn between Brandi and Adrienne.
After the big blow up between Adrienne Maloof, her (then) husband Paul Nassif, and Brandi Glanville, the episode dealt mostly with the aftermath of said event and Brandi possibly wishing she had of kept her mouth shut after the fact. But Brandi's hindsight 20/20 wasn't reserved for just her faux pas with Adrienne as we later saw once Faye Resnick entered the picture and actualized Lisa's prediction of things only getting worse.
After the fight, just about everyone had something to say about what had just transpired in front of them. Brandi was visibly shaken after the event and left not too long afterwards. I was surprised to see Mauricio put blame, and in some respects his utter dislike, towards Brandi for the events that transpired. While the former Mrs. Cibrian did kinda place the bomb on the Maloof-Nassifs' porch, it was Kim Richards who lit the proverbial incendiary, so why angle all the anger towards Brandi? Maybe Mauricio is doing his best to give Kim a pass for all the crap she's went through, but as much as I love Kim myself, I have to say that she would have gotten a nice slice of my disapprovement, regardless.
Kyle, who wasn't scared to reprimand Kim for her actions, might come out as the bad guy in this one, especially since the two sisters are trying to repair their already fragile relationship. However, I still think Kyle should have waited to go after Kim and tried to defuse the situation to the best of her ability. Instead, she did the exact opposite, which leads us to Bravo and The Real Housewives of Beverly Hills's third (fifth?) attempt at another "Dinner Party From Hell."
Every since RHOBH's first season "Dinner Party From Hell" episode, I always had a soft spot for Kyle's bestie Faye Resnick, and always wondered why this woman wasn't holding a diamond with the rest of the ladies in the opening credits. Well, Resnick's appearance last night gave me a definitive answer to that three-year old question, which I understood, accepted, and now fully back Bravo's decision to not add this woman to the full cast.
Kyle met with Ms. Resnick to discuss the events at Mauricio's party and despite not being with the women at all this season, Faye made it her duty to not only make ill-judged accusations towards Brandi, but to also base her opinions on Brandi calling Kim a "meth head" from last year. Um… did she not get the memo that all was well between the sisters and Brandi? But then again, would it matter if Faye has an agenda?
Meanwhile, Lisa spoke to her new protegé about the error of her ways and how she really needs to work on that pause button. While Brandi continued to repeat how sorry she was for ever bringing up Adrienne at that food tasting, she would not back down from a fight. Lisa pondered how Brandi even got to the point of disliking her former champion, and warned Brandi that the road to redemption with the women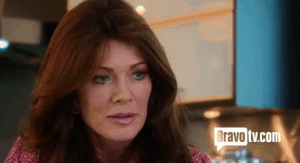 would only get worse. Boy, was she right.
At Kyle's dinner, (which Kim, Adrienne, and Yolanda, didn't attend) I don't even think the food was served before Kyle brought up how she didn't know about Kim leaving to celebrate her son's 21st birthday in Vegas, and Adrienne not being there due to the fight with Brandi. Wow, Kyle, let me give you the Hostess of the Year reward for knowing how to start a dinner party out with a bang. After Brandi explained herself for the umpteenth time, Faye wasn't having it and went in on how Brandi was rude, disrespectful, and an attention-seeker, but not necessarily using those words. This is where my love for Faye Resnick exited stage left and evaporated into the darkness, because her behavior was a textbook example of someone who wrongly base their opinions from second-hand information, leaving them looking utterly stupid.
It would have been one thing if Faye experienced the ongoing drama first hand, but she's only getting one side of the story and not even bothering listening to the rest. It's a bad look and didn't help Adrienne's case at all once Brandi left the party in tears, looking and feeling like she had just been outcast from the cool kids' table. At least new Friend of the Housewives Marisa Zanuck stood up for her!
While that drama dominated most of the night, here are other most notable moments from The Real Housewives of Beverly Hills's last episode of 2012.
– Yolanda H. Foster made a triumphant return, but we only saw her working out and making me feel like a fat ass, old man. Clearly she takes her exercising serious and I swear the more I love this woman, the more I hate her for making me hate myself. But I digress…
– Ken "winding up" Lisa was a nice moment, because despite disagreeing with some of his comments as of late, the man is still "the man."
– As I stated before, Marisa Zanuck made her appearance tonight and while it was mostly muted, she did showcase her ability to call B.S. when she saw it. Can't wait to see what she has in store for us come next year.
Well that was the last episode of The Real Housewives of Beverly Hills for this year, and boy did they go out with a bang. Whose side are you on? Brandi's? Adrienne's? Faye's?
Photo Credit: Bravo
Tell us what's wrong with this post? How could we improve it? :)
Let us improve this post!