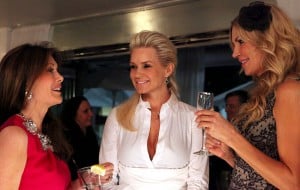 Beverly Hills was most definitely where I wanted to be tonight as the glamorous women of the 90210 zip code made their triumphant return on The Real Housewives of Beverly Hills tonight. After a tumultuous and scandalous sophomore outing left a bad taste in a lot of fans mouth (Russell Armstrong's death, Kim Richards's alcoholic problems), the Beverly Hills Housewives returned to our screens refreshed, relaxed, and ready to sling some shade as if it was a cool switch blade.
Old grudges from last season's reunion are still fresh on the minds of Lisa Vanderpump and Adrienne Maloof, who have not been on good terms (or any terms at all for that matter) since we last saw them this past spring. Kim and Kyle Richards were still estranged, but the sisters were still working on mending their relationship now that Kim is out of rehab. Taylor Armstrong was still shooting daggers at Brandi Glanville for their shouting match during Season Two's reunion where Brandi chastised Taylor for releasing her book right after Russell Armstrong's death. And new girl Yolanda Foster? She just wisely just took in all the drama and kept a nice distance from the mayhem in front of her. Kenya Moore, please take a cue from this woman.
Lisa vs. Adrienne
After Adrienne accused Lisa of selling stories to the tabloids, the two haven't been the best of buddies since, with Lisa opting not to extend any type of reconciliation until Adrienne apologizes for the statement. And to prove her point, Lisa purposely didn't invite Adrienne to the one year anniversary of Villa Blanca, which the owner of Palms Hotels had to find out through an unsuspecting Taylor. Awkward much?
So while Lisa is in the midst of schmoozing with all of her guests, this big ass floral arrangement in the form of a branch was brought into the party, turning heads as it made its way to a table big enough to hold its large build. For a split second I thought the "gift" was from Lisa's ex-bestie turned enemy Cedric, but once it was revealed that Adrienne sent the arrangement, my mouth hit the floor. Hell, at least Adrienne literally extended the olive branch first, so it's up to Lisa to either accept it or chalk it up as high-class mean. I think it's safe to bet on the latter in that situation…
The Rocky Richards Sisters
The situation between Kyle and Kim gets more complicated as each season of The Real Housewives of Beverly Hills marches on and I just for once want to see them get along throughout the entire season.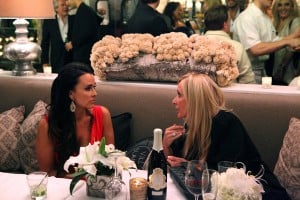 But tonight's reintroduction of the two showcased that my wish just wasn't going to come true this year. Hopefully they can work over their issues before midseason comes, because these two are firecrackers together and we need to see more of that. Like pronto.
Other Moments To Note
– Camille Grammer was nowhere to be found tonight, but I didn't notice that until she was featured in the Coming Soon scenes at the end of the episode. Is that a bad thing? Hopefully her recurring role won't be miniscule, because I've grown to love that woman and need to see her more in my life.
– Kim really took to Yolanda tonight, but I wonder if that has to do with Mrs. Foster being the newest lady to the club, meaning she knows less about Kim's drama than the other women do. Or maybe they just connected. Who knows?
– Brandi is such a whore and I freaking love it. She rightfully earned her spot to hold a RHOBH diamond and, man, is she having fun with it. Wonder what Ken has to say about Brandi wanting to bonk him one good time? That would be interesting.
– Yolanda Foster gave me a little Bridgette Nielsen circa 1987 and enough poise to make the Queen of England gag with envy. Plus, she only requires that her husband, mega Grammy winner David Foster, gives her love letters instead of jewelry? How can you not love this woman?! Well… at least for now.
– Not enough Giggy. I want more of the Giggster!
– Seeing Paul and Adrienne after knowing what the two will go through this season will be another hard pill to swallow. I actually liked the banter between the two, but… as with everything in Beverly Hills, looks can be pretty damn deceiving.
So what did you all think about the season premiere of The Real Housewives of Beverly Hills? Glad to have the cast back? Or did Season Two tarnish the glitz of the show?
Photo Credit: Evans Vestal Ward/Bravo
Tell us what's wrong with this post? How could we improve it? :)
Let us improve this post!