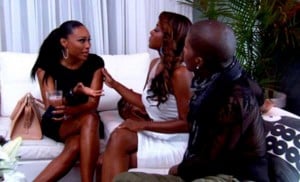 Sorry for the late review for this week's The Real Housewives of Atlanta, but I wasn't feeling well and this episode didn't help matters either. As of late, the most interesting drama concerning Bravo's first set of Georgia Peaches has been off camera and in the tabloids with Porsha Stewart's divorce and former RHOA cast member Sheree Whitfield making an ass out of herself in the quest for relevancy. If only the show itself could muster the same OMG/WTF?!?! type of interest on camera, then my job would be a helluva lot easier. But until then, we have to hit "rinse and repeat" with the Kenya vs. Walter and Donkey Booty Wars "storylines" til the upcoming finale and three-part reunion show. Color me blasé about it all…
Kenya
I must be in a serious minority when it comes to the debauchery that is the recent chapter in the Kenya Moore/Walter Jackson Saga, which was beyond stupid to begin with. The reason why I say this is because everyone from Bethenney Frankel to several bloggers and podcasters are calling Walter out for attending the same RHOA events where Kenya might show up and be a part of. But doesn't that tend to happen in daily life? Plus, Kenya is a recent (as in not even a full year) Atlanta resident, while Walter has put in more legwork in the area and is established enough to know plenty of people from various social circles as well. In other words, they are bound to show up at the same events, especially if they know the same people in Atlanta. So while I want to really stress how much Kenya needs to grow up in this situation, I can't help but feel the need to strongly advise her to drop the "OMG! Walter is stalking me!" act, because that's all it, and any other thing pertaining to Walter, is: An act.
At least Cynthia tried to speak some sense into her new bestie, while Lawrence was being messy as usual constantly stirring a pot, clueless of its ingredients and contents. If only he could twirl away to whatever fantasy world his old bestie and client Sheree Whitfield is inhabiting at the moment…
NeNe
Gregg and NeNe are about to retie that knot and it is about freaking time! All season long, I've felt The New Normal star has been playing the "Hard To Get" card a little too tough with Gregg, so I'm glad she didn't make the man look like a fool when he asked to remarry her. Plus, the entire episode (and the entire season) looked as if it was headed towards Mr. Leakes popping the question at some point, so it would have made NeNe look real shady to embarrass that man on national TV. Although, he did have to put in overtime in the groveling department for to repair the damage he did to NeNe back in Season Three. Then again, Gregg isn't a fool. He sees that NeNe is about to be steadily employed for the next few years, so he has to go where the money is flowing.
Porsha
After the bombshell of her divorce hitting the media like a grenade this week, Porsha's visit to the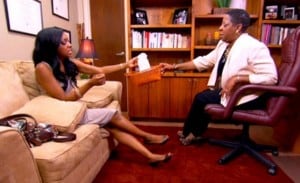 marriage counselor (psychiatrist) speaks volumes now when you look back on it. Hell, Kordell's neanderthal behavior in last week's episode was the true sign of things not being so peachy keen in the Stewart household, but the young RHOA newbie waited to play her cards to the counselor, which revealed just how Porsha was struggling with the loss of her unborn child.
With explaining how much losing the baby took a toll on her mind, body, and spirit, you can't help but wonder what was going on through Kordell's mind at the time. As in, did he notice that his wife was in emotional pain after their loss? If so, why didn't he try to seek help for her? If not, what was so important for him to be imperceptive to the signs? And better yet, did Kordell even want a baby to begin with?
While it's hard for a man to understand the complete gut-wrenching experience of having a life growing inside them and having it tragically ripped away, there still is a level of support or emotion to be expected. That wasn't just Porsha's baby, it was Porsha and Kordell's baby together, so it's feasible for Porsha to be in the fragile state she was in at that point of the episode. Can't wait to see what block-headed statement Kordell will make when he visits the counselor this upcoming Sunday.
Kandi
What can I say about Kandi other than she's doing the damn thing! Bedroom Kandi has shot off into the stratosphere with no sign of crashing anytime soon. Kandi is a true self-made woman, and no matter if I disagree with her on some things, that's one fact I'll never knock or disrespect.
The dinner honoring Bedroom Kandi as well as the singer/songwriter herself was a much-needed contrast in the midst of all the cattiness surrounding the Donkey Booty video fiasco. She deserved the award she was given as well as the overwhelming and unwavering support from her business associates during the scene. Also, if Kandi wanted to cry, then dammit she had every right under the sun to shed a few tears of joy, because she sure as hell earned all the positive energy coming her way.
Now as for Mama Joyce moving in with her, Todd, and Riley? I think she might want to reassess that particular idea for the time being, because Joyce shouldn't be in the smack in the middle of their love nest, which they have barely broken in yet. Plus, if Joyce is there once Riley graduates and goes to college, then they will never have the house to themselves, which could lead to problems down the road. And we don't want any problems between Todd and Kandi. Ever.
As for the pre-nup conversation, I'm glad Todd didn't feel some sort of way about the her bringing it up, which goes to show (at least to me) that's not worried about all of that. He just wants to be with her and that's all that matters at the moment. At least I hope…
Donkey Booty Wars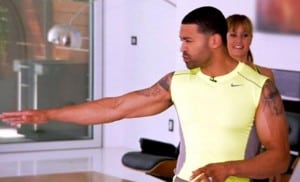 And this is what irked me the most about this week's episode. I'm dead tired of this damn "Donkey Booty DVD war" and I pray that this is the last time we hear about it until the reunion. I seriously can't go another episode of Phaedra Parks and Kenya going at it over who has the better butt/body and which DVD will sell the most. I just don't care anymore and need it to stop. Like yesterday.
But from the looks of things, Kenya's video looked more polished and have better production values, but the one thing I noticed about the former Miss USA's video was that it was aimed more at women and was gender neutral as Phaedra and Apollo's video was. Yes, I know the exercises presented in both videos are to help give the consumer, who will possibly be mostly women, a nice firm butt from their workouts, but Phaedra's video seemed as if a man and a woman, namely a couple, could work on their bodies together. To me, that makes the Parks-Nida DVD more inviting over Kenya's, who would best benefit a woman. Then again I have no clue about exercising anything, especially since word on the street is that Kenya's DVD is outselling Phaedra's although no one I know owns a copy or, or has seen, either. So what does that tell you?
But enough about all the drama that happened this past Sunday, because the finale of The Real Housewives of Atlanta seems like it is going to bring the pain and tomfoolery with this fight/argument between Kordell and Peter Thomas. Who started the fight? Which female had to be escorted out the event? Will this spill over into the reunion? Those are the questions I'm dying to see answered. How about you?
Photo Credit: Bravo
Tell us what's wrong with this post? How could we improve it? :)
Let us improve this post!