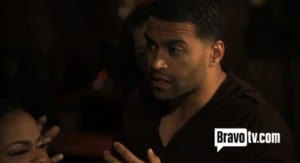 Tonight's episode of The Real Housewives of Atlanta scarred me for life after Cynthia Bailey and her husband Peter Thomas subjected the viewers to an Atlanta strip club called the Clermont Lounge, where the strippers seemed to be of the 40+ variety. We're talking Cellulite City, folks, but even Grandma Clementine has to get her coins like the rest of the twerk team. More power to them, but it's not for me. Anyway…
The episode was mostly about troubled relationships, or rather the lack of a relationship, period. Phaedra Parks and Apollo Nida became the focal of attention once rumors hit the blogs of their marriage headed towards an episode of Divorce Court. Meanwhile, Kenya Moore kept looking parched and thirsty as she continued to pressure Walter to put a ring on her "wifey material" finger. Clearly, Kenya has not listened to any of the other Housewives' advice on pressuring a man into marrying her, therefore she looked like a bigger fool throughout the night than she did in all three previous episodes in Anguilla.
After hearing about the Phaedra and Apollo's divorce rumors, Peter and Cynthia decided to get to the bottom of things by inviting their friends out on a night at the strip club (where my eyes were scarred). Once they meet up with Apollo and Phaedra, it becomes clear to Peter and Cynthia that not all is well in the Nida-Parks household. Apollo started to go on a tangent about time constraints and how he and Phaedra lost their personalities once they got married. In short, Apollo is having a mid-life crisis at the age of 32. One thing was for sure, though: Phaedra was not discussing any issues that might be affecting her marriage no matter how much Cynthia and Peter prodded.
Later in the episode at Cynthia's moscato event, the women brought up the divorce rumors again, which Phaedra said she laughed at (as did I), but during the men's conversation Apollo was singing a slightly, different tune about how Phaedra can be a handful at times. No sh*t, Sherlock. But Kordell Stewart and Peter both reminded the young buck how outside gossip can make a marriage work even better if the couple is focusing on each other and not the rumors. Truth.com by Bravo, folks.
To show just how much in love the two are, Apollo made his way to Phaedra and cracked a joke about her going to the courthouse to serve him papers. Phaedra, not missing a beat, played along and the two sealed their conversation with a kiss that made even Freakizoid Queen Kandi Burruss squirm in discomfort. Can we say overkill?
While Phaedra and Apollo were shaking off the haters, Kenya continued on her trek of ridiculousness. After talking to NeNe about her situation with Walter, Kenya met with her (faux) beau to inquire where exactly was his mind when it came to her and marriage. She asserted her feelings about Walter raising his voice to her in Anguilla, which she revealed comes from a previous abusive relationship. Walter still didn't see where he went wrong in trying to explain to her what he meant about the "three days" conversation. Kenya then asked Walter why did he love her, which threw the guy completely off his script. The next thing out of Kenya's mouth got a blank ass stare from me for the rest of the conversation, and that was her proclamation of being "wife material" instead of a girlfriend. Then Walter swiftly burned her ass by asking if that's the case then why wasn't she married. "Clunk, Clunk!!!"
At the end of the conversation, Walter proclaimed that while he does love her (insert eye roll here), it's not enough to run and put a ring on it immediately. If that wasn't enough for Kenya to call it quits, then Walter's later arrival at Cynthia's event should have been the deal breaker since he went and greeted Peter, Apollo, and Kordell first before making his way to Kenya. When will this woman learn?
Other moments of the night
– NeNe's photo shoot for her infamous Ebony cover spread was documented for a quick second.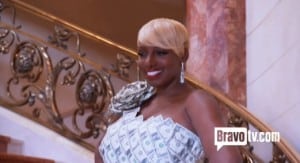 Personally, I don't see why everyone got up in arms over her being on the cover. She's a self-made woman and had every right to be included with the other prominent members of the cover story.
– The dress Porsha wore during her confessionals toward the end of the episode looked as if it came from a Holiday Barbie of years past. She's really itching to own that Black Barbie title. Speaking of which, Porsha has officially become the black version of Gretchen Rossi from The Real Housewives of Orange County. Poor girl couldn't get her facts straight about the yams thing.
– Kenya looked and acted very professional and business saavy during her meeting with Phaedra and Apollo. That is until she dropped that autographed copy of a low-budget movie she did with Boris Kodjoe. We're not interested, Kenya.
– Apollo and Kordell added two new words to the ebonics lexicon, which were "juvial" and "blurple," respectively. "Blurple" is obviously a mixture of black and purple when trying to narrow down a black person's skin tone. With "juvial," we all know Apollo was trying to say "jovial," but I couldn't help but deduce that "juvial" could mean a return to his youthful years pre-prison days or during. I haven't come to a complete conclusion on which one to use, but still.
– Hearing Apollo describe how he spent 16 months in a prison cell with only an hour to shower and make a phone call was like hearing an updated version of The Shawshank Redemption. As Peter so eloquently put it, the experience sounded like pure hell.
– I'm over Porsha and Kenya's dislike of each other and I'm going to need the both of them to be over it as well.
– Miss Lawrence and Derek J. That is all.
So that was the last episode of The Real Housewives of Atlanta for 2012! Next week, the show will start airing at 8/7c, meaning that it will be cutting into my Once Upon A Time experience, which is hella rude of Bravo.
What did you think of tonight's episode of The Real Housewives of Atlanta?
Photo Credit: BravoTV.com