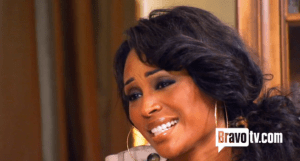 Well, it was another sort of dull episode for The Real Housewives of Atlanta this week, but at least this time around we have morsels to talk about. Not much, but some.
Cynthia's First Pageant
The Bailey Agency's First Annual Miss Renaissance Pageant finally saw the light of day this week, but not without a gazillion mishaps along the way, all which could have been easily avoided.
First up was Cynthia's issue with the attire chosen by her co-host famous actor and Real Husbands of Hollywood star Boris Kodjoe. Personally, I didn't have a problem with what Kodjoe was rocking, especially after seeing some of the contestants outfits, so why his cool and casual ensemble was a miss with Cynthia (and Kandi) is beyond me. Besides, it's Boris Kodjoe. The man's name alone probably filled more seats than anything with Cynthia's name on it. Let him wear what he wants.
Second mishap of the night came in the form of a poorly put together script. Literally, the pages were not in order, a fact that wasn't discovered until right before Boris and Cynthia were due on stage. Can we say, "Hella messy and unprofessional?" Where were Cynthia's Bailey Boy minions? Why didn't they take a look over everything? Oh wait, they were probably either snarling at some kids or waiting for Kenya Moore at her car.
The next problem that haunted the Miss Renaissance Pageant dealt with the contestants' names not being in the proper order. So you had girls coming out to someone else's name, which could have either been due to a last-minute line up change or the cards, like the script, weren't in the right order to begin with. But again, either of those scenarios could have been avoided with a simple practice session, which at this point I can't help but think probably wasn't even scheduled.
Last, but not least, Cynthia called for an intermission before she had introduced the remaining teen girls, who were left standing on the stage behind the curtain. While this particular issue wasn't really all that bad, calling the audience back to their seats after releasing them for intermission was a bit janky at best.
In the end, however, Cynthia still managed to pull off a decent show. While Kenya and others refused to dock Cynthia for her mishaps due to it being Cynthia's first pageant, the event could have went a lot smoother with a more dedicated staff. I'm looking dead at the Bailey Boys as I say this.
Kandi and Marvin Sapp
There wasn't much to say to these scenes except that I will be buying the single when it hits.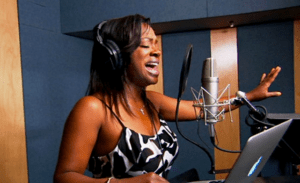 Kandi did her thing as did Mr. Marvin Sapp. One thing I do want to note is that I was happy as hell to hear Mr. Sapp tell Kandi to not feel bad for doing the Kandi Koated Nights/Bedroom Kandi venture, because it's what brings Kandi joy, happiness, and a steady cash flow. You don't hear too many people in gospel/church who would say something like that, and I hope it opens the eyes to a lot of these closed-minded people in the south.
Porsha's Baby Practice
Kordell met with Porsha to discuss her time away from home which he apparently has a problem with, which in turn further fueled some viewers' sentiments of his domineering personality. Somehow the conversation turned to Porsha being ready to take care of kids, which Kordell sort of laughed at. Porsha stated that she was in fact ready to handle chasing after kids and decided to use her niece Jayden as a test run. This is where Bravo, or the editors of the show, need their asses beat when it came to piecing together this show.
To summarize how Porsha's luck with Jayden has not been in her favor, the editors flashed to last week's episode when Porsha tried to calm the toddler down while touring the house where Kordell's birthday bash would be held. Now flash forward to this week where Porsha babysits Jayden and you can easily see that Porsha's visit to check on the venue for Kordell's party and her baby-sitting Jayden happened on the same day. Both aunt and niece were obviously wearing the same outfits from last week's episode, making the segment the most sloppy piece of editing ever, distracting me from concentrating on whether or not Porsha did a good job with Baby Jayden or not. Although, this particular segment actually didn't go anywhere besides that glaring lapse of judgement in the editing department. Come on, Bravo and crew. We're not that stupid.
Other Tidbits of the Night
– Chef Roble's special appearance was a nice distraction with his menu of aphrodisiac meals that looked as if they worked more for Kandi and Phaedra rather than Todd and Apollo.
– Even though Kenya didn't act a damn fool this time around (maybe the cancer scare calmed her down a bit), I don't blame NeNe for being a bit apprehensive about Cynthia picking her as a judge for the pageant. If the former Miss USA had of done something outrageous, Cynthia would have been the only person to blame in that situation.
– Speaking of the pageant and Kenya, didn't her protegé who we met at the beginning of the episode win the pageant? Or was that a different girl?
Remember, peeps, that next week is a much-needed break from The Real Housewives of Atlanta, especially after these last two boring episodes. But the heavily hinted L.A./Vegas trip will be the route for our Georgia Peaches and if the clip we saw indicates anything, NeNe will finally lose her cool on everyone. Can. Not. Wait.
What did you think of this episode of The Real Housewives of Atlanta?
Photo Credit: BravoTV.com
Tell us what's wrong with this post? How could we improve it? :)
Let us improve this post!