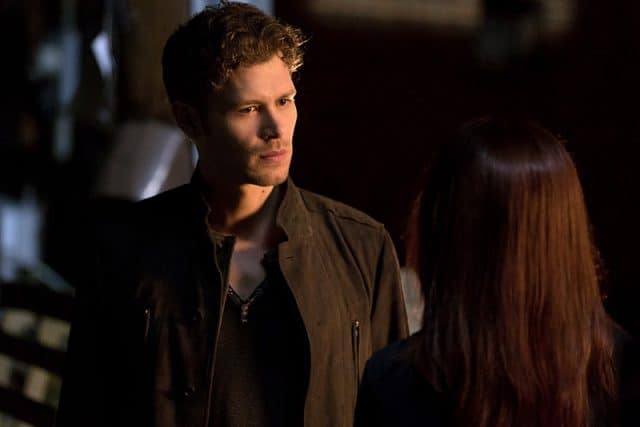 Although The Originals Season 4 won't kick off until midseason on The CW, the cast and producers of the vampire drama were still able to tease a lot about what is planned for the upcoming season of the show at San Diego Comic-Con. One of the cast members that we were able to speak with was none other than Klaus Mikaelson himself, Joseph Morgan, who took some time during our interview to not only reflect on the journey that Klaus has gone on throughout the past three seasons but also preview what we can expect from him once Season 4 begins.
In the interview, which you can watch below, Morgan predicts that Klaus will be even more bloodthirsty than before when he and his family escape the dream world they're currently living in and return to reality. As The Originals showrunner Michael Narducci revealed, Season 4 will pick up five years after Marcel regained control of New Orleans, and during that time, Klaus has not become a less vicious individual.
But with Cami dead and Caroline with Stefan in Mystic Falls, who will serve as Klaus' anchor to his humanity? Will one of those two women return and help bring out his more human side, or will someone new step into that role? As Morgan explains, while he enjoys and respects the romances with both women, for him, the most important connection in Klaus' life has always been the one he has with his daughter, Hope, and that will continue to be the case in Season 4.
Lastly, Morgan takes some time during our interview with him to reflect on his Vampire Diaries experiences and what he thinks about the show's legacy as it comes to an end after eight seasons. Plus, could we see a return of Klaus Mikaelson to Mystic Falls? Check out the interview below to see if Morgan can shed any light on that possibility.
(Also, my apologies for the poor quality of this video. Not too sure what happened with my camera during The Originals press room.)
The Originals fans, what are looking forward to most in Season 4? Do Joseph Morgan's comments about the new season have you even more excited? Comment below and let us know.
[Photo via The CW]