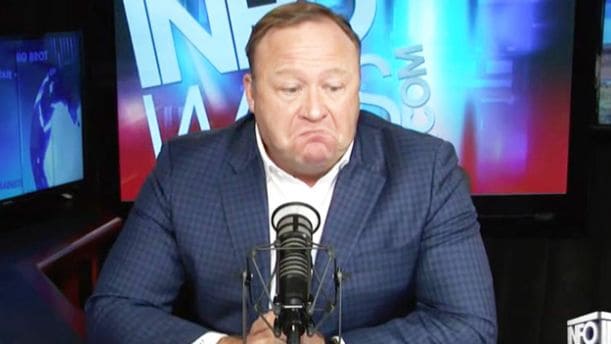 By now many of you have probably heard that Alex Jones is in a custody battle over his children. We brought this to your attention yesterday when his lawyer made the claim that the persona that Jones has on his insanely right winged conspiracy theorist show "Infowars" is completely fabricated. His lawyer even said, and I quote "It's all an act." This was in an attempt to validate Jones' credibility in his case. Now, either Jones picked the most hilarious lawyer in the world on purpose or he had no clue what this guy would be saying but it got even crazier.
Kelly Jones atty says that Alex Jones in deposition drew blanks on facts about his kids after eating 'a big bowl of chili' pic.twitter.com/dZfmhyQwq2

— Charlie Warzel (@cwarzel) April 18, 2017
That's gotta be some chili he's eating there. Wow. Here are some other choice tweets from the courtroom.
Kelly Jones atty asks judge to tell @realAlexjones to stop shaking his head, making faces, she agrees, warns potential head-shakers in court

— Ben Hartman (@Benhartman) April 18, 2017
.@realalexjones ignores judge, starts shaking head at ex-wife's attorney's statement that his live-in girlfriend does private hotel massages

— Ben Hartman (@Benhartman) April 18, 2017
According to Uproxx
Things are growing much more serious, however. Jones is expected to soon testify on the difference between his public image and private self. According to the Austin American-Statesman's Jonathan Tilove, Newman has stated that Alex told his children to secretly record their mother in an effort to dig up something incriminating against her. Also, Newman asserts that Alex has already recruited his kids into the Infowars fold, which has exposed them to alleged death threats.
Bobby Newman says kids were instructed by Alex Jones to record their mother for evidence against her in custody case.

— jonathantilove (@JTiloveTX) April 18, 2017
Bobby Newman said Alex Jones is enmeshing children, especially son, into Infowars, subjecting them to death threats

— jonathantilove (@JTiloveTX) April 18, 2017
We'll keep you posted.