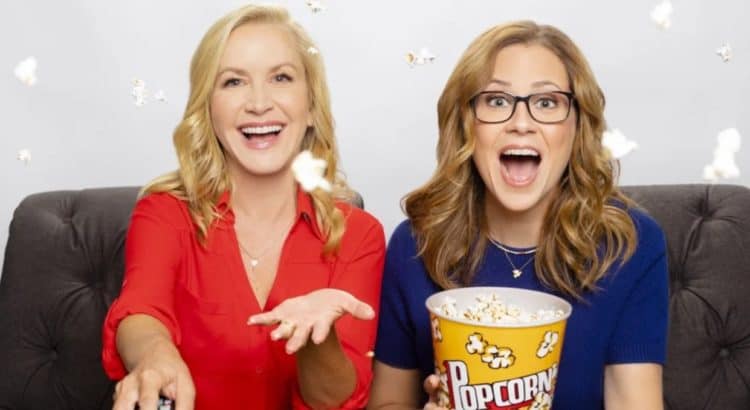 So how many people are still sore over the fact that The Office is no longer on the air? How many are disappointed that it's leaving Netflix? Well, this might not be a complete balm for that but at the very least it's something since there's going to be a new podcast featuring Jenna Fischer and Angela Kinsey that will be looking at every episode in detail. Initially what Charlie Ashby of ScreenRant makes it sound like is that this podcast might be going over every episode from a distinct point of view that allows the fans to understand just what it was like to shoot each episode and what was going on at that time. If that's the case it could be kind of interesting since in some ways this show had to be some fun to shoot, unless of course it's one of those that shows a great deal of hilarity on screen and behind the scenes but is in truth kind of a nightmare for some folks.
For a show that was taken from a similar program that was featured in England, The Office is something that gained a great deal of popularity over its run and was the talk of many a workplace since the characters and the various situations they got into were nothing short of hilarious. Everyone has their favorites but there were definitely some that were more noticeable than others thanks to their strange quirks and how well they integrated into the overall show. Some might have backed Jim, some actually defended Dwight, and many seemed to like Michael. Almost every character on the show had a following of some sort that allowed them to reach the kind of fame that other shows aren't always known for, but throughout the entirety of the show they all managed to come together more often than not to make the show something special.
Rachel England of Engadget gave the title, Office Ladies, and describes the podcast as a collaboration between real life BFF's Jenna and Angela. It sounds as though with each showing they'll break down an episode of their, or possibly the fans', choosing and see what made it great. You can imagine that it might be hard to pick since The Office doesn't have a shortage of great episodes. Something about this show just resonated with a lot of people during its time, and it only continued to get better with each season, at least until it was about time to close up shop. By that time they'd been through a few different guest stars and had tried to revive things in a way that just didn't work. Near the end it was a valiant effort to keep the show going and to keep it entertaining, but once people knew the end was coming it created a feeling that things were never going to be quite the same since the idea of leaving Dunder-Mifflin was a prospect that a lot of people didn't want to contemplate.
But if a person is being honest a lot of the cast members went on to have a pretty decent career, or have been banking on this show for a while. There are still a lot of fans out there that are happy to meet and speak to those that had something to do with the show, particularly the actors that made it so enjoyable. The Office was one of the many shows that throughout TV history has been seen as something that's easy to relate to and created an environment that might have been a lot looser when it came to rules and ethics, but was still a place we could see ourselves working if we had the chance and the patience. A lot of us might have had a boss like Michael a time or two in our lives, and it'd be a bald-faced lie if a lot of people decided to say that they hadn't met a person like Dwight in one job or another. That's the beauty of the show though, it takes the stereotypes that we're used to in real life and spits them back out in a satirical fashion that made it worth watching as we laughed our way through it.
Jennifer Maas from The Wrap has given the date, October 16th, that podcast will get underway, so for any fans that are wanting to know more about their favorite episodes this could be a good chance to tune in and get the dirt on just what was going down behind the scenes as the cast were trying to get a rise out of each other and remember their lines, or possibly keep from laughing too hard as they simply tried to get through a scene. It could be pretty revealing to be honest, so it might be worth it.