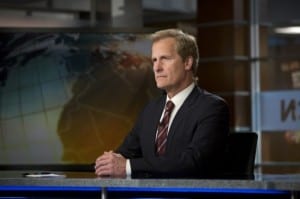 The real life Charlotte York–let's play The Newsroom
Will MacAvoy is "not who [he] used to be right now." Our glorious hero is having difficulties. Will is still hesitant to report with the same conviction he once did because of his Tea Party remarks. He is googling his name to assess the vitriol against him, and he is still hesitant to appear–in any way–soft on terrorism. When he receives the news about Anwar al-Awlaki (an American citizen) being killed via drone strike, he shrugs it off indifferently.
Will does, however, manage to make some serious inroads by the end of "The Genoa Tip." Although he denies Don's appeal to cover the Troy Davis case utilizing his litigious prowess, he diligently serve as Neal's attorney to get him released from jail. Later at the bar, he also–while admiring the evocative genius of Willie Nelson–tells Mac that he is demanding to see the memorandum concerning the drone strike.
Getting back to Neal, everyone makes sport of his pratfall to cover Occupation Wall Street. What, only a purported 300 people? Oh, Neal, you quixotic son of a gun. Don't you see this is amounting to nothing?
Oh, yeah? Well, take a look at this riot footage! How do like them apples!
I guess this is Sorkin's way of making his characters look fallible. ACN can't look foolish as a whole. Even when we see the errors of the rest of the office, somebody has to come out looking prescient.
I'm honestly OK with that.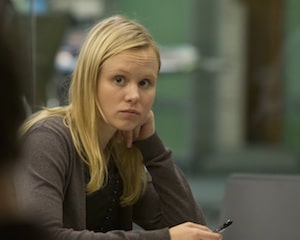 Oddly enough, one of my favorite parts about "The Genoa Tip" was Maggie. Historically my response to this character has been tepid. I suppose that is mainly a reflection of my dislike of the way Sorkin writes romantic copy.
But, of course, the most effective way to make sympathize with Maggie is to put her in conflict with Lisa. Why is Maggie best friends with this deplorable woman? How could anyone be friends with Lisa? Lisa baits Maggie in with a hug and then disdainfully says, "You're so full of s***, Maggie!"
I get why Lisa is mad: Her best friend marginally cheated on her boyfriend while assuring her that her and Jim's relationship looked on the up and up. But this character seems completely undesirable. Even though I theoretically am on her side, I cannot feel one iota of sympathy for Lisa. (And this is coming from a hardcore fan of Betty Draper and Skyler White.)
Moreover, in true Sorkin fashion, Lisa is way more knowledgeable than she ought to be. How would she know that taking a job following the Romney campaign is a step down for Jim? She works in fashion. Why should I believe she has any political acumen at all?
This whole contretemps is the result of a wannabe Charlotte York blogger. Was there any doubt that this woman would renege on their agreement and keep the video up? Seriously, never trust anyone whose favorite Sex in the City girl is Charlotte. (Miranda Hobbes for life!)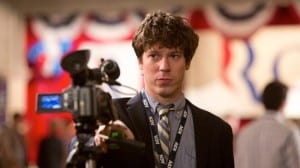 Speaking of running away from your problems, Jim was admitted to the Romney bus! And like Jerry, who feels he is in competition with the ghost of Jim Harper, Jim is in competition with a fellow reporter named Hallie. Hallie initially helps him board the bus in the first place, but she has since eavesdropped on his phone calls and refused to help him set up his camera (deal breaker!). It seems patently obvious that they are setting up another love angle here.
Overall, this episode of The Newsroom was satisfactory. This was really a showcase for Maggie: The set-up for her ill-fated phone call to Jim at the end was well executed, and I am totally looking forward to the inevitable melodrama of Maggie in Africa. Otherwise, "The Genoa Tip" was generally unremarkable. There wasn't much progress on Genoa; all we know at this stage is that Mac is incredulous of the story. It had some classic Newsroom moments (Will and Mac at the bar, Will at the police station), but the rhythm of the show still feels off to me. I have yet to feel immersed in The Newsroom this year.