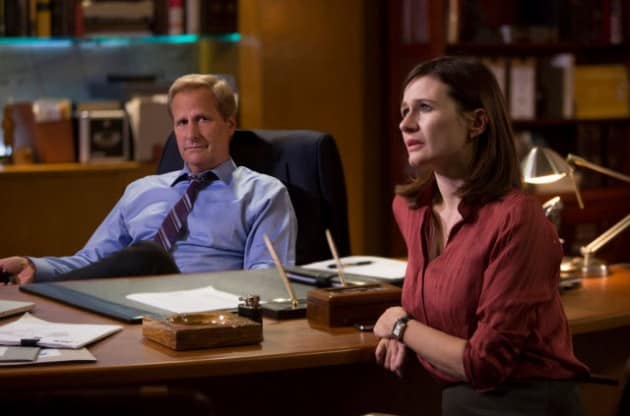 "What does winning look like to you?" "Reclaiming the fourth estate. Reclaiming journalism as an honorable profession. A nightly newscast that informs a debate worthy of a great nation…a place where we all come together." – Will McAvoy and MacKenzie McHale, The Newsroom, "We Just Decided To"
For three seasons, The Newsroom proved to be one of the more controversial shows on television among viewers and critics alike. For many, The Newsroom became the number one show to "hatewatch," simply hoping without end that it would become self-aware. The biggest issue that many had with the show was that it was an exercise in editorialization. Instead of being a drama with a message, The Newsroom was a message with a story. This would typically be a valid complaint, but from the absolute very beginning, Aaron Sorkin's latest television attempt never tried to disguise what it truly was. In the show's first viral scene, Jeff Daniels's Will McAvoy laid out what the show would be about. No, The Newsroom never hid what it was, which was expressing the ideal of what the news media should really be.
Don't get me wrong, I was very invested in the show's characters throughout its three-season run on HBO, and the actual storylines were typically captivating. Sure, the show had its flaws (some of the storylines were absolutely offensive, and I can't even attempt to defend the episode in the final season dealing with campus rape), but the stories weren't what was important. If they were, Sorkin's editorial dialogue wouldn't make up the majority of the scenes. Characters would progress even more than they did, and story arcs wouldn't have ended up being as fluid as they were. The true point of The Newsroom was that Americans have fallen into a pit of self-appreciation without being able to adequately understand what is going on in the rest of the world, and the news media contributes more to this than anything else out there.
The acting in The Newsroom was always one of its strongest aspects, and the cast really helped to sell the message that Sorkin and the writers were trying to express. From Daniels's award-winning performance as McAvoy to Sam Waterston's leadership as Charlie Skinner to Jane Fonda's scene-stealing guest appearances as Leona Lansing, each member of the ensemble cast could hold his or her own with anyone else out there. A real surprise highlight on the cast was Olivia Munn's acclaimed performance as Sloan Sabbith, and one could say that The Newsroom did more to grow Munn's career than anything else of which she has ever been a part.
It's easy to hate The Newsroom on the surface. It's easy to look at its flaws and think of the show as a disaster that never found itself. What's hard, though, is digging deeper to truly understand the message that Sorkin's valiant effort attempted to express: it's not easy, but the news media has an obligation to be more. It has an obligation to do more, to inform more, to teach more. We live in a difficult time in which there's so much darkness to be found everywhere, but we can't let that darkness blind us to hope, and we have to hold ourselves accountable for any lack of knowledge or empathy that we have. That was the real goal of The Newsroom, and, if you ask me, that's what it was able to accomplish.
What do you think about The Newsroom? Do you think that it really had a message, or do the show's flaws negate what it attempted to do? Let us know your thoughts below!
[Photo via HBO]