The Newsroom took its final bow last night in a shortened six-episode season that was just long enough to get Aaron Sorkin yelled at for a poorly conceived segment on campus rape last week. This finale wasn't quite so controversial, yet I bet Sorkin will take flack for it anyway.
The episode was a kind of epilogue, taking place as a split between Charlie's funeral after his untimely demise last week, and an enormous series of flashbacks that occurred in the few weeks or days before the pilot aired, back when Will McAvoy was just your run-of-the-mill news anchor sellout.
It was a weird way to structure the episode. I suppose the point was to demonstrate how Charlie was the mastermind behind getting everyone together to fix News Night, but it ended up being a rather convoluted tribute, taking up half the running time of the episode without adding anything of significance to the overall plot.
Like we already knew that Charlie recruited Mac to help fix Will. Did we really need to know it was in a bowling alley while she wore a baggy t-shirt? We knew Mac recruited Jim to help her. Did we need to know he was learning to play the guitar in an empty apartment when she did it? And we knew Mac went to encourage Will to be honest at the Northwestern event. Did we need to know it was her who helped the famous question girl get to the front of the line?
All of this was information we've known for years, and it didn't amount to any grand reveal other than "Charlie was a good guy" and "Mac was influential to Will" and even "Sloan may have liked Don for a long time." It was just filler, and though I guess it brought things back to the pilot, it didn't serve any real purpose other than "Hey guys, remember when we decided to make the news good again?" Yes! We do! That's the whole point of the show!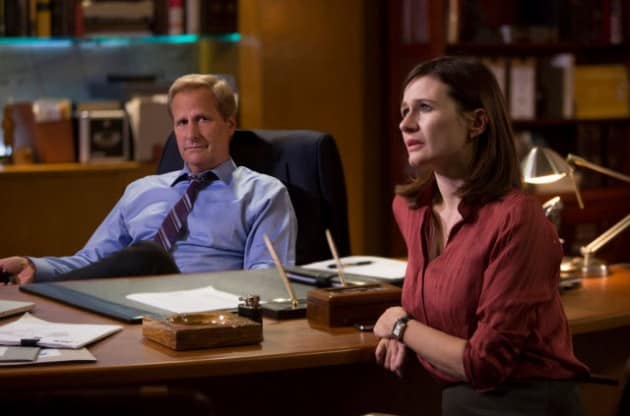 The other half of the episode was a crudely orchestrated set of happy endings meant to make sure that the evil internet didn't destroy journalism and everyone got a promotion. The main event was Prewitt (Pruit?) having to promote Mac to president of ACN because of a pair of recent female-related scandals between wage disparity at one of his websites and his hiring of "models" to walk around and be hot at his recent birthday party. These two things lead Leona to nudge him into promoting Mac into the top job, something that should have been obvious from the first ten minutes of the episode, but the reveal is dragged out for an hour. She does give a rather good speech about needing to fight with your president to run a good network, but it would have better if that was the only thing she said instead of the main gist of it being "you need to promote this woman to make it look like you treat women well." Given Sorkin's past history with writing rather not good female characters and having rather not good things happen to them, like men handing them things, this wasn't great, particularly paired with two other plot points.
Jim becomes responsible for Maggie's career advancement in two different ways, three days after their relationship begins, first putting her up for a job in Washington, then saying "Nevermind, I'm promoting you here" once he's promoted by Mac. Maggie opts for the first choice, but both advancements were entirely created specifically for her by Jim, days after they started dating no less. And past that, Don is granted beyond-the-grave forgiveness by Charlie's widow who says that Charlie expected Don to fight him on the rape story, and hoped that he would fight to kill it. Don won, Charlie got what he secretly wanted, and the rape story was completely buried! Go team? Ugh.
This has just been a strange season of The Newsroom, and I feel like a lot of the plots have been half-cooked because of the shrunken running time. Everything resolves itself via plot magic (Neil's source kills herself on the steps of Congress! Prewitt has scandals out of nowhere!) and it all ends with a bunch of promotions and of course, Mac and Will having a baby. Then add in thirty five full minutes of flashbacks that serve no actual purpose, and you've got yourself a finale.
With how things went this season, I'm not really sure why a third season of this show really even needed to exist, and it almost seems like Sorkin was dragging his feet through it all, rather than concluding with a specific story he wanted to tell. And interviews saying that he is done with TV after The Newsroom only add to the sense that he just wanted it over and done.
There were parts of The Newsroom that have been really excellent over the past few years, but it's had its fair share of complete and utter absurdity as well, unfortunately a lot of that in these last few episodes here. I'd say I'll miss it, but I'm not sure that's strictly true.
What did you think of the finale?
[Photos via HBO]