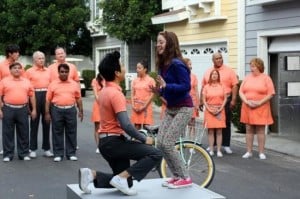 It is near impossible after tonight's episode of The Neighbors to deny that the show has heart. "Space Invaders" is proof that regardless of their home planet, these characters all care about each other, and battle the same life challanges as the rest of us.
Tonight our own lovesick Reggie Jackson got himself caught in a whirlwind of desperation and misunderstanding. After studying with Giselle and having her question whether or not she is his girlfriend, he goes to speak with Debbie Weaver, who we know is desperate to have such a relationship with Amber. In trying to help the poor kid, Debbie tells him that if he really likes Giselle, he should show her.
So what does Reggie do?
He asks Giselle to marry him in front of the entire Zabvronian community. Apparently he fact that the entire street gathered (and subsequently threw a party) doesn't put Giselle off at all, because she says yes, and sends Jackie and Larry spiraling into confused parental messes.
Jackie does not take the news well, at first declaring that she will forbid the marriage, something that Debbie advises against, because as we all know, when you tell a kid not to do something, it becomes all the more appealing. The alien mother reluctantly follows Debbie's lead in bringing Giselle's parents into the situation, thinking that they'll be equally as opposed to the engagement…but they're thrilled. She comes to blows with Debbie over the ill-fated advice she had given, even sends Reggie to his room "Until [Giselle] dies!"
The episode which begun with both sets of parents commiserating over how their children confuse them, also saw Larry Bird trying to hide his feelings by attempting to instigate several fights with Marty. According to him, physical conflict is the proper way to prove manhood, however, Marty is a little more sophisticated and refuses to engage Larry in his ridiculousness this week. Though, Larry does finally hit a nerve after insulting Debbie in front of Marty.
Surprisingly, the revelation of the episode occurs during a conversation between Amber and Larry, who up until now haven't really spoken — something that the two even acknowledge in their discussion. Speaking "blank wall to blank wall" Larry confides that he is afraid of losing Reggie, as he is seemingly falling in love with a human, drawing out a similar notion from Amber. Larry essentially tells her that she is the one human he has hope for, that she should challenge herself to find the person who makes her feel special. And Amber reciprocates the advice by telling Larry that he doesn't have to fight to be a man.
After a dramatic, western-esque montage of slow motion close-ups of everyone, Larry and Marty finally meet for their scheduled 'fight' in the street. However, Larry has since changed his mind, and tells Marty that he doesn't want to exchange punches with his friend, he wants to "exchange feelings," and the two spill their fears in whispers as the neighborhood awaits some action.
Upstairs in the Zabvronian home, Jackie tells Reggie how she is afraid of losing him, and though Reggie assures her that it will never happen, she is compelled to tell him that no, he does not have to marry the first girl who likes him back.
Finally Debbie gets to have the mother-daughter time she has craved, when Amber allows her to get in her bathrobe for ice cream and a talk. She tells Debbie her plan to break up with her boring boyfriend Jeremy, and even leans in for comfort. Though, unfortunately for Amber, her attempt to explain her freaking out over possibly having real feelings for Reggie Jackson falls flat, as Debbie thinks she's kidding, laughs, and leaves her daughter conflicted.
The Neighbors has definitely grown from the odd little show it began as. Clearly, it simply took time for the show to find its audience, get a hold on its humor and package it all into an entertaining half-hour each week. Personally, I'm glad that the network gave the show a chance, because yes, it is funny. And it has a lot of heart.
I thought this episode was sweet and played off of the changes that the characters have been going through since we first met them. It only proved that though the show is about aliens, it is more so about family, and doesn't need to rely on the alien gimmick to be entertaining.
And I'm convinced that someone on the writing team is a Muppets fan — tonight marked the third Muppet-"sighting."
What do you think? Has The Neighbors earned your viewership?